Scifi Film Winners and Losers of Summer 2011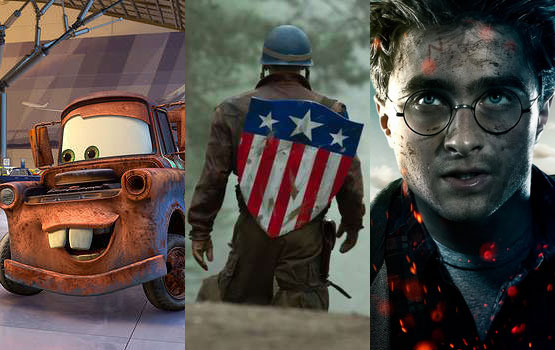 With the kids returning to school, Labor Day approaching and the weather ever-so-slightly beginning to turn fall-like, we have come to the traditional end of the summer cinema season. So now is a fine time to look back and see who some of the winners and losers were in science fiction and fantasy films this summer.
WINNERS:
Paramount Pictures: Four of the top ten films of the summer (and of the year so far) are this studio's, and three are science fiction or fantasy: Transformers: Dark of the Moon, Thor, and Captain America: The First Avenger. That's a pretty nice summer no matter how you slice it, even if Transformers is shared with DreamWorks.
Harry Potter: This
decade-old series stuck the dismount, delivering the most exciting and
most mature installment at its close and reigniting Pottermania to the
tune of $370 million at home and another $900 million elsewhere. It's
not entirely out of the realm of possibility that Harry Potter and the Deathly Hallows, Part 2 is the one that finally gets the series a Best Picture nod; Hollywood respects several billion dollars worth of success.
Michael Bay: Credit where credit is due — after the fetid awfulness that was Transformers: Revenge of the Fallen,
there was every chance that director Bay had a damaged franchise on his
hands. But then the man did the smart thing: He owned up to the mess of
his previous film and took steps to make sure his next Transformers
film was better (at least within the context of the series). It worked: Dark of the Moon kept
the franchise a hit at home and made it a bigger hit internationally,
becoming the first film of the series to gross a billion dollars
worldwide.
Apes: No one expected Rise of the Planet of the Apes
to do close to $150 million in domestic box office to date. It's a
long-tardy prequel to a series whose most recent (and underwhelming)
installment hit a decade ago. So how to explain the success? First: It
was a more than decent film, with a good script, good acting, and decent
direction. Second: It got lucky in being a standout in an otherwise
sleepy late summer. Third: a fantastic performance by Andy Serkis as
main chimp Caesar. I've already praised that performance, but mentioning it two times doesn't hurt.
LOSERS:
Cowboys & Aliens: So, how do Indiana Jones, James Bond, and the guy who directed Iron Man
fail to open a film? The answer in hindsight appears to be in the
question: Harrison Ford wasn't playing Indy, Daniel Craig wasn't playing
Bond, and Jon Favreau wasn't directing Iron Man, and Cowboys & Aliens
as of this writing still hasn't crossed the $100 million mark at home.
It's not a fatal blow for the above — Craig in particular gets a second
shot at the brass ring this year with the upcoming Girl With the Dragon Tattoo film
— but it sure as hell wasn't good for anyone. Plus it nearly got its
butt kicked by The Smurfs, which is a real testosterone reducer.
DC Comics: Marvel
has done a fine job of transferring its superheroes to the silver
screen, but outside of Batman, DC's had a hard time of it. That fact was
reinforced this summer by the underwhelming performance of Green Lantern,
which worldwide has barely recouped its $200 million production cost.
The good news for Warner Bros (which owns DC) is that Batman's coming to
the rescue in 2012, and then Superman will be back in town the year
after that, courtesy of director Zack Snyder. But the DC superhero bench
is a lot deeper, and if the studio can't convert, in the long run
they'll end up leaving a lot of box office on the table.
Superhero Films: Wait, what? I hear you say. And yes, Thor and Captain America
did fine this year, and the latest X-Men film clicked along to just
short of $150 million domestically. But none of them got close to the
$200 million domestic box office benchmark, which is realistically where
these films, with their budgets and hype, should be getting in
order to justify their existence. This subgenre seems to be cooling,
which is not necessarily what the studios want to hear, with both the
next Batman and the first Avengers films taking flight in 2012.

Pixar: Cars 2 is
Pixar's first sub-$200-million-grossing film in 13 years, and likely
the first of its films where the majority of reviews were not
rapturous. It's also the first Pixar film where you get the feeling
that the reason for its existence really is to sell more toys, the Cars
line being a merchandising bonanza for Disney. This is mitigated
somewhat by the knowledge that the Cars films are the special pets of
Pixar head John Lasseter, so it's not all about the merchandising. That
said, Pixar holds a place in people's hearts and heads because
they don't just crank out barely-sufficient films. Here's hoping Cars 2 is an aberration, not a harbinger.

Read More