Uncategorized
Flashback Five – Samuel L. Jackson's Best Movies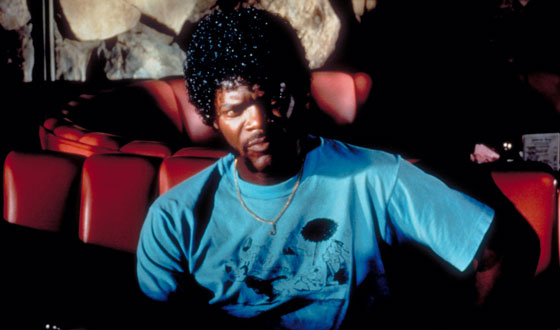 Samuel L. Jackson has been in everything. Everything. And thanks to his distinct delivery and acting chops, he's never faded into the background of his many movies. Besides, Jackson's presence automatically improves any movie, so why wouldn't he be cast over and over and over? But even with all that quantity, Jackson's résumé is just as impressive in terms of quality. In his prolific career, these are the movies that rise to the top.
1. Pulp Fiction (1994)
While Quentin Tarantino's hyperkinetic dialogue is the star of this landmark indie, the movie wouldn't come to life without Jackson's ability to make speeches about royales with cheese, eating dog versus pork, foot massages, and Kung Fu. They sound like they were coming off the top of the actor's hair-product-enhanced head. The role earned Jackson his first (and, hard to believe, only) Oscar nod.
2. Jackie Brown (1997)
Jackie Brown — Tarantino's next movie after Pulp Fiction — is often overlooked but undeservedly so. From Robert De Niro to Robert Forster, there are sensational performances across the board in this underrated crime epic. But Jackson steals the show as Ordell Robbie — a magnetic gunrunner with a deadly work ethic. Even in Shaft, Jackson never gets more blaxploitation than Ordell's Super Fly hairdo and thug menace.
3. The Negotiator (1998)
There's no leap of faith required to believe Jackson as a hostage negotiator. Neither is it hard to accept that, when framed for a crime he didn't commit, he goes off the deep end and starts taking hostages himself. But the highlight of The Negotiator is Jackson's chemistry with Oscar-winning co-star Kevin Spacey. With such talent in the room, it's hardly surprising that the biggest fireworks in this thriller come from the acting rather than the artillery.
4. Unbreakable (2000)
M. Night Shyamalan's moody origin tale is not your average superhero flick, but Unbreakable is all the better for that. Case in point: Jackson is a super-villain with the unfortunate problem of having bones as fragile as wineglasses. Although it makes a great party trick, you'd think such a handicap would inhibit him from toying with the head of Bruce Willis's nigh-invincible superhero. But you'd be wrong.
5. Jurassic Park (1993)
If you are looking for a movie that defines the term "blockbuster," this is it. Speilberg's groundbreaking movie is so action packed with roaring dinosaurs and incredible special effects that even Jackson could almost get lost. Almost. Even playing second fiddle to a T. rex, among others, Jackson's great as a chain-smoking computer whiz delivering deadpan lines as dinosaurs make mincemeat of his fellow actors.
Honorable Mentions
1. Die Hard: With a Vengeance (1995): This may actually be the most fun of the Die Hard movies, owing entirely to the banter of Jackson and Bruce Willis as they run around New York City defusing terrorist devices and arguing.
2. The Long Kiss Goodnight (1996): Jackson's comic bravado is dialed up to eleven as a foulmouthed private eye who partners up with soccer mom turned assassin Geena Davis. The Long Kiss Goodnight wasn't a hit but is one of the nineties' best action pics.
3. Jungle Fever (1991): Jackson's powerful portrait of crack addict Gator Purify singled him out as a talent to watch. Indeed, this performance persuaded the Cannes Film Festival to create a special supporting-actor category, just for him.
4. Mo' Better Blues (1990): After playing a D.J. in Do the Right Thing, Jackson hooked up with Spike Lee again as a pretty darn scary bookie. Jackson's merciless onscreen beating of Lee (who also starred in the picture) is still hard to watch.
5. The Incredibles (2004): Jackson's voice is awesome, so it only makes sense that he lent his pipes to one of the best animated flicks of recent years. What's more, Jackson finally graduated to superhero status as henpecked ice wielder Frozone.

Don't miss Jackson in Jurassic Park on Monday, Aug. 22, at 8PM | 7C and 11PM | 10C, part of AMC's Can't Get Enough Jurassic Park.
Read More