Andy Kaufman and Richard Pryor Will Make You Laugh Until You Cry (and Then Just Cry)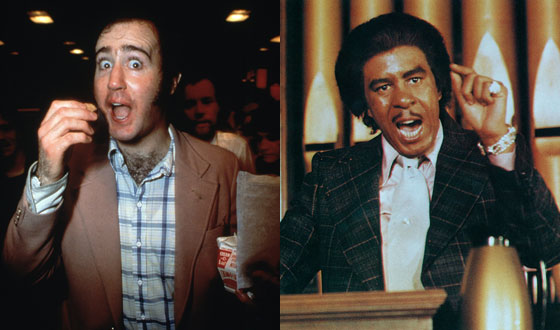 Sometimes it seems that world's funniest people lead the shortest, saddest lives. That's one of the great ironies of the entertainment industry. Maybe something in the often tragic — and usually shortened — lives of comic geniuses like Richard Pryor and Andy Kaufman is exactly what makes them so hilarious? Whatever the reasons, these are six of the best comedians who made us laugh until we REALLY cried. Let's start with the saddest.
1. Andy Kaufman
Kaufman's life was bizarre enough to inspire an entire biopic, Man on the Moon, starring Jim Carrey. The Taxi star delighted in messing with people's minds, like when he insisted one of his characters — a mustachioed lounge singer named Tony Clifton — was a real person. He didn't pull these types stunts in a nice way either, and always projected an image of inner torment and misery. Kaufman was diagnosed with a rare form of cancer in 1983 and
died the following year at age 35. But because of his penchant for hoaxes, fans have long speculated that he faked his own death.
2. Richard Pryor
One of
the most influential comedians on record, Pryor was prolific both in terms of work and personal problems. He co-wrote Blazing Saddles, starred in Superman III and recorded some of the greatest comedy albums ever. But there's something sad about Pryor too, for all his success: He was married seven times; once set himself ablaze and ran down
the street after freebasing cocaine; was raised in a whorehouse by his violent
grandmother; and was sexually abused. This humor didn't come from a happy place. In the mid-'80s
he was diagnosed with MS, and suffered a fatal heart attack in 2005, at age 65.
3. Lenny Bruce
Bruce, another pioneering comic with a tragic drug history, never achieved real success in his lifetime, and was as likely to be in court as on the top of the charts. This satirist's scathing takes on religion, politics, and drugs made him a favorite of counter-culturists, while his obscenity-laced performances landed him in jail. Bruce had other legal troubles, getting involved in scams to free his wife from a career as a stripper. Tragically, if not surprisingly, he OD'ed in 1966 at age 40, and only posthumously was recognized as a comedy legend via the biopic Lenny, starring Dustin Hoffman.
4. John Belushi
The younger set may not even remember that According to Jim's Belushi had
an older brother, but John Belushi's short life and career are pretty much the ultimate "what-if," of the comedy world? What if Belushi, who starred on Saturday Night Live and The Blues Brothers and as the drunk frat boy Bluto in Animal House, had been able to control his impulses? But that's not how it went. Belushi lived as hard as he worked for laughs, and died from a speedball overdose in 1982, at age 33.
5. Chris Farley
Much is made of the similarities between Farley and Belushi. Like Belushi, Farley started his career with Second City; had a successful run on Saturday
Night Live; and collaborated with an
SNL buddy on films. In Farley's case, the buddy was David Spade, and the
movies were Tommy Boy and Black Sheep. And much like Belushi, Farley descended into a pit of drugs, alcohol, and food, ballooning and becoming ever more dependent on drugs as fame got to him. Eventually, he followed his idol, dying of a cocaine and morphine overdose at 33.
6. Joan Rivers
The only woman (and living member) of this group earns her spot as both victim, consummate survivor and funny-woman. Rivers rose to fame as the permanent guest host on The Tonight Show, and eventually got her own show, but that's where the joy ends: The honchos fired her husband (a producer) and then Rivers herself, and a few months later he committed suicide. Rivers never remarried, and his death came to define her life. But never one to shy away from using herself as material, Rivers has used her personal tragedy as a source of laughs, and even starred in an acclaimed documentary about her life, Joan Rivers: A Piece of Work.
Don't miss Man on the Moon, based on Kaufman's short life, Fri., Aug. 12 at 2AM | 1C on AMC.
Read More