De Niro or Pacino? The Time Has Come to Crown the King of the Mob Movie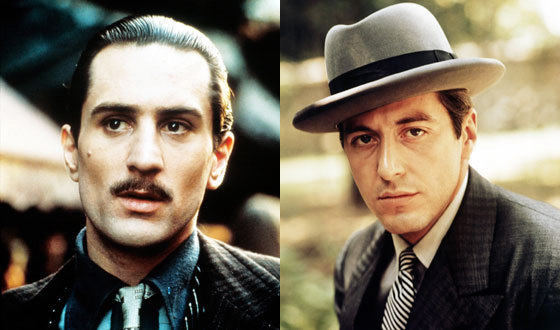 Boxing has Ali and Frazier. Rock and roll, the Beatles and the Stones. And mob movies have Robert De Niro and Al Pacino, the two men who've ruled that (and every other) genre since the seventies. People have been debating who's better for as long as they've been around. But all debates need to be settled, and what follows is the final word. De Niro or Pacino: who's the king?
The Godfather
Both play key roles in the mob franchise to end all mob franchises. Pacino anchors three Godfather flicks as Michael, the heart and (rotting) soul of the Corleone family. Without Pacino's transformation from good guy to monster, there's no movie. On the other hand, De Niro's performance in The Godfather: Part II, as young Vito, is transcendent. Talking mostly in Italian, De Niro is so understated and brilliant that you'd never know it's him. This one's too close to call.
Winner: Tie. Two great actors, two untouchable roles.
Signature Mob Role (Other Than The Godfather)
For De Niro, we're talking about Goodfellas and James Conway, the hijacking enthusiast and source of wisdom for Henry Hill (Ray Liotta). For Pacino, it's Tony Montana, the man whose poster hangs on the wall of every college student in America. So how to decide between two iconic roles? Goodfellas is an all-time great movie, and De Niro's performance is great, but Scarface works entirely on the force of Pacino's personality.
Winner: Pacino. By a hair — a very small hair.
Versatility
Both guys have ventured outside crime flicks. Pacino in Glengarry Glen Ross, Scent of a Woman, and Any Given Sunday. De Niro in Raging Bull and Meet the Parents. While Pacino's only Oscar was for Scent of a Woman, De Niro has reinvented himself as a different type of actor, deftly portraying priests (Sleepers), mental patients (Awakenings), and the mortal enemy of a moose (The Adventures of Rocky & Bullwinkle).
Winner: De Niro. Pacino's great, but he always seems to be playing Al Pacino, which isn't a bad thing but versatile it is not.
Danger
De Niro knows a thing or two about danger. Many of his best roles are outright psychopaths: Cape Fear, The Fan, Taxi Driver. Pacino hasn't taken as many of those parts, but he brings an always-simmering-just-below-the-surface madness to the most mundane moments. Think of the quiet calm that pervades most of The Godfather, broken only by a Michael Corleone tirade. Or of his explosions in The Devil's Advocate and Scarface. "Hoo-ha" indeed.
Winner: Pacino, and it's not close. De Niro can play a crazy person; Pacino might be one.
Humor
In Analyze This, De Niro basically invented the funny mobster (ha-ha funny, not Joe Pesci funny) and revitalized his career as a comic presence. Since then, he's continued on that path, with Analyze That (and three hit Meet the Parents flicks). De Niro's never stopped making serious dramas, but he's revealed a real comic touch. Pacino? Well, he probably could be funny if he wanted, but there's no evidence of humor to date.
Winner: De Niro, in a landslide.
Aura
The big stars are just cool: Marlon Brando, Jack Nicholson, Paul Newman. De Niro and Pacino have that, too. They're dangerous, good looking, and probably always the most interesting guys in whatever room they're in, with the exception of when they're in a room together. And while Pacino pretty much epitomizes seventies cool — shaggy hair, bad attitude, shirt open three buttons — there's just something about Robert De Niro, an indefinable quality that Pacino has but not in the same quantity.
Winner: De Niro.
The Final Score: The final tally is close, but De Niro comes out on top over his rival. There's a good chance that even with two Oscar victories, six nominations, and roles in more classic flicks than can be mentioned here, this is the greatest achievement of Robert De Niro's long career.
Read More