Uncategorized
The Best Thing About Nineties Boy Bands? The Acting Careers of Wahlberg and Timberlake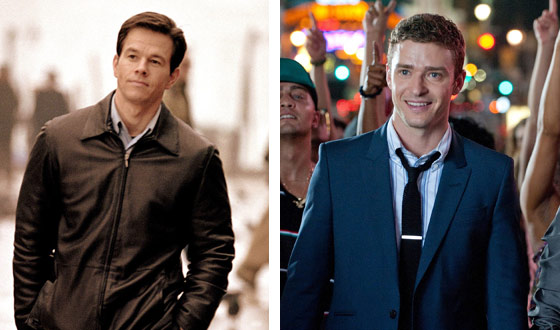 Okay, so pop stars haven't always had the best track records onscreen. (Looking at you, Madonna.) But the greatest wealth of screen talent from the music industry may have come directly from nineties boy bands. Who knew, right? You mock their music as pure pop cheese, but you can't help but love guys like Mark Wahlberg onscreen. So do the acting successes of some of the most popular boy bands of the '90s stand up to their blockbuster music? Here's a rundown starting with the most popular band.
Justin Timberlake and Joey Fatone, 'N Sync
One of the biggest-selling bands — ever — 'N Sync has also spawned two acting careers. The most recognizable, of course, is the band's breakout star, Justin Timberlake. J. T. started slowly, but lately he's been everywhere: as a favorite Saturday Night Live host, as an arrogant dot-com celeb in The Social Network, and as a semi-arrogant dot-com worker bee in Friends With Benefits. But don't sing "Bye Bye Bye" to fellow band member Joey Fatone, who's carved out a career in flicks like My Big Fat Greek Wedding and The Cooler.
Nick Carter, Backstreet Boys
The most successful of the boy bands until those young whippersnappers 'N Sync came along. Most of the members of the band haven't dipped their cinematic toes into film, except for Nick Carter. Carter actually started out in a role as an extra in Edward Scissorhands, before graduating to TV and reality-show work. His younger brother, Aaron, has arguably been the more successful of the two, but he wasn't in Backstreet Boys — so forget we ever mentioned him.
Donnie Wahlberg and Joey McIntyre, New Kids on the Block
Though they came a little too early for the nineties boy-band craze, NKOTB certainly has the right stuff on the charts, though on the screen their successes are more mixed. Donnie Wahlberg (Marky Mark's brother) has had a successful TV career, but it's Joey McIntyre who's gotten the most big-screen time, with roles in musical adaptations of The Fantasticks and Tony n' Tina's Wedding.
Mark Wahlberg, Marky Mark and the Funky Bunch
He may have only the cheesy "Good Vibrations" on the radio, but Mark Wahlberg has gone on to one of the most successful screen careers in recent history. And a diverse career, at that: Boogie Nights, The Fighter, Three Kings, The Perfect Storm, and The Departed. How many guys have starred in five dramas of that caliber? But he's also become a funnyman in comedies like The Other Guys and proven he's got more in the way of acting chops than sweet sensations.
Nick Lachey, 98 Degrees
Though he's better known for his reality shows and the hosting of other reality shows, ex-98 Degrees front man (front boy?) Nick Lachey has had his fair share of screenwork, including a turn in the big-screen revival of Bewitched. Meanwhile, his fellow bandmate and brother, Drew Lachey, has landed a few roles of his own, including in The Comebacks.
Check out Wahlberg in The Italian Job tonight, Mon., Aug. 29, at 8PM | 7C and 11PM | 10C.
Read More