New on DVD: "Paul" and "Super" — August 9, 2011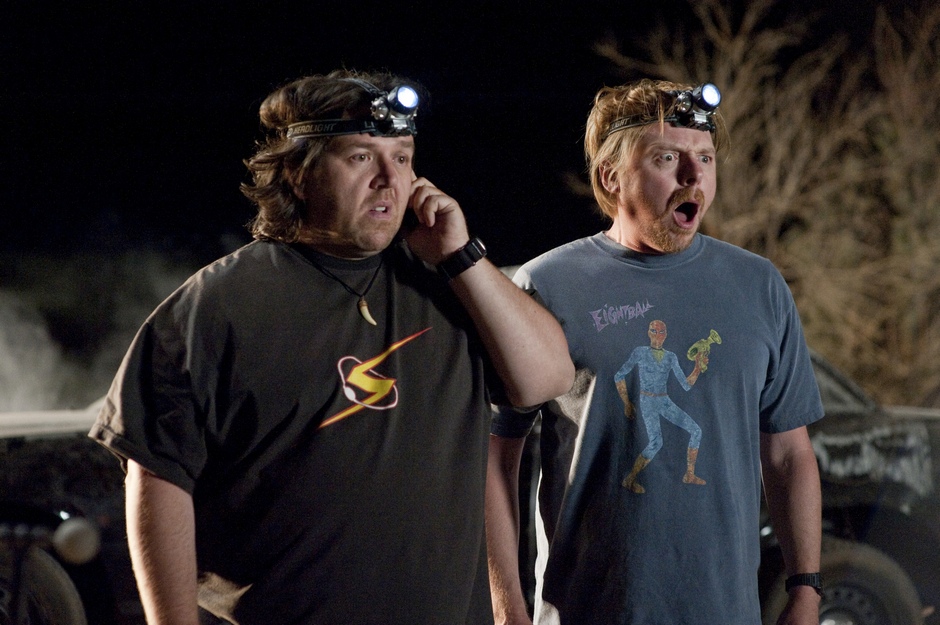 Aliens invade weirdly and superheroes play pretend: In Paul, a pair of comic fans are astonished to find themselves in possession of their own little green man, while in Super, an ordinary guy decides to turn himself into a superhero, disregarding that he has no powers to speak of; these and other films ranging from the funny (Your Highness) to the downright disgraceful (Mars Needs Moms) are coming this week to Blu-ray and DVD.
Paul

After taking on the zombie film and action-flick genres in Shaun of the Dead and Hot Fuzz, writers Simon Pegg and Nick Frost aim for the nerd contingent in this comedy about two British fanboys (played by Pegg and Frost) heading to Comic-Con who pick up a short pothead alien named Paul (Seth Rogen), who's on the lam from the government. Although the film has a smart, knowing take on its geeky subculture, for our critic it never quite took off: "It is fun and clever, but it doesn't push into the next dimension."
Super

James Gunn's ultra-low-budget comedy stars Rainn Wilson as a normal middle-aged guy with nothing special about him who decides to become a superhero named the Crimson Bolt. He's armed with a big wrench, a comic-book-knowledgeable sidekick named Boltie (Ellen Page), and the unerring belief that he is destined to dispense justice however he sees fit. Reality has other ideas, of course, and it's in the uneasy interplay between the hero's vision of his superherodom and how it violently plays out in the real world that our critic thought that the half-ingenious Super was most successful, though admitting that it "still plays like the comic-book version of this material."

Your Highness

Just about what you would expect when the director of the pot-comedy/action flick-satire Pineapple Express decided to take on the fantasy
epic genre, this send-up of films like Willow and The Princess Bride
(already a satire itself, but never mind…) sends two royal brothers
(James Franco and Danny McBride) on a quest to save a fair maiden from
an evil wizard. The result is a hyperviolent and awkwardly comedic film
that our writer termed a "gratuitous, inventive, and thoroughly
outlandish take on Tolkien lore" that "isn't immune from immaturity
fatigue."
Jumping the Broom

A nakedly desperate attempt to glom onto the Tyler Perry gravy train,
this erstwhile comedy throws together two radically different black
families (the groom's side is Brooklyn and working-class, the bride's is
Martha's Vineyard and aristocratic) for a big wedding where
misunderstandings and hilarity are meant to ensue. "About as joyless as a
shotgun wedding and twice as precarious," our critic said, adding that
"Jumping the Broom is the kind of movie that makes one long for the
backhand to the face farce of Mabel 'Madea' Simmons."
Mars Needs Moms

A low-rent variation on one of Robert Zemeckis's image-capture animated
family films, this dour disappointment centers its story around a boy
whose mother is captured by Martians and has to rescue her. Our utterly
annoyed critic called it "a film that regurgitates witless moronism at
the audience for 90 minutes and concludes with an uncomfortable
statement about the importance of dominant patriarchy in modern
society."
Fast Times at Ridgemont High

Based on a book that Cameron Crowe wrote after going undercover in a
California high school, Amy Heckerling's brilliant 1982 comedy of
suburban ennui and broken teenage fantasies features Sean Penn as the
king of surf-stoners and Jennifer Jason Leigh in a heartwrenching turn
as a girl making all the wrong decisions, not to mention a mind-meltingly fantastic
soundtrack. Now available on Blu-ray.
Read More