Five Tips on How to Live Like a Member of The Godfather Family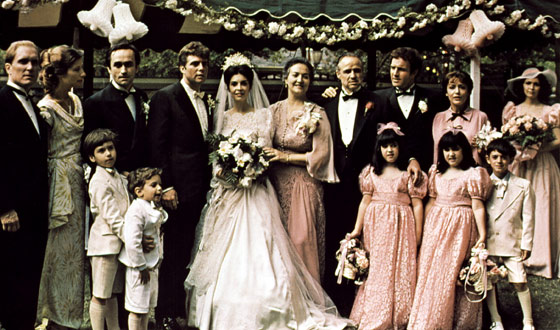 You know you want to live like a member of the Godfather clan — sleeping in a fancy estate on Long Island or Lake Tahoe, flying to Vegas to stay in a hotel you own, having your driver pick you up wherever you go, and basically doing whatever you want, when you want, the law be damned. Sounds like the life. So how do you live like a Godfather? These five tips will help you fit right in with the Corleone family.
1. Throw a Big Fat Italian Wedding
Forgot all those other movies and Broadway shows. A wedding like that of Connie Corleone (Talia Shire) and Carlo Rizzi (Gianni Russo) is the only way to get hitched, if you want to live like a Godfather. Worst-case scenario? You make a big chunk of change, since your guests are sure to generous. As Paulie (John Martino) says when he sees the bundle of gifts lavished on the bride, "20, 30 grand — cash, in small bills!" And that's 1945 money, which works out to roughly $40 billion today.
2. Give All Your Relatives Jobs
Just putting one of your sons on track to replace you isn't enough for a real Godfather. You've got to get all of your relatives jobs. Vito (Marlon Brando) makes his adopted son, Tom (Robert Duvall), his lawyer (and consigliere); gives all three sons big-time pieces of the family business; gets his godson (Al Martino) a job as a crooner; and even makes sure a son-in-law he doesn't trust, Paulie, gets a piece of the action.
3. Stuff Your Face on Italian Food
A Godfather acts like a bigwig and eats like a bigwig, gouging himself on loads of Italian food. Clemenza (Richard S. Castellano) is The Godfather's resident rotund expert in the culinary arts. After the murder of Paulie, his famous directive is, "Leave the gun; take the cannoli." You don't leave that kind of deliciousness behind. While the family is at war, he even takes time to teach Michael (Al Pacino) his special recipe for making tomato sauce because there's never a bad time for homemade sauce.
4. Get Your Daughter Her Own Teen Idol
Is your daughter a big fan of Justin Bieber or another heartthrob du jour? She'll probably want to hear several of his songs at that storybook wedding you've thrown her. Don't get a D.J. or an iPod; just get him to come sing. That's just what Vito does at his daughter's wedding: he gets Johnny Fontane — think the Frank Sinatra of the Godfather universe — to join in.
5. Buy Your Way Into the Movies
When the aforementioned Fontane, Vito's godson, wants to be in a new movie, he just calls the trusty Godfather, who — after slapping him around a bit — makes sure he gets in that movie. How? Oh, just by cutting off the producer's prize horse's head and putting it in his bed.
Read More