Uncategorized
The Godfather, Goodfellas, and Pulp Fiction All Have Mobsters a Woman Could Marry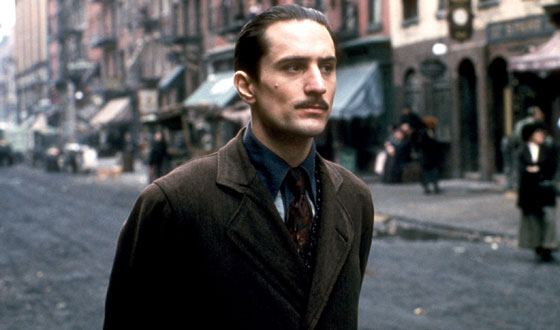 As a rule, mobsters don't make for great mates — just ask the wives of Scarface's Tony Montana (Al Pacino) and The Godfather's Michael (Pacino). After all, murder, extortion, and racketeering aren't exactly hobbies a lady looks for in a man. But not all movie mafiosi are maniacal coke fiends. Some are family men but not "family" men — and downright handsome ones at that. So if you're the kind of gal who can turn a blind eye to bad deeds, here are five movie mobsters with whom you might live happily ever after.
Vito Corleone (Robert De Niro), The Godfather: Part II
A proposal from this don could prove to be an offer you can't refuse. Sure, he kills people, but his hits are usually made with the best of intentions for the "family" and neighborhood. Vito is faithful, rich, and powerful — not a bad combination when you're looking to settle down. And when it comes to sex appeal, the young Vito of The Godfather: Part II is the mob man at his finest.
Henry Hill (Ray Liotta), Goodfellas
Sure, Henry's got his problems: drugs, infidelity, and grand larceny. But here's the thing: how many mobsters never kill anyone? That is no small thing when co-habiting with a wiseguy. Not to mention Liotta is a total babe. And as his wife, Karen (Lorraine Bracco), notes, it's pretty sweet having celebrities send Champagne to your table at the Copacabana. What lady wouldn't fall for that kind of courtship?
Tom Reagan (Gabriel Byrne), Miller's Crossing
Think of how dreamy it would be to wake up to that Irish brogue every morning till death do you part. Easy on the eyes and quick with the wit, Tom could easily capture any girl's heart. And while, initially, he seems like the type who would eschew marriage, that's only because he shacked up with the wrong gal — two-timing gun moll Verna (Marcia Gay Harden). Tom is, in the end, a loyal guy. All he needs is a lady who'll do him right.
Vincent Vega (John Travolta), Pulp Fiction
Ignore the terrible hair. This mob hit man has undeniable charm: he spouts philosophy, reads poetry, loves to travel, and (apparently) gives a mean foot massage. He also has a skill that most women only dream of finding in a mate. No, not that! Get your head out of the gutter. Dance moves! Dancing skills better than those of any woman you know. Yes, a romantic date night with Vincent could include dinner and a lot dancing. Just make sure to avoid any extracurricular drug use.
Tom Stall / Joey Cusack (Viggo Mortensen), A History of Violence
Hello! Have you seen the looks on this guy? He'd be hard to resist even if he were a sadistic murderer. But here — even though he's a guy who can kill with his bare hands — he just wants to live a normal life in a small town, with his loving wife and cute kids. That's catnip for any good girl with a penchant for bad boys. Even his wife (Maria Bello), disgusted by the actions of her husband in his former life of crime, can't help but be aroused — culminating in one of the most intense sex scenes to take place on the big screen.
Don't miss The Godfather: Part II — part of AMC's Mob Week — on Sat., Aug. 6, at 3:30PM | 2:30C.
Don't miss Goodfellas — part of AMC's Mob Week — on Sat., Aug. 6, at 8PM | 7C.
Don't miss Pulp Fiction — part of AMC's Mob Week — on Sat., Aug. 7, at 7PM | 6C.
Read More