Is There an Eighties-Actress Curse? If Not, Please Explain Kelly McGillis and Molly Ringwald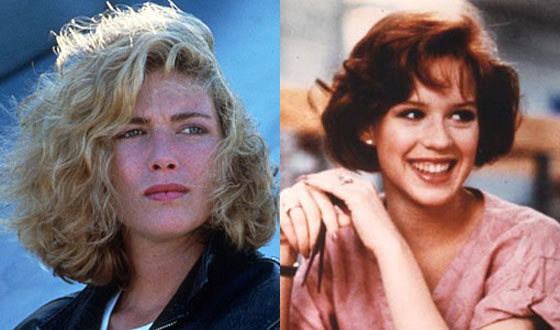 Amid the eighties backdrop of questionable fashion trends, coke parties, and the threat of nuclear war, actors like Tom Cruise, Tom Hanks, and Patrick Swayze became superstars on the strength of classics like Top Gun, Bachelor Party, and Dirty Dancing. At the time, their female co-stars appeared to be following the guys' meteoric rise. But in an instant, the ladies disappeared from the A-list into obscurity. Nobody can say with certainty why these actresses failed to achieve the same level of fame as their male co-stars. The only logical explanation: a curse. These are the top five victims of the curse, beginning with the least-victimized actress.
Phoebe Cates
There is no human male who was alive in 1982 who doesn't remember Phoebe Cates emerging from a swimming pool and dropping her top in Fast Times at Ridgemont High. Cates steals the entire movie with that one scene and makes it difficult to remember that future Oscar winner Sean Penn is in the movie. Cates's successes after Fast Times are limited. (Okay, nonexistent.) Which makes no sense. Pamela Anderson is in everything. There isn't a single movie or TV show Cates could've helped out during that time? If a woman like Cates being unable to capitalize on that scene doesn't prove the existence of a curse, nothing can.
Tawny Kitaen
The release of the 1983 film Bachelor Party was the high-water mark in the acting career of Tawny Kitaen, as the paranoid girlfriend of Rick (Tom Hanks) who spends a torturous evening trying to catch her fiancé cheating on her. Now, the movie received mixed reviews but was a box-office success and solidified Tom Hanks as a leading man. Hanks would go on to be in every good movie released in the next three decades, while Kitaen would go on to dry hump the hood of a car in the music video for Whitesnake's "Here I Go Again." That hardly seems fair.
Molly Ringwald
There was a very simple formula for success in the eighties: John Hughes plus Molly Ringwald equals hit movie. Ringwald teamed up with Hughes to create a trio of classic teen comedies — Sixteen Candles, The Breakfast Club, and Pretty in Pink — movies in which she was the star. But then Ringwald simply stopped being in good movies and, eventually, getting big roles in movies altogether. Then there was the coup de grâce: turning down the lead role in Pretty Woman, marking the only time that deciding not to be a hooker was a terrible idea. Even given that bad choice, how is Molly Ringwald not huge? Come on!
Kelly McGillis
In the mid-eighties, Kelly McGillis was on the verge of superstardom. Critics marveled at her performance in Witness, and she was awarded a Golden Globe, leading to a starring role in Top Gun, which co-stars future box-office royalty Tom Cruise and Val Kilmer and is the highest-grossing movie of the decade. And while Cruise and Kilmer went on to star in blockbuster after blockbuster, McGillis landed one more big role (The Accused) and was never to be heard from again. Mysterious. Though being excluded from the oily man-on-man volleyball scene in Top Gun probably meant bad karma, McGillis's lack of success is inexplicable. Cursed!
Jennifer Grey
Grey stars in three of the most iconic movies of the eighties: Red Dawn, Ferris Bueller's Day Off, and Dirty Dancing. Her star-making Dirty Dancing turn even earned her a Golden Globe nomination. And while the male leads — Swayze, Broderick, and Sheen — went on to stardom, roles dried up for Grey, who believes that her decision to get a nose job led to her decline in Hollywood. Yet when else has plastic surgery ever not helped an acting career? It's possible her decision to attend the 1988 Oscars with Billy Baldwin caused her downfall, but that seems like a reach. Basically, there's no reason Grey isn't a superstar, making her the most prominent victim of the eighties-actress curse.
Check out McGillis in Top Gun tonight, Tue., Aug. 30, at 8PM | 7C and 10:30PM | 9:30C.
Read More