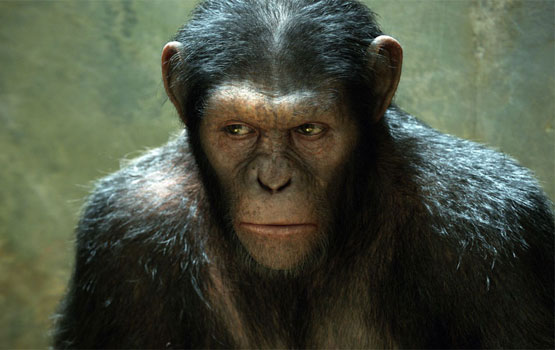 Dear Board of Governors for the Academy of Motion Picture Arts and Sciences:
As you are obviously aware, each year your organization gives out the Academy Awards, the most prestigious film awards in the world, across several categories. It also gives out honorary Academy Awards, which celebrate achievements in film and the film industry that are not covered by a specific category of award.
While these days these honorary Oscars tend to go to older actors and filmmakers to celebrate their body of work (last year's recipients, for example: actor Eli Wallach and director Jean-Luc Godard), they have historically also been awarded to active filmmakers for exceptional effort in specialized fields. In 1968, for example, makeup artist John Chambers was given an honorary Oscar "for his outstanding makeup achievement for Planet of the Apes."
In this latter vein, allow me to suggest to you a person for whom an
Honorary Academy Award is amply deserved: Andy Serkis. For what? For his outstanding achievement as an actor in the field of motion capture.
And here is why:
1. Because his motion capture roles are integral to his films. It is literally inconceivable to imagine the Lord of the Rings series without Gollum, Peter Jackson's 2005 King Kong without its great ape, or this year's Rise of the Planet of the Apes without Ceasar. These are not lead performances, but they are critical performances, and the success of each of these films to a very large extent rests on how well Serkis acts the role.
Make
no mistake: In each case, Serkis' performance is heavily mediated by
effects. But also in each case, it's Serkis' initial live-action
performance that gives his effects crews the foundation to build on. No
amount of special effects will save a bad performance. Which brings us
to the second point:
2. Because Serkis' motion capture work is already award-winning. These performances have already garnered significant
critical praise and also a few awards: The Toronto Film Critics
Association tipped him in 2005 for his motion-capture work on King Kong.
In 2003, he won the Best Supporting Actor Saturn Award (a specialty
science fiction and fantasy film award) for his work as Gollum in The Two Towers, as well as a Critics Choice Award for Best Digital Acting Performance. His work as Gollum in The Return of the King
won him an Empire Award (given by the UK's top film magazine) for Best
British Actor. And Serkis, in conjunction with his animation team, won
two Visual Effects Society Awards for his work in Return and Kong, and a third for The Two Towers (shared with Elijah Wood and Sean Astin).
3. And so is his non-motion capture work. Serkis'
best-known and most influential work has been done as a motion capture
actor, and that shouldn't be discounted — it is its own discipline, and
a highly specialized one at that. But Serkis wouldn't be a great motion
capture actor if he were not a good actor. Serkis' chops as a
live action actor were most recently shown in the 2010 film Sex & Drugs & Rock & Roll,
in which he played Ian Dury, a seminal figure in the British New Wave movement. For the performance, he was nominated for the Best
Actor award by BAFTA (the UK's equivalent of the Academy), the British
Independent Film Awards and the London Critics Circle Film Awards, and won the category at the Evening Standard British Film Awards.
Serkis has also been nominated for an Emmy (in 2008, for his supporting
role in Little Dorrit, which aired on PBS), and a Golden Globe (in 2006, for his supporting role in the television biopic Longford). The guy can act, whether he's covered in motion capture dots or not.
But when he is covered in motion capture dots…
4. Serkis gets snubbed — but everyone else involved in his performance isn't.
Which is to say, the visual effects teams that animated the characters
of Gollum and King Kong — or, at the very least, the team leaders —
walked away with Academy Awards, in the category of Best Achievement in
Visual Effects. It seems likely the visual effects crew on Rise of the Planet of the Apes will get at least a nod (although The Adventures of Tintin,
the upcoming motion capture animated film in which Serkis plays Captain
Haddock, won't get a Best Animated Feature nod because of new rules
against motion capture films in the category). But Serkis' performances
have been nowhere to be seen in the Academy Awards acting slates —
motivated, one suspects, at least partially by an atavistic fear that
CGI characters will one day replace live-action actors.
That's a
debate for another time, but what isn't a debate is whether Serkis, for
a decade of work exploring and expanding the possibilities of
motion capture performance, deserves official recognition for his role
in the technology, and for his roles as an actor. He does. As the
governors of the Academy, you have it in your power to recognize a man
who is in his way one of the most significant filmmakers of the last
decade. You should consider doing so.
Read More