Uncategorized
Top Ten Reasons We Can't Get Enough Kill Bill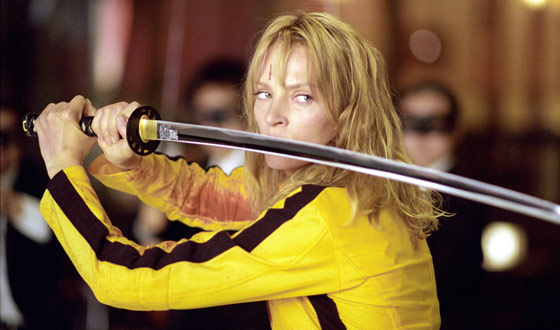 Why is Kill Bill so great? Where to begin? There's so much to love about Kill Bill: Vol. 1 and Kill Bill: Vol. 2, which add up to over four hours of witty, bloody, surprisingly heart-tugging entertainment, every minute 100 percent Quentin Tarantino. And if Tarantino's always-unique imprint, or Uma Thurman as the Bride (a.k.a. Beatrix Kiddo), isn't enough for you, here are ten good reasons to love the movies.
10. Vernita Green vs. the Bride
Some of the Bride's victims die elegantly, like O-Ren Ishii (Lucy Liu), gracefully killed by sword in a snowy garden. Not Vernita (Vivica A. Fox), the Bride's second casualty. The battle is brutal, bloody, and downright ordinary: it boils down to a couple of chicks beating the crap out of each other in the burbs. This knock-down, drag-out brawl puts every half-assed catfight to shame.
9. O-Ren Ishii's Anime Origin Story
Created by the Tokyo-based Production I.G, which was responsible for cult anime favorites Ghost in the Shell and Blood: The Last Vampire, Ishii's outrageously gory rise from orphaned child to world-class assassin is seven and a half minutes of awesome animated blood, fire, and smoke as gorgeous, gruesome, and cool as the live-action O-Ren.
8. The Training Montage Reimagined
Leave it to Tarantino to take a cliché and turn it into something grotesque and amusing. The Bride's tutelage at the hands of Pai Mei (seventies martial-arts star Gordon Liu), an ancient master with terrifying eyebrows and an improbable beard, is priceless. Pai hates women, students, and white people, and the Bride is all three. Who needs Pilates when you can toughen your hands and heart while a mean, mocking old man wallops you with a stick?
7. Elle Driver's Eye Patch
Nothing says cool better than a lethally beautiful woman (Daryl Hannah) with an eye patch she treats like a high-fashion accessory. Hannah, pardon the phrase, simply makes it work. Plus the patch is Tarantino's shout-out to seventies exploitation legend Thriller: A Cruel Picture, about a schoolgirl hooker's rampage of vengeance.
6. Bill's Superman Speech
The monologue by Bill (David Carradine) explains it all: there are costumed crime fighters and superheroes. Spider-Man minus his costume is Peter Parker, but Superman is always Superman, even as Clark Kent. Bill couldn't bear to see his superhero assassin, Beatrix, pretend to be a housewife, so he murdered her fiancé so she could rise from the ashes, as fiery and glorious as ever. A good story, and he tells it in comic-book terms, of course.
5. The Black-and-white Opening of Kill Bill: Vol. 2
Everything about Kill Bill is cool, even something as simple as bringing the audience up to date: the opening to the second flick features the Bride in black and white, styled like a forties femme fatale, driving a convertible and recapping her near murder, coma, and "roaring rampage of revenge." Her monologue ends with a promise to "kill Bill," underscored by a menacing instrumental. Chills!
4. The Yellow Tracksuit
The yellow tracksuit with the black racing stripes down the sides that the Bride wears to invade O-Ren's restaurant is recognizable by any old-school martial-arts fan as a stitch-for-stitch copy of Bruce Lee's Game of Death suit. Who knew such a goofy garment could look fantastic on both
a leggy five-eleven blonde and a ferociously compact five-seven Asian-American man?
3. Gogo Yubari
Giggling Yubari (Chiaki Kuriyama), a waifish teenager in a schoolgirl uniform, is O-Ren's chief bodyguard and does very scary things with a ferocious mace. Her high-flying face-off against the Bride, complete with exaggerated vintage-kung-fu-movie sound effects, showcases both the cutie and the beast.
2. Tarantino's Warm and Fuzzy Side
Kill Bill is famous for its violence and fights, but, really, the story is all about love. Serious grizzly-mama love: God help anyone who gets between Beatrix and the memory of her lost cub because she means business. And the surprisingly touching, sentimental ending to the second flick makes even the most hard-core martial-arts-movie fan cry.
1. Female Heroines and Villains
Tarantino's detractors gripe that his movies take place in a manly man's world all about dudes locked in a perpetual game of "Show me yours." But Kill Bill is a gleeful kick to the groin of chauvinism. Bill's name is in the title, but these flicks are all about wronged heroine the Bride and the Deadly Viper Assassination Squad's sexy, lethal ladies (Liu, Hannah, and Fox) and their attempts at man domination, achieving happiness, and being the baddest ladies on the block.
Check out Thurman in Kill Bill: Vol. 1 and Kill Bill: Vol. 2 every night from Tue., Jul. 12, through Thu., Jul. 14, at 8PM | 7C and 10:30PM | 9:30C, during AMC's Can't Get Enough Kill Bill.
Read More