Uncategorized
Story Notes for Collateral Damage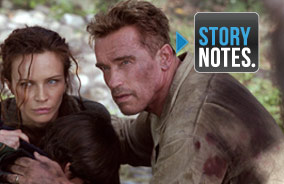 Monday through Thursday, at 8PM | 7C, AMC presents Story Notes — real-time on-air trivia about your favorite movies. Tonight's movie was Collateral Damage.
Automotive Note
The guerrillas ride in a German military vehicle called a Unimog.
Biographical Notes
While shooting Collateral Damage, Arnold Schwarzenegger was planning his run for governor of California.
Actor Elias Koteas played Casey Jones in Teenage Mutant Ninja Turtles.
J. Kenneth Campbell has military expertise of his own. He served in Vietnam as a marine.
Collateral Damage is the fourth Schwarzenegger movie to film in Mexico. The others are Total Recall, Conan the Destroyer, and Predator.
This isn't New Zealand actor Cliff Curtis's first time playing a Colombian. He was Pablo Escobar in 2001's Blow.
This was John Turturro's first big action movie. He went on to co-star in the Transformers movies. Director Andrew Davis says he's one of his favorite actors and a "real chameleon."
Colombia-born actor John Leguizamo has used his comedic skills in movies as diverse as Romeo + Juliet and Ice Age.
Miguel Sandoval was in Clear and Present Danger, which also deals with the Colombian drug trade.
Casting Notes
Ethan Dampf starred with Schwarzenegger in Junior when he was just 15 days old.
You might recognize Harry Lennix from the Matrix films.
Real-life news anchor Rick Garcia played a reporter on 24.
Actor Michael Cavanaugh often plays military and government officials like his senator.
Italian actress Francesca Neri was first seen by American audiences in 2001's Hannibal.
The homeless man is the movie crew's transportation captain.
History Notes
Collateral Damage was supposed to open on October 5, 2001. But after the attacks on September 11, the studio delayed its release, to February 8, 2002.
In 2001, the U.S. issued a travel warning for Colombia. Drug traffickers targeted Americans after the U.S. supported drug-eradication programs there.
Location Notes
It was too dangerous to film the movie in Colombia, so it was made on a coffee plantation in Xalapa, Mexico.
Union Station in Washington, D.C., opened on October 7, 1907.
Union Station has also appeared in Mr. Smith Goes to Washington and Wedding Crashers.
Prop Note
An M26 Taser can deliver up to 50,000 volts of electricity. "Taser" stands for "Thomas A. Swift Electric Rifle."
Quotation Notes
"Arnold Schwarzenegger [often plays] a man on a mission," says Davis. "But this story allowed him to play a regular guy; he's not the Terminator."
Arnold says he doesn't think he could have played this role when he was just starting out: "I'm more in touch with my emotions than twenty years ago."
The director says Koteas reminds him of Robert De Niro.
Davis said, "Prior to September 11, it may have been taken as just entertainment. I think the whole role of the movie is quite a bit more significant now."
Schwarzenegger says this is a different kind of movie for him: "It's just that the suspense goes much better when you go down to the jungle with no weapons."
Schwarzenegger: "It's one guy going against the entire system down there. Against the military, against terrorists, the drug smugglers, everyone involved."
Davis: "It was important for me to show that normal life went on there. There were children in this guerrilla zone."
Schwarzenegger says, "Unlike most of the movies I've done, I'm not [playing] a trained military man. So I have to rely on my experience and expertise as a fireman."
Random Note
Arnold had heart surgery to replace a valve four years before making Collateral Damage. He says his doctor told him, "I'm gonna fix it so you can continue doing action movies."
Script Notes
Gordy's experience as a fireman helps him. But in the original script, he was a basketball coach.
Davis set out to show the motivation behind terrorism and its tragic results.
Set Notes
The studio wanted to make Gordy a more typical Schwarzenegger character, but he fought them. Schwarzenegger: "It would be more fun to play an ordinary man who saves lives. It's also heroic."
Davis says, "I had advisers from the left, advisers from the right. They disagreed with each other about the politics of the movie, but that was important to have."
Some stuntmen played guerrillas in one shot and army guards in the next.
Davis fell in love with Colombia as a cameraman in the seventies. This movie was his way of showing his sadness over how the country had changed.
The crew built a guerrilla camp in a remote area outside of Coatepec, Mexico.
The filmmakers added a fight scene to the end to give action fans more closure.
Tech Note
Davis uses black-and-white images to reference earlier parts of the movie. He used a similar technique during flashbacks in The Fugitive.
Trivia Notes
It's not a coincidence that Claudio's nickname is the Wolf. "Lone-wolf terrorist" is what experts call a terrorist who acts alone.
The tradition of "Amazing Grace" on bagpipes at firefighter funerals started in the 1800s. Many Irish immigrants became firemen and started this custom.
"Sangre o libertad" means "Blood or liberty" in Spanish.
The term "collateral damage" was first used during the Vietnam War.
The Darién Gap is a 50-mile stretch of jungle terrain in eastern Panama. It is the only break in the 30,000-mile Pan-American Highway connecting the Americas.
Colombia averages 42 inches of rain annually.
"El lobo" means "the wolf."
Acetone is a highly flammable liquid sometimes used to process coca leaves into cocaine.
In Colombia, guerrillas are paid a large tax for protecting the coca fields and drug labs.
Coca leaves are soaked in gasoline (along with acetone) during cocaine production. Also extremely flammable!
Unless you rig it like Gordy, an M67 grenade will detonate five seconds after the clip is released.
90,000 people pass through Union Station in Washington, D.C., every day.
Arnold screened Collateral Damage at a campaign fund-raiser during his run for California governor. It showcased his two new roles — politician and vulnerable hero.
Read More