Uncategorized
Story Notes for Caddyshack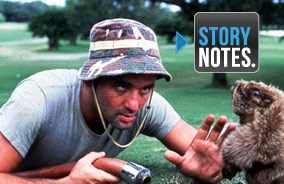 Monday through Thursday, at 8PM | 7C, AMC presents Story Notes — real-time on-air trivia about your favorite movies. Tonight's movie was Caddyshack.
Biography Notes
Jackie Davis was a famous jazz organist who worked with Ella Fitzgerald.
Mr. Wang is played by a college professor, Dr. Dow. He never made another movie.
When director Harold Ramis met Bill Murray, in the early seventies, he was working the concession stand at a golf course.
Actor Henry Wilcoxon has been acting since the thirties and often worked with Cecil B. Demille.
Sarah Holcomb plays the mayor's wild young daughter in Animal House.
Chevy Chase was born Cornelius Crane Chase. His grandmother nicknamed him after the medieval song "The Ballad of Chevy Chase."
Chase is a musician and played drums in a college band called the Leather Canary. His bandmates were Donald Fagen and Walter Becker of Steely Dan fame.
Ramis and Murray became an onscreen comedy team after this, starring together in Stripes and the Ghostbusters movies.
Wilcoxon was a man of the cloth in the 1942 classic Mrs. Miniver and its sequel.
Before Caddyshack, production designer Stan Jolley played an important part in designing Disneyland.
Casting Notes
Michael O'Keefe was nominated for an Oscar for The Great Santini just before this role. His character here was based on writer Brian Doyle-Murray's older brother, Ed, who was also a caddie.
SNL alum Chase was a huge star in 1980. This role was written with him in mind.
Actor Ted Knight is best known as news anchor Ted Baxter on the Mary Tyler Moore show.
The producers cast comedian Rodney Dangerfield based on his frequent Johnny Carson appearances. This was his first film role, and he didn't even know what "Action!" meant in the beginning.
This is John F. Barmon Jr.'s one and only movie role. He now works as a Realtor in the Boston area.
Murray's fantasy ladies are golfing friends of the casting agent who hired all the extras.
History Notes
In real life, the Evans Scholars Foundation has sponsored the biggest caddie scholarship since 1930.
Golf writer Ron Green Sr.: "Everyone was talking about Caddyshack at the golf course, and a lot of people started using the lines right away. It just struck a chord with golfers."
Sonja Henie is Norway's most famous figure skater of all time.
How-to Notes
A bullshot is made by mixing vodka, cold beef bouillon, salt, and pepper.
Chase: "The way you do a swimming scene nude is you keep the water moving. That's the trick."
Location Note
The production designer says the pool "was a dump, full of sludge, slime, and other stuff."
Love Notes
Scott Colomby and Cindy Morgan dated for two years after this movie.
By the end of the shoot, Holcomb was seeing "another guy." It was Doyle-Murray.
Plot Notes
One of the big themes in Caddyshack is the snobs against the slobs. Co-writer Douglas Kenney loved to mock the upper crust, as he did in Animal House.
Ramis says he thinks of the movie as Danny's search for a role model. He'll find what he's looking for pretty soon.
Pop-Culture Notes
Caddyshack was created by most of the same team behind 1978's comedy smash Animal House. The goal was to do the same thing all over again.
"Be the ball" is one of the most quoted lines from Caddyshack. It's a reference to the Force in Star Wars, which had come out just three years before this movie.
The togas are a nod to Animal House.
Naked-lady tees are real and usually come packed with exploding golf balls.
Murray's character was partially based on a routine he developed years before at the Second City.
1980 was a big year for comedies: It saw the release of Airplane!, The Blues Brothers, and Caddyshack.
Chevy's sound effects are a reference to the hit seventies TV show The Six Million Dollar Man.
Tiger Woods says Caddyshack is his favorite movie of all time. He even made a commercial about it.
Quotation Notes
Chase: "I don't know anything about golf. I know that you have to wear golf shoes. With spikes."
Chase recalls the caddies in the movie "getting loaded a lot." Most of the cast and crew lived together in a rambunctious dorm just behind the country club. There was even an announcement saying, "If you want to party, just leave your door open."
Morgan on her braless wardrobe: "It was 1979, and women had just burned their bras. It was a political statement more than anything."
Morgan says that, after growing up in Catholic school, playing Lacey was her "ultimate fantasy role. When I read the script I went, 'Who's this?' I didn't view myself as a sex symbol at all."
Caddyshack is known for being heavily improvised. Chase: "A lot of it was winged." Ramis: "We always trusted improvisation. It's like having a script with unfinished dialogue."
Ramis: "People had so much fun. And it kind of spoiled me. I thought, 'This is what filmmaking is like. This is great.' It's like having a party every day."
Ann Ryerson (who holds the Baby Ruth): "I have been unable to eat chocolate since that day."
Golfer Nick Price: "Ted Knight was the best character in that movie. The epitome of a member who wants to be a snob but doesn't have the credentials."
Effects supervisor John Dykstra: "Caddyshack was about the whole class structure of country clubs. It was saying, 'The more tight assed you are, the less fun you have.'"
O'Keefe: "You could land planes on Ted's hair. It looked like an aircraft carrier."
Chase on Murray: "That's why he's so great as a humorist. He's dangerous. But he's literally dangerous — there's a little bit of bully in Billy."
Ramis: "I'm the Zen Buddhist that Chevy plays in the movie. But I'm too lazy to be Buddhist."
Producer Mark Canton: "Ted Knight inspired me to play golf later in life."
O'Keefe says he stayed away from golf for 25 years after Caddyshack. He wasn't into the "pressure of having everyone come out of the pro shop to watch."
O'Keefe: "If you say you remember Caddyshack, you probably weren't there."
Random Note
Kenney based Danny Noonan after himself, but in real life he wanted to be Chase.
Script Notes
Doyle-Murray based the family on his own. He has eight siblings, including Caddyshack star Murray.
Caddyshack was originally much more about the life of the caddie on a suburban golf course. Once Chase and Murray got involved, though, Ramis focused on making their stories work.
Maggie O'Hooligan is based on all the girls at the country club where Doyle-Murray worked as a teen. They were all recruited from Ireland for summer work.
Set Notes
Murray was only on set for six days, and his character, Carl, had no scripted lines. Ramis would just leave the camera on him and let it roll.
Ramis's first day of directing he called a "disaster," and he thought he would be fired. In fact, the studio had made a list of five directors to replace him, if necessary.
The gopher's underground world was created by Oscar-winning effects specialist Dykstra.
Actual condo development near the course constantly interrupted filming. So did the 75 planes landing daily nearby.
Morgan was actually upset when Chase spilled the bottle of oil on her.
Dangerfield's character was based on a guy in New York who had sirens on his car.
The gopher scenes were shot way after the film had wrapped to try to tie the movie together. The studio paid over $500,000 to add the mechanical critter to the film.
Murray and Chase were not friendly off set. In fact, they once came to blows backstage at SNL. But when it came time to film, they acted like complete professionals.
During filming, Dangerfield thought he was "bombing" because no one was laughing. Someone finally explained to him that if people laughed it would ruin the take.
The production built a fake green between two courses to blow up. Then they sent the golf-course staff to a party and secretly blew it up while they were gone.
Sport Notes
It's standard golf etiquette to be silent when someone is teeing off. Because there's no referee, rules have to be upheld by individual players.
The only time you can legally move a ball is if it's on ground that's being repaired or on a cart path.
LPGA teaching pro Julie Cole says Smails's form is "awful. The knees are too flexed. Basically, everything that could pretty much go wrong goes wrong."
Originally, winners of the British Open were awarded championship belts instead of trophies.
If trapped on a course during a lightning storm, get away from trees, golf clubs, and metal golf shoes.
Golfer Jim McLean on O'Keefe: "For an actor who had not played much golf, it's a really great swing. He's obviously a good athlete."
A ball has ten seconds to fall into the cup from the time it stops at the edge of the hole.
Tech Note
There were several gopher puppets, all built for specific purposes. According to Dykstra, the crew had a name for the gopher. It was Gopher.
Trivia Notes
Actually, gophers usually stay away from greens. The biggest menace to a course is a mole.
Years later, Ramis had the opportunity to spend time with the Dalai Lama. He said the monks were confused about this speech because the "Dalai Lama doesn't play golf."
The average price for a bottle of soda in 1980: 35 cents.
"Ahoy, polloi" is a play on "hoi polloi," a slang term for lower-class people.
St. Copious is a completely fictional saint.
Naming the captain Swanson is an homage to production designer Ted Swanson.
The explosions were so big, a pilot landing nearby thought a plane had crashed on the course.
Read More