Uncategorized
Story Notes for Broken Arrow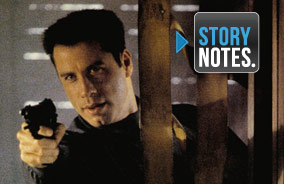 Monday through Thursday, at 8PM | 7C, AMC presents Story Notes — real-time on-air trivia about your favorite movies. Tonight's movie was Broken Arrow.
Award Note
The mine shoot-out and explosion were nominated for an MTV Movie Award for Best Action Sequence.
Biographical Notes
In 1996, John Travolta's comeback was in full swing, thanks to Pulp Fiction. It was Fiction director Quentin Tarantino who first introduced Travolta to director John Woo.
Bruce Lee and Woo both started their careers under Hong Kong legend Cheh Chang.
Broken Arrow was one of Christian Slater's first lead roles in a big-budget movie. Before this, he was known for Heathers, Pump Up the Volume, and True Romance.
Travolta is a certified pilot and owns several planes, including a Boeing 707 airliner. He used it to deliver supplies after both Hurricane Katrina and the 2010 Haiti earthquake.
Actor Delroy Lindo is best known for his roles in Malcolm X and Get Shorty. Broken Arrow was one of five movies in which Lindo was featured in 1996.
You might know actor Kurtwood Smith as Red Forman, the father on That '70s Show.
Before this, Frank Whaley starred in Career Opportunities and Swimming With Sharks.
Slater and Samantha Mathis also starred together in the 1990 movie Pump Up the Volume. They worked together again in 1992's FernGully: The Last Rainforest.
In real life, actor Bob Gunton definitely knows what a military mission is like. Gunton's service in the U.S. Army during Vietnam earned him a Bronze Star for valor.
Slater was known at the time for his bad-boy image and darker roles. Woo and Slater worked to transition his image to that of a good boy from the neighborhood.
Journalist Hunter S. Thompson famously called Howie Long the "manliest man alive."
Casting Notes
Slater turned down a starring role in Sylvester Stallone's Assassins to work with Woo. Slater says he's been a Woo fan since seeing his 1989 classic, The Killer.
Woo cast Mathis as Carmichael because she was "not a scared girl needing protection."
Gunton is known for his role as the warden in The Shawshank Redemption.
NFL Hall of Famer Long's short-lived movie career also included the lead role in 1998's Firestorm.
Travolta was offered his choice of lead roles, but Woo encouraged him to play the villain. He thought Travolta's elegance and charisma would make him a unique and interesting bad guy.
Woo said he cast Mathis and Slater by putting photos of them together and deciding, "They fit."
Finance Notes
At $50 million, Broken Arrow had by far the largest budget Woo had worked with. His last Hong Kong movie, Hard Boiled, cost only $4.5 million.
Broken Arrow made over $150 million worldwide and topped American box offices for two weeks. It was finally beaten by a movie from another Hong Kong star: Jackie Chan's Rumble in the Bronx.
Gossip Note
Slater and Mathis dated after Pump Up the Volume but broke up long before Broken Arrow.
History Notes
In 2008, heavy rain over Guam caused the first and only stealth-bomber crash.
The last "broken arrow" event happened in 1968, when a B-52 bomber went down near Greenland. The crash caused the nuclear bombs to break open, spreading radiation for miles. Time magazine named the crash one of the world's worst nuclear disasters.
Copper mining has been a significant industry in Utah since the 1890s. The Bingham Canyon Mine is among the largest open-pit copper mines in the world.
The U.S. has not produced a nuclear warhead since 1989.
Location Notes
The stunning Canyonlands National Park, in Utah, gets nearly half a million visitors annually.
The train scenes were shot on location in central Montana.
Music Notes
Hans Zimmer's techno-Western original score is a cult classic. Zimmer described it as an homage to legendary Western director Sergio Leone.
Zimmer used legendary guitarist Duane Eddy for his score. Eddy is known for his twangy country-rock guitar.
A portion of Zimmer's score was also used in 1997's Scream 2.
Zimmer won an Academy Award in 1994, for The Lion King. He's composed music for over 100 movies, including Gladiator, The Dark Knight, and Inception.
Woo places special importance on the scoring of his movies. He often plays symphonic music while editing to help achieve a natural rhythm.
Plot Notes
The close-ups of characters eyes are a Woo trademark.
The focus on guns is another Woo trademark. He's considered the pioneer of "gun fu" movies. His influence is seen in many modern action movies, such as The Matrix, Wanted, and Kick-Ass.
In Broken Arrow, if you see a helicopter you will see it explode.
Mexican standoffs, when characters have guns locked on each other, are a major Woo trademark.
Woo is known for his graceful shots of flying doves. In this movie, it's butterflies.
Deakins's arrogance causes him to underestimate his opponents. It will be his downfall.
Woo is known for his tightly choreographed fight sequences.
Pop-Culture Notes
Popular movie-news Web site Ain't It Cool News got its name from a famous Travolta line in the movie.
Woo's Hollywood success continued with blockbusters Face/Off and Mission: Impossible II. He finally returned to China in 2008, to direct the historical war epic Red Cliff.
Prop Note
Deakins's machine pistol is so powerful it requires two hands to fire.
Quotation Notes
Woo: "Some people see me as an action director, but action is not the only thing in my movies. I always like to show something about human nature — something deep inside the heart."
Woo on Travolta: "So charming, but when he's staring at you he can have the eyes of Satan."
Zimmer said he wanted to give Deakins the most pleasant music in Broken Arrow. He explains, "They say that the Devil was the most beautiful angel in Heaven."
Screenwriter Graham Yost: "I enjoy thinking of everything that could go wrong for the characters and clever ways for them to get out of trouble."
Woo on Deakins: "I wanted to make the audience feel like he could be anyone. Your neighbor, your colleague, your friend."
A big fan of musicals as a kid, Woo says he sees fight scenes like dancing scenes.
Random Note
Cryptogamic soil is an extremely fragile mix of algae, lichen, moss, and fungi. It keeps seeds safe from the harsh desert climate.
Script Notes
The B-3 is a fictional stealth plane based on the B-2 bomber. In the original script, it was called the Ghost.
It took Woo several years after his U.S. debut, Hard Target, to find a script that fit his style. He chose Broken Arrow for its great action but also its themes of loyalty, betrayal, and honor.
Set Notes
Travolta said it was his idea to play the Deakins character "bigger than life."
In Hong Kong, Woo wouldn't preplan his action scenes, preferring to go by instinct. But Hollywood's shorter shooting schedules forced him to begin using storyboards.
The armorer estimated over 60,000 rounds of ammo were fired while making Broken Arrow.
Most of the action sequences in Broken Arrow were shot on location, not on a studio set.
The scenes on top of the train were shot on a real moving train. Woo: "It was tough for the actors, for the camera crew, and for the stunt crew."
Slater did almost all of his own stunts.
Trivia Notes
Broken Arrow is the second U.S. movie from Woo. He's famous for highly stylized action in movies like Face/Off and Mission: Impossible II.
"83s," or B83s, are one of the largest and most modern nuclear weapons in the U.S. stockpile. B83s are the bombs NASA would use to deflect an asteroid hurtling toward the Earth.
Stealth bombers cool down their exhaust fumes so heat detectors can't see them. B-2s are designed with no edges, to avoid radar. Radio waves bounce off them like a mirror.
A B-2 stealth bomber can hold up to sixteen nuclear bombs.
B-2 ejector seats have rocket boosters to propel pilots high enough to use a parachute.
Though it was his 25th movie, Broken Arrow was the 1st where Woo had money for visual effects.
Technically, a "broken arrow" is a nuclear-weapons accident that doesn't create a risk of war.
Most military electronics are radiation hardened to protect them from radioactivity.
Mathis asked friend and Speed star Sandra Bullock for tips on doing action scenes. Bullock told her to hum the James Bond theme before every take.
Woo watched television every day to learn about American culture.
Thermal radiation accounts for 35 to 45 percent of the energy released from a nuclear bomb. The heat can ignite objects up to 25 miles away.
Lindo and Travolta previously worked together on 1995's Get Shorty.
Woo specifically chose a Ruger AC-556F assault rifle as Deakins's gun. Travolta said, "I really like the wood on it; it's really good for my character."
Woo says he doesn't like his actors to rehearse. He prefers they feel free to improvise on set.
The world's longest underground river flows over 95 miles under Mexico's Yucatán Peninsula.
It takes 70 pounds of pressure to crush a human windpipe.
According to the Department of Defense, eleven U.S. nuclear bombs have been lost and never recovered.
The maximum punishment for disobeying an order in peacetime is five years in confinement.
According to the 2010 census, the population of Denver, Colorado, is over 600,000.
For their fight scenes, Slater and Travolta trained with former boxing champ Carlos Palomino.
Read More