Uncategorized
Clooney, Keaton, Bale! Holy Batmans! Which Movie Caped Crusader Is the Sexiest?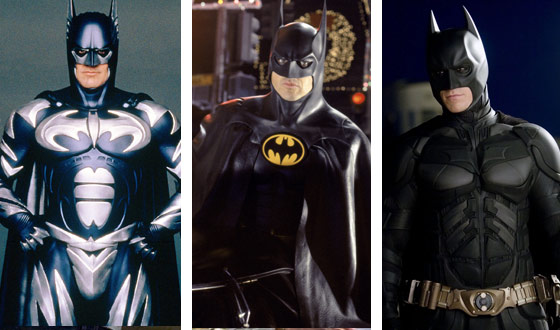 Gotham can be a grueling place for a gal. On any given day, one runs the risk of being blown up, kidnapped, or even attacked by a humanoid penguin. Luckily, a knight in shining armor always comes to the rescue — or, more accurately, a dark knight in black rubber. But not all Caped Crusaders are created equal. So given the choice, which one would a damsel in distress want to save her? Here we rank the men behind the mask in descending order of appeal.
5. Adam West, Batman
No, he doesn't have the looks of the other Batmans. No, he doesn't have the sick six pack (painted on his Bat suit, that is). What he does have is a sense of humor and a suit so tight that it's almost shameful. But while the swinging-sixties Batman has his finer points, he's just not what you want from your Caped Crusader. Where's the gruff voice? The menacing stare? West's Batman is better suited to spreading cheer at theme parks. Not one female over the age of 8 is sleeping better knowing this Batman is watching over her.
4. Val Kilmer, Batman Forever
There's something about a bad boy loved by good girls, and Kilmer should have fit that bill. When cast as Batman, he was notoriously naughty. Unfortunately, the Bat suit sucked the sex appeal right out of him. While he gets points for being in better shape than some of his counterparts — which is vital for death-defying feats of heroism — Kilmer falls flat for coming off as a total square. Sure, taking in orphans like Robin is sweet. But this conscience-laden do-gooder shows that, when it comes to charming the ladies, nice Batmans finish last.
3. George Clooney, Batman & Robin
Clooney possesses many qualities that make him believable as a billionaire bachelor: charm, a disarming smile, and a natural gift for looking great in Italian suits. And while Batman would never flash his pearly whites, the subtle smirk Clooney wears throughout the film goes a long way to warming a girl's heart. But this masked avenger is a little too slick. Where's the grit, George? However, he does possess some cool gadgets and devices. So should you find yourself held in a subzero chamber by Mr. Freeze (Arnold Schwarzenegger), that ice-cutting laser gun comes in handy.
2. Christian Bale, Batman Begins and The Dark Knight
When it comes to strength, intelligence, and an arsenal of high-tech weaponry, Bale's Batman has it all. Not to mention a killer set of abs. He'll definitely get you back home safe and sound after a thrilling ride on his Bat pod. But then what? Sorry to say it, ladies, but the busiest Batman of them all has no time for you. He's got to fight crime, set up a line of communication with the future commissioner, and confront demons from his past. Oh, and, unlike his predecessors, he's already deeply in love with someone else.
1. Michael Keaton, Batman and Batman Returns
What could be a bigger test of bravery than overcoming 50,000 hate letters from comic-book fans and the stigma of being Mr. Mom? That's the kind of courage a gal wants to see when she's dangling from a ledge. That, combined with Keaton's comedic past, makes him damn sexy under all that rubber. Behind Keaton's brooding jaw (the best of the bunch), pouting lips (hmmm — never noticed those babies before), and piercing blue eyes (again, winner!), there's a hint of playfulness. He may be dark, but he's definitely not dull. This is a guy who knows how to show a girl a good time.
[poll id=2961]
Check out three different Batmans during AMC's Crazy About Batman, a Batman-movie marathon starting with Keaton in Batman on Sun., Jul. 10, at 11:30AM | 10:30C.
Read More