Uncategorized
Take a Look at Travolta's Career, and You'll See How Good He Is at Being Bad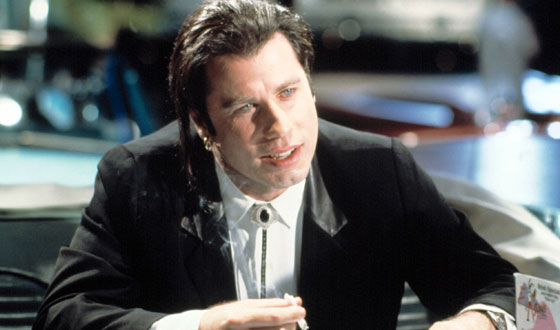 John Travolta may not be the first guy you think of when it comes to bad boys, but be honest: who wears a leather jacket better than this guy? In fact, when you look at his career, he rarely plays the baby-faced good guy you'd expect. On the contrary, in his most memorable roles he's a bit bad if not outright villainous. So how do you prefer your Travolta? PG-13 — or something more extreme? Below is a list of his landmark performances, along with a Shadiness Meter that ranks Travolta on a scale of one to five (five being downright evil).
Billy Nolan, Carrie (1976)
In his first major role, Travolta is naughty, no doubt, but he's still got a lot to learn. After all, Billy Nolan's bucket-of-blood prank may be thoughtlessly cruel, but his mischievous acts are really high-school shenanigans. Compared to bad girl Carrie, who sets his car on fire and kills him as part of her prom-night revenge, his stunt proves tame stuff. Nice try, Travolta.
Rank:



Tony Manero, Saturday Night Fever  (1977)
It's not easy being Tony Manero. His parents are disapproving, and his brother's a priest. You'd think this Brooklyn native would spiral into a life of delinquency. Not so. Instead, he channels his inner bad boy into a disco dancing machine. As a bad boy made good, Tony retains just enough malcontent to earn one point in his favor. Being a little bad is part of what makes his dancing so good.
Rank:

Danny Zuko, Grease (1978)
Who wouldn't be head over heels for Danny Zuko? Travolta's foulmouthed pop-singing greaser is all tough exterior and soft, gooey center. When love comes along in the shape of super-square Sandy (Olivia Newton-John), Zuko sheds his bad-boy image, leather jacket and all. Negative shade for that one.
Rank:

Vincent Vega, Pulp Fiction (1994)
Travolta's hit man (and comeback role) Vincent Vega is a cool, calm, carefree cad with a sense of humor. He's got the gun, the black suit, and the slicked-back hair. He even shoots hostage Marvin right in the face — albeit accidentally. Ultimately, what stops him from being the quintessential bad boy is too much witty banter and musing about cheeseburgers.
Rank:



Chili Palmer, Get Shorty (1995)
A Miami loan shark out to make a movie, Palmer isn't what you'd call a bona fide villain. He's way too Zen to be evil. (Think of how he nonchalantly bullies a lead actor into accepting a role by holding a gun to his head.) Even so, this no-nonsense producer in the rough knows what he wants and won't suffer anyone who gets in his way.
Rank:




Sean Archer/Castor Troy, Face/Off (1997)
Although he starts off as a good guy, Sean Archer, Travolta's character, swaps faces with his nemesis, Castor Troy (Nicolas Cage), for much of the movie. So while technically you could say Travolta's re-faced character is the good guy, when you're seeing his face on the bad guy firing shots in a church with flying doves you can't help but place some of the blame on him too.
Rank:





Terl, Battlefield Earth: A Saga of the Year 3000 (2000)
The worst part about Travolta's humanoid alien may be how he looks. That hair! Those eyebrows! Most of his dirty work is done by an army of slaves, so PETA members are probably the only ones crying foul when Terl shoots a cow, at one point. That said, Battlefield Earth did land Travolta a Razzie award for Worst Actor. That type of bad works against him here. No points.
Rank:

Ryder, The Taking of Pelham 1 2 3 (2009)
With his crazy mustache and neck tattoo, Travolta takes his bad-boy image to a whole other level. Insisting New York owes him over $10 million, his righteous demands entail knocking off innocent passengers one by one until he's paid. He's the epitome of bad: a ruthless hijacker who can't even say "Hello" without a sneer. This is as good as bad gets.
Rank:





Check out Travolta in Swordfish on Sun., Jul. 31, at 8PM | 7C. and Pulp Fiction on Sun., Aug. 7, at 7PM | 6C.
Read More