Uncategorized
Flashback Five – Joe Pesci's Best Movies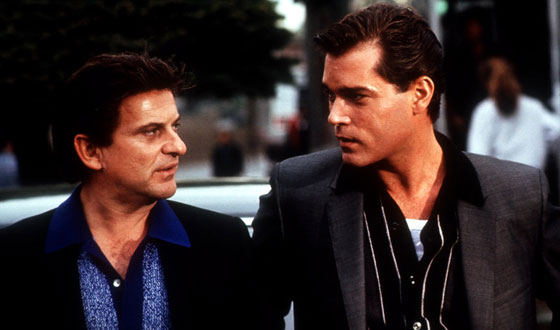 Joe Pesci makes playing violent mobsters seem easy. But he's no one-trick pony: Pesci is an Academy Award winner — and a hilarious one, at that — armed with impeccable improvisational skills gained from years as a comedian. Whether playing neighborhood tough guys or not-so-tough neighborhood burglars, Pesci's always entertaining. You can't take your eyes off of him, especially in these movies, Joe Pesci's best.
1. Goodfellas (1990)
You could say Pesci is amusing in this movie, but he's also menacing as volatile Tommy DeVito. Take the heart-stopping "What do you mean I'm funny?" scene — based on Pesci's own experience making the wrong compliment to the wrong wiseguy. No one else can quite teeter on the edge between comic relief and pure evil. Pesci's black-tempered mobster became part of the pop-culture lexicon — nabbing the actor Goodfellas' only Oscar.
2. Raging Bull (1980)
Pesci's starring turn as the long-suffering brother of boxer Jake La Motta (Robert De Niro) is something of a reverse of the Goodfellas character he's most famous for, with Pesci having to deal with the prizefighter's volcanic temper tantrums and suffer a notably ferocious beating. Fisticuffs aside, the real sparring comes in the actors' largely improvised scenes around the dining-room table, which are as gripping as any prizefight.
3. My Cousin Vinny (1992)
Pesci nails the greatest fish-out-of-water role imaginable, as a city-slicker lawyer working a case in the Deep South. The courtroom scenes, with The Munsters' Fred Gwynne presiding, play like freshly written Abbott and Costello routines. ("Yoot? What's a yoot?") And while few people can equal his way with inspired invective, Pesci meets his match in Marisa Tomei, who plays his tough-talking Brooklynite wife.
4. Casino (1995)
The only movie made by Martin Scorsese and starring Robert De Niro that could be considered underrated, Casino is brilliant. For his part, Pesci is mob enforcer Nicky Santoro, a dangerous mobster reminiscent of Tommy DeVito, with a midwestern accent and Vegas neon clothes. The great acting doesn't stop there: De Niro and Sharon Stone are both incredible, and they make Casino the saddest, most sentimental mob pic you'll ever see.
5. JFK (1991)
Who killed Kennedy? In Oliver Stone's paranoid masterpiece, the finger is pointed at Joe Pesci, who plays twitchy conspirator David Ferrie, a man prone to delusions and fond of collecting rats (possibly out of a sense of kinship). But Pesci's hardly alone: the cast of conspirators includes Tommy Lee Jones, Kevin Bacon, Edward Asner, and Gary Oldman. The strength of JFK is in its terrific ensemble and the emotions it churns up about the murder of Kennedy (not in factual accuracy). Stone's movie hits its mark.
Honorable Mentions
1. Home Alone (1990): Pesci plays the burglar little boys love to shoot with a BB gun, burn with a blowtorch, and hit in the nuts. Wile E. Coyote couldn't have done much better.
2. Once Upon a Time in America (1984): Sergio Leone's epic about the American Dream brings the grandeur of the Western to the mob genre. And as a mob boss, Pesci is for once able to lord over Robert De Niro, not the other way around.
3. Lethal Weapon 2 (1989): Pesci adds a new dimension to the franchise as a motormouthed mob accountant working with Mel Gibson and Danny Glover. As if Lethal Weapon needed to be any funnier.
4. The Public Eye (1992): In a rare starring turn, Pesci anchors this overlooked flick as crime-scene shutterbug Leon Bernstein — stalking the mean streets of forties New York City to get the most-gruesome photos possible.
5. Easy Money (1983): Pesci started his career in stand-up, so he's a natural in this truly hysterical comedy, alongside fellow wiseass Rodney Dangerfield.

Check out Pesci in JFK on Sat., Jul. 30, at 8PM | 7C, during AMC Celebrates: JFK.
Check out Pesci in Goodfellas on Sat., Aug. 6, at 8PM | 7C, during AMC Mob Week.
Read More