Uncategorized
Interview: Kevin James on Sequels, Sandler, and Monkeying Around with Nick Nolte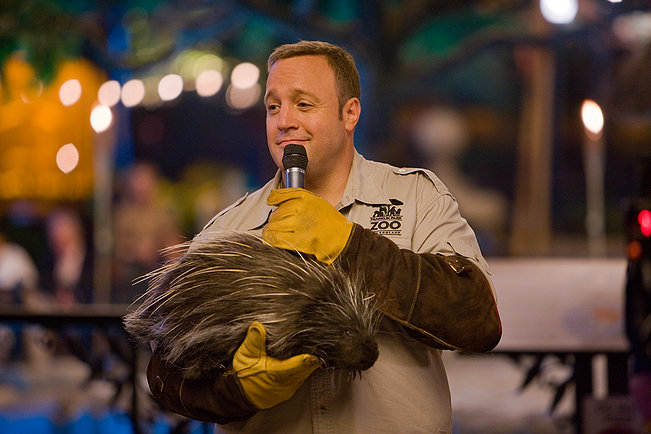 He has been a King of primetime television, a Grown Up with pal Adam Sandler, and the most lucrative Mall Cop in Hollywood history. Now Kevin James is ready to talk to the animals — and romance the lovely Rosario Dawson — in the new comedy The Zookeeper, which opens everywhere July 8. FilmCritic.com recently sat down with James in New York City, where we discussed Nick Nolte's Method acting, family entertainment that's good for the parents, and the reason he isn't keen on doing sequels.
Q: It has been a challenging summer for parents hoping to bring their kids to the movies and yet still be entertained themselves.
A: That's the trick of it. Usually my kids love everything, but when I have to sit there with my kids and the movie's just brutal, you end up thinking, "Please, just give me something for me!" That has been the challenge.
Q: And yet, with this, you guys aren't afraid to go a little
surreal. It's not just that zoo animals talk to your character, but you
also take them out into society so they can eat appetizers at T.G.I.
Friday's.
A: Right. [Laughs] With that scene, we wanted to do a little bit of a
crazy night out that would be fun for this gorilla, who spotted the
Friday's from his old enclosure. And my character just wants to give him
the night of his life. Taking a gorilla out and pretending he's a guy
in a suit so that we can bring him to an actual Friday's just made me
laugh. It created a very funny playing field for us to have a good time
in.
Q: And the gorilla, of course, is voiced by …
A: Nick Nolte. [Laughs] Of course!
Q: How much actual interaction did you get with Nolte?
A: Oh, tons. With everybody, by the way. I wanted to be in the room
with everybody, talking to them and playing off of them. There are a lot
of those animated movies where you just have people come in and read.
You meet at the premiere. I didn't want that. I wanted it to feel very
natural. I wanted all of us to have a very good rapport and play off of
each other. With Nick, he was almost too crazy. He was asking me if I
wanted a low-land gorilla or a mountain gorilla. And I told him,
"Actor's choice!" He brought in gorilla sounds, which we listened to
together. He was so into it and was so willing to play.
Q: Did Adam Sandler take a similar, in-depth approach to voicing the poop-throwing monkey?
A: Not at all. [Laughs] Sandler was just like, "I'm putting a crazy voice on, and I'm going with it."
Q: Your body of work is devoid of sequels. Zookeeper's another original project. And yet, with films like Paul Blart, you must have had the chance to do sequels. Do you just choose not to pursue them?
A: At this point, yes. You know, I can't say that I'll never do one.
Usually, for selfish reasons, I like doing something different. And I
did a show for 9 years on television, which was nice to do at the time.
That's not to say I wouldn't ever go back and do a character again if
there was a good story and it felt like it needed more. But most of my
stories, to be completely honest, you pretty much get it. [Laughs] All
of the questions have been answered in the first one. But you never
know. I'll never say never, but I generally don't like to do that.
Read More