Uncategorized
Interview: Harry Potter Cast and Crew Say Goodbye at Final Red Carpet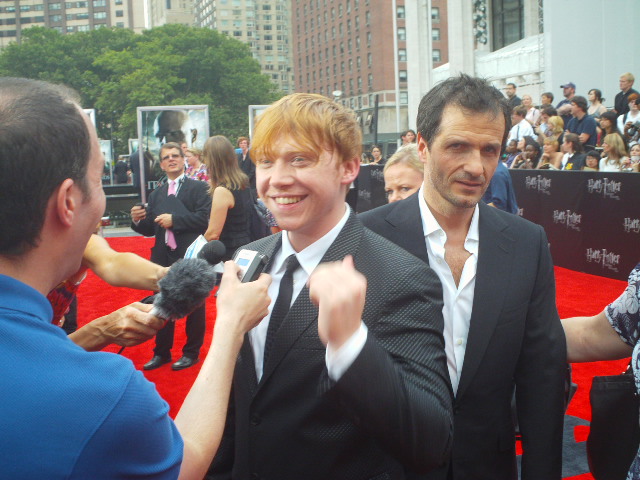 It all ends here. And here, this week, was New York City, where Daniel Radcliffe, Emma Watson, Rupert Grint and the cast of Harry Potter and the Deathly Hallows: Part 2 walked their last red carpet for the final Potter premiere … ever. FilmCritic.com was lucky enough to be on the carpet where we tossed questions at the Potter creative team as they posed for pictures, signed autographs for fans, and prepared to say farewell to this beloved film franchise after 10 magical years.
Q: Peter Jackson's Lord of the Rings trilogy scored a Best Picture Oscar on its final try. Would it matter to you if the Harry Potter franchise managed to do the same?
Rupert Grint: It's never been something that really mattered to us. This [gesturing at the screaming fans] is a good enough kind of award, just seeing the enthusiasm from our fans. It's just as pleasing to us as it is to them.
Harry Potter producer David Heyman: Yes, this is our Academy. We are making films for an audience, and this is as rewarding as it gets. Academy recognition would be wonderful, but that's not what it's about for us. It's about these people out here, some of who have been camping out for 6 days. At the London premiere, people traveled from as far away as Brazil and Japan, camping out in the rain to show their support. They are amazing.
Q: Rupert, do you remember the very first scene you filmed as Ron Weasley?
RG: Oh yeah, I remember it clearly. It actually was the very last scene of the first film, Harry Potter and the Sorcerer's Stone.
And I remember it being so sudden. One week, I was in school reading
the Harry Potter books, and the next week, I'm on a film set. It was
just crazy, and such a high for me.
Q: David, you had such a key role in the casting of these iconic roles.
DH: Well, Emma Watson was always much more beautiful than the way Hermione was described in the books. [Laughs] But you know, [Deathly Hallows
director] David Yates said something beautiful the other day, and it's
true. He said that in some ways, we are all standing on the shoulders of
[original director] Chris Columbus, because it was he who cast Dan,
Rupert and Emma. He cast Alan Rickman and Maggie Smith. I helped and I
supported, but it was mostly Chris at the time.
Q: For parents introducing their kids to the Harry Potter franchise for the first time, should they use the movies or J.K. Rowling's books?
Harry Potter screenwriter Steve Kloves: Start with the books.
Well, OK, it depends on how old your kids are. But I would sit every
night and read one or two chapters with your kids. That was a great joy
that I had with my daughter. And then one of the little deaths of my
life occurred when my daughter could read on her own, and she started
reading the books without me. But I loved that time, reading Jo's books
with her.
Q: Can you recommend a similar literary series Potter fans can use to fill the void now that the franchise is ending?
SK: Well, actually, the thing that's different about Potter is that
in a way it wasn't a franchise. We had one long tale written by Jo
Rowling. We didn't end up with Harry fighting Nazis on the moon.
[Laughs] I think there will be other decent series out there, but
there's not going to be another Potter because there'll never be another Jo Rowling.
Q: Any parting words to Harry Potter fans?
Tom Felton: Just a thank you. Every year, they have surprised us with their support and passion, so thank you so much.
DH: Yes, thank you, thank you, thank you. If it weren't for you, we wouldn't be here. Thank you very much, Potter fans.
Read More