Press
AMC Earns 29 Emmy Nominations for Mad Men, The Killing, The Walking Dead and Rubicon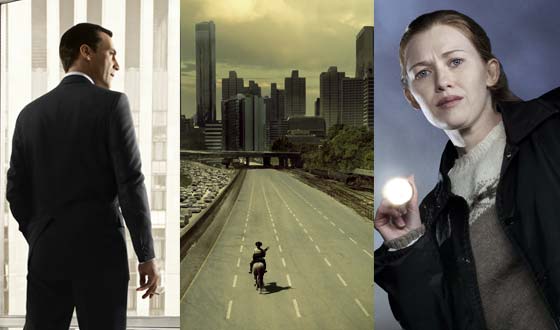 The Academy of Television Arts & Sciences announced this morning the 63rd Annual Primetime Emmy Award nominations, recognizing AMC with 29 nominations, the most for any basic cable network for the fourth year in a row, breaking the previous 26 nomination record for the network from 2010. Mad Men, which reigns as the only television series in cable history to win the Emmy for Outstanding Drama three years in row (2008, 2009 and 2010), continues to be the most Emmy nominated drama on television. This year the series garnered 19 nominations making it the most recognized series on television.
AMC's The Killing received 6 nominations, while The Walking Dead received 3 nominations. The network series Rubicon garnered 1 nomination. The network's Breaking Bad, which garnered wins for three years in a row for Bryan Cranston as Outstanding Actor in a Drama Series and Aaron Paul last year as Outstanding Supporting Actor, was not eligible for this year's competition based upon it not being telecast during the Jun. 1, 2010-May 31, 2011 awards year. Breaking Bad will premiere its fourth season this Sun., Jul. 17 and be in full competition next year.
The following is a statement from AMC President and General Manager Charlie Collier:
"We thank the Academy of Television Arts and Sciences for recognizing AMC and our amazing creative partners. It's exciting to be the network with the most nominations on basic cable.
"We congratulate all of the Mad Men, The Killing, The Walking Dead, and Rubicon nominees, their talented production teams, spectacular casts and our exceptional production partners on these well-deserved nominations."
Following is the complete list of nominations for AMC:
Outstanding Drama Series
Mad Men • AMC • Lionsgate Television
Outstanding Lead Actor In A Drama Series
Mad Men • AMC • Lionsgate Television
Jon Hamm as Don Draper (Read interview)
Outstanding Lead Actress In A Drama Series
The Killing • AMC • Fox Television Studios
Mireille Enos as Sarah Linden (Read interview)
Mad Men • AMC • Lionsgate Television
Elisabeth Moss as Peggy Olson (Read interview)
Outstanding Supporting Actor In A Drama Series
Mad Men • AMC • Lionsgate Television
John Slattery as Roger Sterling (Read interview)
Outstanding Supporting Actress In A Drama Series
The Killing • AMC • Fox Television Studios
Michelle Forbes as Mitch Larsen (Read interview)
Mad Men • AMC • Lionsgate Television
Christina Hendricks as Joan Harris (Read interview)
Outstanding Guest Actor In A Drama Series
Mad Men • AMC • Lionsgate Television
Robert Morse as Bertram Cooper (Read interview)
Outstanding Guest Actress In A
Drama Series
Mad Men • AMC • Lionsgate Television
Randee Heller as Miss Blankenship (Read interview)
Mad Men • AMC • Lionsgate Television
Cara Buono as Faye Miller (Read interview)
Outstanding Art Direction For A Single-Camera Series
Mad Men • Public Relations • AMC • Lionsgate Television
Dan Bishop, Production Designer (Read interview)
Christopher L. Brown, Art Director
Claudette Didul, Set Decorator
Outstanding Casting For A Drama Series
The Killing • AMC • Fox Television Studios
Junie Lowry Johnson, Casting Director
Libby Goldstein, Casting Director
Stuart Aikins, Casting Director – Canada
Corrine Clark, Casting Director – Canada
Jennifer Page, Casting Director – Canada
Mad Men • AMC • Lionsgate Television
Laura Schiff, CSA, Casting Director (Read interview)
Carrie Audino, CSA, Casting Director
Outstanding Costumes For A Series
Mad Men • The Beautiful Girls • AMC • Lionsgate Television
Janie Bryant, Costume Designer (Read interview)
Le Dawson, Costume Supervisor
Outstanding Directing For A Drama Series
The Killing • Pilot • AMC • Fox Television Studios
Patty Jenkins, Directed by (Read interview)
Outstanding Single-Camera Picture Editing For A Drama Series
The Killing • Pilot • AMC • Fox Television Studios
Elizabeth Kling, Edited by
Mad Men • The Suitcase • AMC • Lionsgate Television
Tom Wilson, Edited by
Mad Men • Blowing Smoke • AMC • Lionsgate Television
Pattye Rogers, Edited by
Leo Trombetta, Edited by
Outstanding Hairstyling For A Single-Camera Series
Mad Men • Hands And Knees • AMC • Lionsgate Television
Lucia Mace, Department Head Hairstylist (Read interview)
Theraesa Rivers, Key Hairstylist
Terrie Owen, Additional Hairstylist
Mad Men • Christmas Comes But Once A Year • AMC • Lionsgate Television
Sean Flanigan, Department Head Hairstylist
Gloria Casny, Key Hairstylist
Lucia Mace, Key Hairstylist
Theraesa Rivers, Additional Hairstylist
Jules Holdren, Additional Hairstylist
Outstanding Main Title Design
Rubicon • AMC • Warner Horizon Television
Karin Fong, Creative Director
Jeremy Cox, Designer/Animator
Theodore Daley, Designer
Cara McKenney, Producer/Art Director
Outstanding Makeup For A Single-Camera Series (Non-Prosthetic)
Mad Men • The Rejected • AMC • Lionsgate Television
Lana Horchowski, Department Head Makeup Artist (Read interview)
Ron Pipes, Key Makeup Artist
Maurine Schlenz Burke, Makeup Artist
Mary Kay Morse Witt, Additional Makeup Artist
Tricia Sawyer, Additional Makeup Artist
Outstanding Prosthetic Makeup For A Series, Miniseries, Movie Or A Special
The Walking Dead • Days Gone Bye • AMC • AMC Productions
Greg Nicotero, Special Makeup Effects Department Head (Read interview)
Andy Schoneberg, Special Makeup Effects Artist
Garrett Immel, Special Makeup Effects Artist
Jake Garber, Special Makeup Effects Artist
Howard Berger, Prosthetic Designer
Jaremy Aiello, Prosthetic Designer
Outstanding Sound Editing For A Series
The Walking Dead • Days Gone Bye • AMC • AMC Productions
Walter Newman, Supervising Sound Editor
Kenneth Young, Co-Supervisor/Sound Editor
Darleen Stoker, Supervising Dialogue Editor
Jerry Edemann, Supervising Foley Editor
Michael Baber, Music Editor
Hilda Hodges, Foley Artist
David Lee Fein, Foley Artist
Outstanding Sound Mixing For A Comedy Or Drama Series (One Hour)
Mad Men • The Suitcase • AMC • Lionsgate Television
Peter Bentley, Production Sound Mixer
Ken Teaney, Re-Recording Mixer
Todd Orr, Re-Recording Mixer
Outstanding Special Visual Effects For A Series
The Walking Dead • Days Gone Bye • AMC • AMC Productions
Sam Nicholson, Lead Visual Effects Supervisor
Jason Sperling, Visual Effects Supervisor
Kent Johnson, Visual Effects Producer
Kristin Johnson, Lead Matte Artist
Christopher Martin, Lead Visual Effects Compositor
Michael Enriquez, Lead Model Maker
Anthony Ocampo, Lead Visual Effects Animator
Michael Cook, Lead CGI Artist
Gregory Nicotero, Lead Special Effects Artist
Outstanding Writing for a Drama Series
The Killing • Pilot • AMC • Fox Television Studios
Veena Sud, Written By (Read interview)
Mad Men • The Suitcase • AMC • Lionsgate Television
Matthew Weiner, Written By (Read interview)
Mad Men • Blowing Smoke • AMC • Lionsgate Television
Andre Jacquemetton, Written By (Read interview)
Maria Jacquemetton, Written By
Read More