Uncategorized
Flashback Five – Bryan Cranston's Best Movies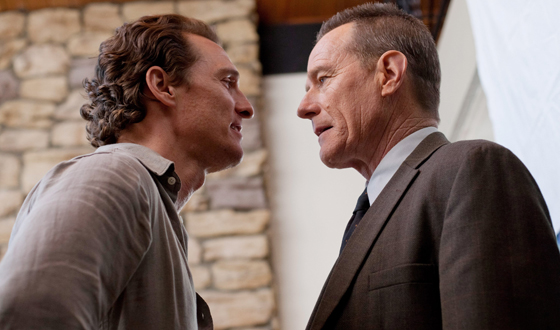 Bryan Cranston, star of Breaking Bad, seems to have come out of nowhere to solidify his place as one of the finest actors around. But he's been hiding in plain sight for years, with head-turning roles on Malcolm in the Middle and Seinfeld as well as fine work as a supporting player on the big screen. With Breaking Bad's newest season underway — as well as upcoming roles in flicks like John Carter and Total Recall — the time has come to take a look at the best movies that feature the Emmy winner. Bryan Cranston, this is your life, Flashback Five style.
1. That Thing You Do! (1996)
Tom Hanks directs this nostalgic throwback to the rock-and-roll mania of the sixties, following a fresh-faced four piece rising to fame on the strength of an ambiguously titled tune. Overshadowed by Hanks's many nineties smashes (Forrest Gump, Saving Private Ryan, Philadelphia), That Thing You Do! is truly underappreciated and the kind of lighthearted fun that is all too rare. Among its many highlights is Cranston's turn as real-life astronaut Gus Grissom, a guest on an Ed Sullivan-like variety show.
2. Saving Private Ryan (1998)
Steven Spielberg set a new bar for combat movies with this grisly World War II epic — opening with one of the most brutal battle sequences ever filmed, the landing on Omaha Beach. Tom Hanks also chips in one of his best performances, which will brake your heart into a million pieces. Hanks shows he appreciates Cranston, who appears as a one-armed war dog in the same year he played Buzz Aldrin in Hanks's From the Earth to the Moon. That Hanks guy knows his stuff!
3. Little Miss Sunshine (2006)
This quirky road movie about beauty pageants and family dysfunction is a sarcastic heart-warmer. Sure, the comedy has a really cute kid at its center (Abigail Breslin), but for once that isn't a warning signal for unbearable sentimentalism ahead. Instead, this little movie that could earned four Academy Award nominations and a raft of critical acclaim. And look out for Cranston as a co-worker of self-help addict Greg Kinnear.
4. The Lincoln Lawyer (2011)
Before he broke bad, Cranston was known for his comedy work. But he's right at home as a homicide detective who will eat your guts for breakfast in this under-the-radar law-and-order drama. The movie's high point is its cast, led by Matthew McConaughey (always pitch-perfect as a southern lawyer), with brilliant supporting performances by character actors Marisa Tomei, William H. Macy, John Leguizamo, and Cranston himself.
5. Drive (2011)
Months before its September release, Drive has already made an impression as a nominee for the Palme d'Or — the highest prize — at this year's Cannes Film Festival. Starring Ryan Gosling as a stunt artist who moonlights on the weekends as a getaway driver, this stylish crime flick is the closet you'll ever come to a Mad Men–Breaking Bad crossover: Cranston takes on the role of Gosling's boss, while Mad Men's beautiful Christina Hendricks appears as one of Gosling's criminal cronies.

Catch Cranston in Breaking Bad, on Sundays, at 10PM | 9C.
Read More