Uncategorized
Flashback Five – Brian De Palma's Best Movies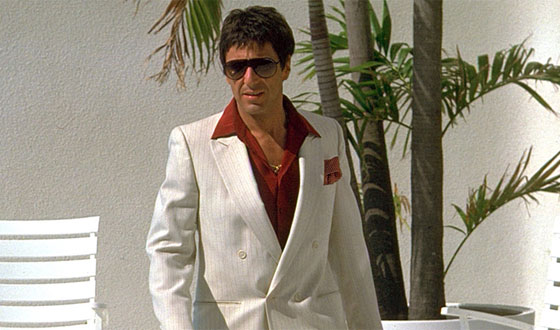 Brian De Palma has long been the most unappreciated of the so-called Movie Brats — a group that includes, among others, Steven Spielberg and Martin Scorsese. De Palma's made a habit of tackling psychotics, killers, and paranoid gangsters, infusing their tales with his own subversive sensibility. Gifted with an impeccable visual style, his pulp stories are always more complex than they appear at first. If you haven't sampled his genre-defying work yet, now's the time to take on Brian De Palma's best movies.
1. Scarface (1983)
Stylized violence and eighties hedonism are the signature attractions of De Palma's gloriously over-the-top gangster flick. The rise of Cuban gangster Tony Montana is the American Dream written with bullets, chain saws, and massive amounts of cocaine. Few movies have become such a big part of pop culture as Scarface, which is referenced endlessly in rap songs, adapted into video games, and decorates the walls of countless dorm rooms.
2. The Fury (1978)
Contrary to common belief, The Fury isn't all about exploding heads but rather a visceral exploration of young people on the cusp of adulthood who find themselves victimized by adults. The flick is a stylistic tour de force, with the director's signature plot puzzles and self-referential violence. And then there's the top-notch cast: you wouldn't expect to find Kirk Douglas and John Cassavetes in a thriller about psychic warfare, but here they are.
3. Blow Out (1981)
Musical mash ups are all the rage now, but De Palma was mixing movies together decades ago. Blow Out is a heady mix of Blow-Up, The Conversation, and The Parallax View, starring a young John Travolta as a sound-effects man caught in a political conspiracy. As much as any movie, Blow Out explores the fatal fallibility of perceptions — and the deceptions of cinema in particular. Meanwhile, the climax, amid Fourth of July fireworks, shows De Palma's skill at injecting political commentary into his work.
4. Carrie (1976)
A late-blooming high-school girl lashes out at the mean girls with her deadly telekinetic powers. A familiar story? Not then. Compared to the horror films of its time, Carrie is a shocking jolt to the nerves, taking horror conventions to delirious extremes and playing on audience expectations. The locker-room opening goes from soft-focus soft porn to pubescent nightmare in a heartbeat. And that's to say nothing of the the prom sequence — a masterpiece of apocalyptic glitz — or the trick ending.
5. The Untouchables (1987)
This crime saga is one of De Palma's most entertaining, and the director manages his ensemble cast like a pinball wizard playing with multiple balls. The Union Station staircase shoot-out is a tour de force of tension. And although it will bring every Sean Connery fan to tears, who can forget his onscreen death in a signature POV stalking sequence done in a single long take?
Honorable Mentions
1. Body Double (1984): Ultraviolent scenes of damsels being drilled to death provoked outcry, but, really, this thriller is a clever commentary on voyeurism that implicates you, kind viewer.
2. Carlito's Way (1993): Pacino's great, but the highlight is the breathless chase scene through Grand Central Terminal, in which De Palma one-ups his own train-station set piece in The Untouchables.
3. Redacted (2007): With this Iraq-war movie, De Palma trades his sumptuous visuals for lo-fi digital camerawork that proves just as dazzling. Still, there's no shortage of the director's usual violence in this YouTube video from hell.
4. Dressed to Kill (1980): All De Palma's skills are working in this gender-bending thriller starring Michael Caine. The seduction scene at the Metroplitan Musem of Art shows that De Palma could have been a silent filmmaker.
5. Mission: Impossible (1996): Some complain about a labyrinthine plot, but this is still one of the most stylish event movies of the nineties, with a knockout sense of visual storytelling.

Check out De Palma's best, Scarface, tonight, Fri., Jul. 15, at 8PM | 7C.
Read More