No Credit, Broken Bones, and Death – Being Clint Eastwood's Partner Stinks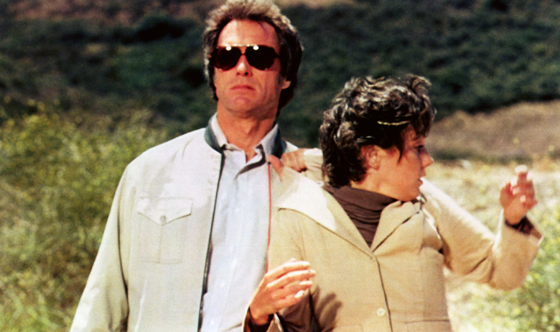 Clint Eastwood is one of the most respected, toughest, manliest men in Hollywood. So you'd think getting a job as his partner would be a pretty sweet gig: Clint does the heavy lifting, and you bask in his radiant (but masculine) glow. Think again. Playing second fiddle to Clint isn't an easy business. In fact, you might even say being his partner in a movie downright sucks. Why? Here are five reasons.
1. He Works Alone
Eastwood is the lone gunslinger, the rogue cop, the outlaw. That's him. So when he gets assigned a partner, like he does in Dirty Harry or The Enforcer, you know he's going to bust out an old standby like "I work alone" or "I don't work with a partner." And, sure enough, at the end of Dirty Harry, he's the one facing down arch villain Scorpio, without a friend in sight. (Like he'd want one.) Face it: this guy does not want you around, partner.
2. He Gets All the Credit
Remember in Space Cowboys when Tommy Lee Jones heroically sacrifices his life to pilot an out-of-control spaceship into the Moon, saving the world? Seems like he should be honored, but instead Clint gets to heroically return to the Earth and reap the rewards. Or what about The Enforcer? Tyne Daly lays down her life in the line of duty, and her prize is begrudging respect from Eastwood. He carries on to save the day and star in two more Dirty Harry pics!
3. You're Probably Going to Die…
Tommy Lee Jones is killed in Space Cowboys, and Daly is shot with an M16 and saves Eastwood's life in The Enforcer. Those dead partners are just the tip of the iceberg. In the Line of Fire's Dylan McDermott gets gunned down. Morgan Freeman gets tortured to death — offscreen — in Unforgiven. Clearly, working with Eastwood isn't the type of job those with long-term plans should take.
4. …Or, at Least, Get Seriously Maimed
Even if you do manage to survive a partnership with Eastwood, you won't get away with all your parts intact. Clint even explains to his Dirty Harry partner, Chico (Reni Santoni), that he's not long for this world. Chico proceeds to get stabbed and then quit the police force. Want more evidence? In the last Dirty Harry pic, The Dead Pool, Clint's newest partner, Al Quan (Evan C. Kim), nearly gets blown up and stabbed, despite being some sort of martial-arts expert. His fatal flaw? He's not Clint Eastwood.
5. You Might Be There Just for Comic Relief
Feel like Clint's partners are always playing second banana? That's because some are literally monkeys (and that doesn't even include Charlie Sheen in The Rookie). Take Every Which Way But Loose, where Eastwood's co-star is an orangutan. Seriously. Eastwood was a super-serious prizefighter, and his best friend was a monkey? There was even a sequel, Any Which Way You Can, which recast the monkey. In real life, it died two weeks after filming wrapped. Looks like Clint's partners need to watch their backs offscreen too.
AMC's Can't Get Enough Dirty Harry airs every night Jun. 8 through Jun. 10, starting at 8PM | 7C.
Read More