Uncategorized
Conan, Scott Pilgrim…No Not All Great Comic Book Movies Are About Superheroes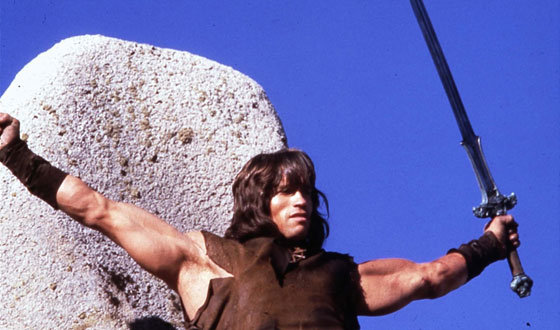 Comic books are the homes of just Batman, Spider-Man, and other men who dress in tights and fight evil, right? Wrong. For years, lesser-known comics like Robert E. Howard's "Conan the Barbarian" (made into a hit movie and sequel with Arnold Schwarzenegger) and "The Walking Dead" (which you might have heard of) have become huge hits on the big and small screen. What follows are the ten best movies based on comics that aren't superhero fare.
10. Josie and the Pussycats
The Pussycats (Rachel Leigh Cook, Rosario Dawson and Tara Reid) aren't heroes in the sense of that they wear tights (though their clothing is plenty tight for the guys), but they do heroically save America's youth from excessive product integration, while integrating every product imaginable into the movie. That's the kind of tongue-in-cheek humor, along with some pretty fun original songs that earns Josie and the Pussycats the No. 10 spot..
9. Sin City
Robert Rodriguez's hyper-violent and just plain hyper noir throwback loyally adapted a few of comic-book creator Frank Miller's "Sin City" books, using black and white with spots of color to show what the pages might look like if they came to life. With a cast that included everyone from Elijah Wood to Bruce Willis, Sin City was a hit — and made the graphic novels best sellers as well. In fact, Sin City may have been the flick that got the phrase "graphic novel" into the mainstream.
8. 300
Another Frank Miller adaptation — this time by Zack Snyder — 300 did for costume dramas what Sin City did for noir. Filled with giant action set pieces, copious CGI, and enough haughty male posturing to fuel a dozen Lethal Weapon movies, 300 received a very mixed reception, but in its ambition comic fans know it was one of the definitive action movies of its time.
7. Red
Prolific creator Warren Ellis and artist Cully Hamner's story of Retired Extremely Dangerous former CIA operatives is perfectly captured, right down to the wry, irreverent tone, by The Time Traveler's Wife's director, Robert Schwentke. With a cast including Bruce Willis, Helen Mirren, John Malkovich, and Morgan Freeman, you can't really go wrong anyway, but credit where credit is due: adapting a little-known but loved comic property is always tough.
6. Road to Perdition
Bet you wouldn't have pegged this Tom Hanks flick as a graphic novel. But a graphic novel it was. Sam Mendes's adaptation is one of the more thoughtful gangster movies ever made. Tom Hanks plays a man wreaking vengeance on the mobsters who murdered his family. The catch? Hanks has his son along for the ride. Dazzling direction and grand performances make this a new classic.
5. Ghost World
Based on the book by Daniel Clowes, one of the most critically celebrated creators in the comic world, Ghost World perfectly captures the lives of teenage outcasts (presumably most comic fans during their early years). Here the teens are breakout stars Thora Birch and Scarlett Johansson. This is the movie that made being a girl nerd cool again — because of, you know, Johansson.
4. American Splendor
The long-awaited adaptation of the late Harvey Pekar's autobiographical comic series nails the tone and feel of his work. Simultaneously nihilistic and hopeful, the flick captures how one tiny moment in a day can turn into something of true importance. It also helped that Paul Giamatti was perfectly cast as Pekar himself, in a role he's been trying to replicate ever since.
3. Conan the Barbarian
Conan! What is best in life? This movie, actually, as Arnold Schwarzenegger plays the role he was born for. Robert E. Howard's titular Barbarian battles the evil conqueror Thulsa Doom (James Earl Jones), with a screenplay by John Milius and Oliver Stone. Conan is a tremendously brutal action movie straight out of the comics and was, perhaps more importantly, a career launching pad for Arnie.
2. A History of Violence
Another little-known graphic novel — by John Wagner and Vince Locke — was adapted into one of the best movies about the costs of violence. It's slow, moody, and thoughtful, so you'd never suspect it was based on a comic. The most remarkable thing about this pic might be that it was directed by David Cronenberg, who managed to check his trademark weirdness at the door.
1. Scott Pilgrim vs. the World
On the other hand, there's Edgar Wright's near-perfect adaptation of Bryan Lee O'Malley's seminal series of graphic novels. Rather than eschewing the comic-book style, Wright embraces it — really embraces it — adding panel-like transitions, visible sound effects, and huge battles, as the titular Scott Pilgrim battles his love interest's seven evil exes for the right to keep dating her. Scott Pilgrim is a visual marvel with real heart, making it an easy choice for No. 1.
Check out Conan the Barbarian and Conan the Destroyer back-to-back tonight, Wed., Jun. 1, starting at 8PM | 7C.
Read More