Uncategorized
Story Notes for The Perfect Storm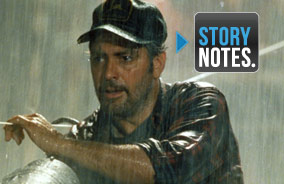 Monday through Thursday at 8PM | 7C, AMC presents Story Notes — real-time on-air trivia about your favorite movies. Tonight's movie was The Perfect Storm.
Biography Notes
Actor or sailor? John C. Reilly was also in The River Wild, Dark Water and Cedar Rapids.
George Clooney must love the sea: He was in Red Surf, Riptide, and the Ocean's Eleven trilogy.
Mark Wahlberg and George Clooney previously worked together in Three Kings.
Actors Bob Gunton and Cherry Jones worked together in the White House on 24. Bob played the Chief of Staff to Cherry's president.
Actress Karen Allen is best known as Marion from Raiders of the Lost Ark.
Dash Mihok (the rescue jumper) was in The Thin Red Line with George Clooney and John C. Reilly.
This isn't Mary Elizabeth Mastrantonio's first time getting her feet wet for a movie. She also starred in the underwater sci-fi thriller The Abyss.
Actor Michael Ironside looks so much like Bob Brown that one of the locals confused him for Bob.
Casting Notes
George Clooney plays the captain. He was after another role but the director needed him at the helm.
Casting Mark Wahlberg was easy: he comes from Boston and had Clooney's recommendation. Director Peterson says, "It was a handshake and he got the job."
Director Peterson had wanted to work with Diane Lane for 13 years before finally getting the chance.
You might recognize John Hawkes (Bugsy) from Deadwood and Winter's Bone.
According to friends, Billy Tyne was "a focused captain, very intense… a hard-working man."
The real Christina Cotter was older than Bobby Shatford, same as Diane Lane and Mark Wahlberg.
Janet Wright, who plays Bobby's mother, bears a close resemblance to the real Ethel Shatford.
Josh Hopkins, the pilot, is from TV's Cougar Town and the indie film Lebanon, PA.
Finance Notes
The average annual income of a fishing worker is about $25,000.
Grocery shopping for 6 crew men for a month can cost $4,000-$5,000.
History Notes
The real-life commander of the Tamaroa raved about how accurate this movie is.
Todd Gross is the real-life Boston weatherman who helped forecast the "perfect storm" of 1991.
The real Linda Greenlaw and Billy Tyne weren't close, but they did have a friendly rivalry.
Bob "Suicide" Brown was notoriously hard on his captains and even harder on himself. In the winter he fished alone in a 25-foot boat with no radio.
The real Linda Greenlaw is the only female swordboat captain in Gloucester.
Over 10,000 of its fishermen have died at sea since Gloucester was founded in the early 1600s.
Love Notes
Like the movie portrayed, Christina really did slip a letter to Bobby on a past trip. Later, he said he'd read it over and over. When she said she didn't believe him, he recited the whole thing from memory.
Music Notes
James Horner has composed a lot of music for departing heroes. In addition to this movie, he also scored Apollo 13 and Titanic.
Plot Notes
In 2000, most people had no idea what life in the fishing industry was like. The Perfect Storm changed all that.
Pop Culture Notes
The real Linda Greenlaw went on to star in the fishing reality show Swords: Life on the Line.
Quote Notes
Author Sebastian Junger says the public isn't really aware of rescue swimmers. He calls them "unsung heroes."
Random Notes
Swordboat crews typically spend a month out at sea and a week back at home. So, they pack as much living as they can into that one week.
Actor William Fichtner plays a producer on Entourage, which Mark Wahlberg exec produces. He also, appropriately, loves sushi.
An old sailor's saying goes, "Red sky at night, sailor's delight." Ironic.
The Flemish Cap is a favorite fishing site because the whole food chain gathers there in shallow waters.
Since the story came out, many captains have said they would've made the same call Billy Tyne did.
Many people who survive near-death experiences say they faced death with a sudden calmness.
Script Notes
Irene is the only made-up character in the whole movie.
Writer Sebastian Junger dreamed he was in the wheelhouse with Billy Tyne during a storm. The dream terrified him and helped him write the story.
Set Notes
To fight seasickness, actor William Fichtner (Sully) wore a wristband and took Dramamine.
When they started filming, an old fisherman said to director Wolfgang Petersen, "Get it right." Based on the reviews of real fishermen, Petersen believes they did.
Water devices used on set: wave machines, water cannons, and 2 huge dump tanks.
In this movie, the Andrea Gail is 'played' by a nearly identical boat, The Lady Grace.
Symbolism Notes
Bad vibes and premonitions are a recurring theme in this story. Historically, sailors are very superstitious.
After writing the book, Sebastian Junger dreamed he met Bobby Shatford on a beach. Bobby shook his hand and said "Good job."
Tech Notes
To create the illusion of being at sea, they built the galley set on a rocking platform.
None of the fish in this movie are real. They're either remote-controlled or rubber.
They used lightning to reveal the huge waves like revealing a monster in an old horror movie.
Trivia Notes
Billy Tyne and Linda Greenlaw are "swordboat captains." "Swordboat" is slang for a boat that catches swordfish.
Fishermen don't like to work in lifejackets because they're bulky and hard to move around in.
In a hurricane, a man floating on the ocean surface can still drown. The wind is so strong it fills the air with water.
A pilot has to make sure his chopper won't fall on anyone once he ditches it.
Some old houses in Gloucester have grooves in the floorboards by the windows. They were created by wives pacing nervously for their husbands to return.
"Para Rescue Jumpers" have military training in rescuing downed pilots in just about any terrain.
Swordfish migrate to where their prey gathers. For example, at the Flemish Cap.
For things they can't predict (like weather), sailors often act on gut feelings.
A "rogue wave" is a huge wave in otherwise calm seas. For a long time, scientists dismissed them as things of legend.
In cold water, the average person can only hold their breath for less than a minute.
The crew's job is to bait the line and haul in the catch. It's the captain's job to find the fish.
Seriously injured crewmen often get dropped off in Newfoundland. Some fishermen joke that if you're in a hospital there, your troubles have just begun.
Swordboat fishermen keep shotguns onboard in case of shark attacks.
More fish in the hold means more money of course, but it also acts as "ballast" to stabilize the boat.
A swordfish's bill can not only gore you; even a scratch can give you an infection.
Swordfish can weigh up to 1,400 pounds. Crewmen team up and haul them in with "gaff hooks."
Fishing crews typically wake up at 5 a.m. to begin hauling in the catch.
A good captain is also part sheriff.
A good captain is part oceanographer, cartographer and meteorologist, among other things.
Many sailors prefer "Goodbye" to "Good luck." They say "Good luck" is bad luck.
The Perfect Storm is based on Sebastian Junger's NY Times bestselling book. He lived in Gloucester in 1991, the year this story takes place.
Because they're home so rarely, many fishermen grow apart from their families.
Read More