Uncategorized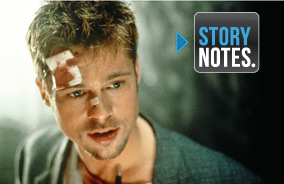 Monday through Thursday at 8PM | 7C, AMC presents Story Notes — real-time on-air trivia about your favorite movies. Tonight's movie was Se7en.
Award Notes
Se7en was named Best Picture at the 1996 MTV Movie Awards.
Brad Pitt says he didn't take his shirt off because Legends of the Fall had just made him a sex symbol. Still, he won the MTV Movie Award for Most Desirable Male for this role.
Biography Notes
Director David Fincher was determined to make Se7en without compromising his vision. On his first film, Aliens 3, Fincher battled with the studio and was fired 3 times.
Gwyneth Paltrow is a huge star now, but she'd only had a few roles when Se7en came out in 1995.
Quoting Shakespeare comes easy to Morgan Freeman. He's appeared in many productions by the New York Shakespeare Festival.
Brad Pitt and David Fincher became good friends filming Se7en. Pitt has gone on to star in Fincher's Fight Club and The Curious Case of Benjamin Button.
David Fincher has worked with Yoda. One of his first film jobs was on Return of the Jedi.
After 2007's Zodiac, Fincher said he didn't have to make another serial killer movie ever again.
Casting Notes
Pitt says he took this role "to escape the cheese" after Legends of the Fall.
Fincher worried that Se7en was too mean for Morgan Freeman, but he was the first one to join the cast.
The DA is actor Richard Roundtree who famously played Shaft. Can you dig it?
Fashion Notes
Pitt bought his own ties for the movie. He wanted his character, Mills, to have no fashion sense.
Finance Notes
Se7en cost about $33 million to make and grossed over $328 million worldwide at the box office.
History Notes
In 2001, the Patriot Act gave the government the ability to monitor library records.
Location Notes
One of the scenes was shot in the Ambassador Hotel, where Robert Kennedy was assassinated in 1968.
Love Notes
Brad Pitt and Gwyneth Paltrow fell in love while shooting Se7en. They got engaged while Pitt was shooting Seven Years in Tibet, but split shortly after.
Music Notes
"Closer" by Nine Inch Nails is one of the songs featured in the movie. NIN's Trent Reznor later won an Oscar for scoring Fincher's The Social Network.
Composer Howard Shore's score is used sparingly and strategically in the movie. It will let you know when a crime or clue is on the horizon. He also scored another little serial killer movie — The Silence of the Lambs.
Pop-culture Notes
The year of this movie, Brad Pitt was voted People Magazine's Sexiest Man Alive. Paltrow has said that Morgan Freeman is the "REAL Sexiest Man."
Entertainment Weekly ranked Se7en as the eighth scariest movie of all time.
Se7en is a career highlight for stars Brad Pitt and Morgan Freeman, but the big breakthrough star of the movie was director David Fincher.
Props Notes
Production spent $15,000 and 2 months creating John Doe's meticulous notebooks.
All of John Doe's pictures were taken by fashion photographer Melodie McDaniel.
Quote Notes
Brad Pitt on Morgan Freeman: "He carries this wisdom with him. You can't help but just have ultimate respect."
Freeman on Pitt: "Brad's absolutely watchable. And natural."
Brad Pitt says Gwyneth Paltrow's character is "the only sunshine we have in the film."
Director Fincher told Kevin Spacey and Pitt "this is not going to be the movie that you're remembered for, but it may be a movie you're incredibly proud of."
Brad Pitt praises Kevin Spacey's performance saying, "He's got more control on it than I do."
Random Notes
Director Fincher told his crew he wanted to make a black and white film in color. To do this, he used cinematographer Darius Khondji, who was known for his perfume ads.
Kevin Spacey's name isn't in the credits at the beginning of the movie. He wanted to keep John Doe's identity a complete mystery for the audience.
Fincher wanted the credits to look like a killer had written them.
Fincher originally passed on Se7en after reading a few pages. He thought it was just another young cop/old cop movie until he read the ending.
Like Mills, the screenwriter didn't know all the 7 deadly sins until he did research.
Many serial killers murder for sexual pleasure, but the filmmakers say that Doe kills because he isn't able to be apathetic.
When writing the script, Andrew Kevin Walker thought Doe and Somerset should be of equal intelligence.
Fincher says that Pitt and Freeman were perfect during the first read-through of the script.
Set Notes
The Mills's apartment is built on a shake-able platform. The crew would trick visitors to the set with "instant earthquakes."
The filmmakers decided it should always be raining for two reasons: It added a sense of dread; and they never had to worry about bad weather.
A cockroach expert used Vaseline to keep bugs on the set.
Symbolism Notes
A metronome, shown in one of the scenes, is often symbolic of patience, steadiness, and making order from chaos. It also marks the passing of time as Somerset waits and waits.
Trivia Notes
The Glimmer Twins is the nickname of Keith Richards and Mick Jagger. David Fincher won a Grammy for directing the Rolling Stones' video for "Love is Strong."
According to a government study, police officers use their guns on only 0.2 % of arrests.
John Doe is the name given to an anonymous party, like an unidentified hospital patient. The name is also used to refer to the hypothetical average man.
William Somerset is named after the screenwriter's favorite author, W. Somerset Maugham. He wrote Of Human Bondage.
Dante Alighieri wrote about the 7 Deadly Sins in The Divine Comedy. Contrary to popular belief, they aren't listed in The Bible.
Read More