Uncategorized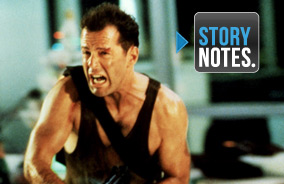 Monday through Thursday at 8PM | 7C, AMC presents Story Notes — real-time on-air trivia about your favorite movies. Tonight's movie was Die Hard.
Award Notes
Die Hard earned an Oscar nomination for Best Visual Effects.
Bio Notes
Bruce Willis has three kids and a ranch in Idaho.
Willis was famous for TV's Moonlighting, but Die Hard made him a movie star. He made $5 million on Die Hard — big money for an actor making the leap to the big screen.
Bonnie Bedelia was nominated for a Golden Globe for her role in Heart Like a Wheel.
Willis has a scar on his right shoulder from surgery to fix a broken arm when he was a teenager.
Andreas Wisniewski is one of the few actors playing a German terrorist who is German.
Die Hard's cinematographer Jan de Bont went on to become a director. His first directing gig was Speed ("Die Hard on a bus") and Speed 2 ("Die Hard on a boat").
They might sound German, but actor Gudonov famously defected from the Soviet Union.
Reginald VelJohnson is used to uniforms. He wears them in Ghostbusters and Turner & Hooch.
The female news anchor, Mary Ellen Trainor, appeared in all 4 Lethal Weapon films.
Robert Davi went from FBI guy to Bond villain the following year in License to Kill.
Casting Notes
Reginald VelJohnson went on to star in the sitcom Family Matters. He says he thought this was going to be one of those "action films that just, you know, die hard."
William Atherton often plays the man you love to hate. He did it in Ghostbusters and Real Genius.
Paul Gleason is best known for his role as the principal in The Breakfast Club.
Matt Landers always pops up in producer Joel Silver's movies, like 48 Hrs.
Richard Gere, Sylvester Stallone, and Burt Reynolds were all up for the McClane role. Willis even passed on the role once. But he took the part when his TV co-star got pregnant.
Willis personally recommended Bonnie Bedelia for her part because he was a fan of her work.
Alexander Godunov was a famous ballet dancer before becoming an actor.
Alan Rickman made his film debut in Die Hard at 42 years old after a long career in theatre. The filmmakers saw him onstage in Dangerous Liaisons and knew they had found their villain.
Finance Notes
Through 4 movies, the Die Hard franchise has grossed over $1.1 billion worldwide.
Location Notes
A major star of this movie: Nakatomi Plaza. It's actually 20th Century Fox's LA headquarters. Fox made Die Hard, but the real estate branch still charged the production full rent. Screenwriter Jeb Stuart said, "The building had to become a character in the movie."
Music Notes
Director John McTiernan convinced composer Michael Kamen to use Beethoven's "Ode to Joy." It's an homage to Stanley Kubrick's A Clockwork Orange, used when the terrorists are around.
References to "Singin' in the Rain" also appear in Michael Kamen's score. It's subtle. Stanley Kubrick also used it in A Clockwork Orange.
Plot Notes
Argyle begins the movie as comic relief and ends it as an unlikely hero.
Pop-culture Notes
Reginald VelJohnson reprised his role in a Christmas episode of the TV spy show Chuck.
The London Times ranked Hans Gruber as the 10th best movie villain of all time.
According to Movieline, Willis has played a police officer in more films than any other living actor.
Maxim named Harry Ellis the #2 "Greatest Movie Sleazeball Of All Time."
Die Hard is ranked by Entertainment Weekly as the No. 1 action movie of all time.
Prop Notes
A Steyr assault rifle can fire about 700 rounds of ammunition per minute.
Most of the terrorists wield Heckler & Koch HK94s.
Quote Notes
Alan Rickman says that Hans Gruber "is incredibly polite except when he's really riled."
Paul Gleason said at the time, "I'm starting to make a career out of playing nasty roles."
Hart Bochner said the audience went crazy when his character, Ellis, was shot. Bochner added, "I thought, well, I guess I did my job, all right."
Rickman wanted Hans and McClane to "have healthy respect for each other….and perhaps they could even make each other laugh."
Screenwriter Steven de Souza says McClane is a "real guy who could be hurt, who was scared."
Reginald VelJohnson said being in Die Hard makes him feel like a "Walking icon."
McTiernan says of Die Hard's legacy, "It's very flattering to me to have people mining my work. The fact that someone may copy it is the greatest compliment."
McTiernan said, "I didn't find terrorism amusing. I didn't find it entertaining…never did. Which is why we turned it into a robber. The idea was robbers are fun."
The stunt coordinator says Bruce Willis "Had an absolute passion for doing his own stunts."
Willis says, "John McClane is an ordinary guy who is thrown into extraordinary circumstances. He's not some supercop, some indestructible unemotional, unfeeling guy."
Producer Lawrence Gordon says Willis is a rare actor that "Can carry a gun and tell a joke."
Willis says when you "Could die at any moment a very strange sense of humor comes out."
Alexander Gudonov: "I was comfortable with a gun and it made me uncomfortable knowing that."
Alan Rickman says Holly (Bedelia) is an, "Intelligent, strong woman. There aren't any weak characters. All of them are brainy and important to the story."
Hart Bochner (Ellis) says his role let him grow a beard and "Be a little bit Jerry Lewis."
Random Notes
Volksfrei is German for "free people," an ironic name for hostage-takers.
Fox Plaza cost $200 million to build.
Ellis said, "Spreken ze talk" to one of the terrorist which would really translate into "Do you speak talk?"
Script Notes
Die Hard was based on Roderick Thorp's novel Nothing Lasts Forever. His inspiration was a dream he had of a man being chased around a building by men with guns.
The screenwriter says he had to keep thinking up new ways for the characters to lose their guns.
Set Notes
Rushing to get the film done for summer, parts of Die Hard were shot on Christmas Eve.
Rickman always flinched whenever he fired a gun, so McTiernan would always cut away.
Since Willis was often working on Moonlighting during the day, he shot his scenes at night. Sometimes he was even the only actor on set.
Screenwriter Steven de Souza says he was brought in to cut down costs. He jokes that he "probably brought that budget down by $1,400, even $1,500!"
Director John McTiernan says he never was quite satisfied with Rickman's accent.
Reginald VelJohnson says that acting with just a radio was a difficult task.
After the movie came out, VelJohnson says a lot of police officers thanked him for his portrayal of Al.
Producer Joel Silver wanted Die Hard to have a mixture of action and sex appeal.
Hart Bochner says, "Everyone in that movie had a bit of a twinkle…"
Symbolism Notes
The screenwriter says the movie was written with a Vietnam War subtext.
Trivia Notes
Empire Magazine named this the "Greatest Christmas Movie Ever," over It's a Wonderful Life.
McClane carries a Beretta '92, the preferred firearm of many New York City policemen.
Read More