Uncategorized
Story Notes for Batman Begins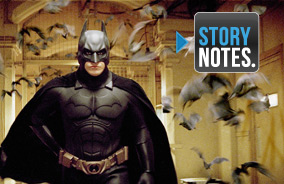 Monday through Thursday, at 8PM | 7C, AMC presents Story Notes — real-time on-air trivia about your favorite movies. Tonight's movie was Batman Begins.
Automotive Notes
The Tumbler is part Lamborghini, part Hummer, and part WWII bomber.
The Batmobile's stats: it's nine foot four at its widest, fifteen feet long, and about five feet high. It weighs two and a half tons.
The Batmobile can go from 0 to 60 in 5.3 seconds.
There were a total of eight Batmobiles created for the movie. Four were fully functional.
Award Notes
Christian Bale won the MTV Movie Award for Best Hero for Batman Begins.
Batman Begins received one Oscar nomination, for cinematographer Wally Pfister.
Biographical Notes
Fighting comes easy to Liam Neeson: He was on a boxing team as a child.
Casting Notes
Gary Oldman agreed to play Jim Gordon without even reading the script. He was the last star cast, and he learned his lines on the flight to his first location.
Michael Caine says he signed on to play Alfred for the chance to work with the "clever" director Christopher Nolan. He has now appeared in every Nolan film since Batman Begins.
Nolan cast Katie Holmes for her "girl next-door" quality. She spent five years as girl next-door Joey Potter on Dawson's Creek.
Cillian Murphy originally auditioned for the part of Bruce Wayne.
Screenwriter David S. Goyer said Morgan Freeman was the only person who could play Lucius Fox. Freeman said he's read Batman comics since he was 9 but didn't know anything about Fox.
Fashion Note
Wardrobe designers invented their own fabric for Batman's cape. It's flocked parachute silk.
Finance Notes
Forbes currently ranks Wayne as the eighth-richest fictional character. They estimate his net worth to be $7 billion.
At its release, Batman Begins had the highest five-day opening of any Batman movie in history.
Gossip Note
The movie was almost overshadowed by Holmes's budding romance with Tom Cruise.
Location Notes
The Bhutan "prison" is actually a fort just east of London. It's about 70 miles away from Wayne Manor.
Bhutan is in the Himalayas, but this was shot near a glacier in Iceland. The crew braved winds reaching 60 miles per hour.
Wayne Tower is a slightly modified version of the Chicago Board of Trade building.
Music Note
Batman Begins was scored by Hans Zimmer and James Newton Howard. The two composed separate themes for the split personality of Wayne and Batman.
Plot Notes
It's important to remember Wayne's parents were killed during the Depression and "desperate times."
Nolan says Rachel Dawes serves as Wayne's conscience.
Batman has a no-kill policy.
Who is Batman? Bale says he never wanted to play him as Wayne in a Bat suit. For him, it's a completely different character.
Pop Culture Notes
This movie is a reboot, launching a whole new trilogy. It was released in 2005, eight years after Warner Brothers' last Batman film.
Tom Wilkinson and Holmes reunited on the controversial Kennedys.
The Bat signal made its first appearance in "Detective Comics" 60, in 1942.
Dr. Jonathan Crane works at Arkham Asylum, home of Gotham City's criminally insane. Its name comes from H.P. Lovecraft's fictional Arkham, Massachusetts.
In the comics, Gordon has been catching criminals with Batman since 1939.
Wayne was "born" in May, 1939, created by Bob Kane and Bill Finger for "Detective Comics."
Fans agreed Murphy was the most true-to-source Batman-movie villain when this came out. They wished he'd had more screen time.
In 2005, Entertainment Weekly placed Murphy on its list of "Summer MVPs," ten stars to watch.
The Scarecrow is one of Batman's oldest adversaries, dating back to the comics of the fall of 1941. Some of the more notorious inmates at Arkham: Riddler, Poison Ivy, and Joker.
In an online poll, Neeson's Ra's al Ghul was ranked the fourth-greatest Batman-movie villian, beating out Jack Nicholson's Joker in 1989's Batman.
In the comics, Lucius Fox is the CEO of Wayne Enterprises, so this is his origin story, too.
Quotation Notes
Neeson hesitated to do this movie. A Superman fan, he says he found Batman "scary."
Bale on the Bat suit: "It's a hell of an honor, getting to wear this."
Nolan wanted to show Batman from the criminal's point of view, showing less of him. He says, "You would see him as more frightening. There would be more suspense."
Holmes loved Rachel's strength. She says, "She doesn't apologize for it. She wants to make a difference."
Holmes said that after seeing the Batmobile she "finally understood men's fascination with cars."
Bale: "You get to play Batman, but, unless you're the stuntman driving that car, you don't have the coolest job."
Caine says Alfred represents the audience: "You amongst all the nutcases in the film."
Of Batman Begins, critic Roger Ebert said, "The Batman franchise has finally found its way. This is the Batman movie I've been waiting for."
Random Notes
Nolan was so "impressed" with Ken Watanabe here that he cast him in 2010's Inception.
Nolan liked Murphy's eyes so much that he always had him remove his glasses for close-ups.
Caine decided Alfred was an army man who'd worked in a mess hall, leading to butler work. In the British army, there are privates who act as valets, and they are called "batmen." So, as Caine puts it, Alfred is Batman's batman.
Script Notes
Nolan liked the storytelling style of Superman, the "only [comic-book] movie to do it right."
Nolan chose the Scarecrow as the movie's villain because he uses fear as a weapon. He thought that would be an interesting parallel to Batman.
Rachel is the only main character created for the movie, not taken from the comics.
Nolan says he loved that Ra's al Ghul was like a seventies Bond villain, which fit the movie's tone. He was introduced to the comics in 1971.
Set Notes
Bale kept Batman graphic novels on the set for inspiration. He loved the imagery.
Nolan said he wanted to take the fight scenes to a "grubbier place." Done.
It was unseasonably warm during this February shoot. The falling snow is man-made.
Bale watched tapes of his fights so he could get through his training quickly.
England's Mentmore Towers stand in for Wayne Manor, inside and out. They've also been used in Brazil, The Mummy Returns, and Eyes Wide Shut.
The movie's fights employ the keysi method. "Keysi" means "from the heart."
The filmmakers based this Batman on the graphic novels Batman: The Long Halloween and Batman: Year One.
Bale worked with a voice trainer so he could speak as Batman without shredding his vocal cords. But word is he lost his voice three times during the production.
For the look of Gotham City, director Nolan aimed for "New York on steroids."
The Narrows (the slums) were built in an air hangar in England. The height of the hangar allowed the sets to reach 160 feet.
Bale got headaches from the cowl and would use them to get into character. He says they made him fierce and impatient.
The fight coordinator says there are sixteen fights in the movie. Bale did every single one.
The 1982 movie Blade Runner was a big inspiration for the look of Batman Begins.
On the hangar set, there were twenty manholes that could blow steam 150 feet in the air. After each take, the steam condensed, and it rained indoors.
Bale's photographic memory allowed him to memorize fight sequences quickly.
Symbolism Note
The name Ra's al Ghul means "head of the demon" in Arabic.
Tech Notes
The Nomex survival suit is waterproof neoprene with overarmor to protect the arms, legs, and torso. Wayne will add even more to complete the Bat suit.
Fight scenes were cut very fast so Batman appears
blindingly quick, aggressive, and animal-like.
For Batman Begins, Nolan opted for real stuntwork over computer-generated imagery in most scenes.
For a perfect fit, a plaster cast was made of Bale, and the Bat suit was hand cut from foam latex.
Trivia Notes
IGN.com rates Ra's al Ghul the seventh-best comic-book villain of all time.
Fans have done the math and determined that Wayne is celebrating the big 3-0.
In 2005, this was voted the all-time best Batman movie by fans.
Read More