Uncategorized
Story Notes for A Few Good Men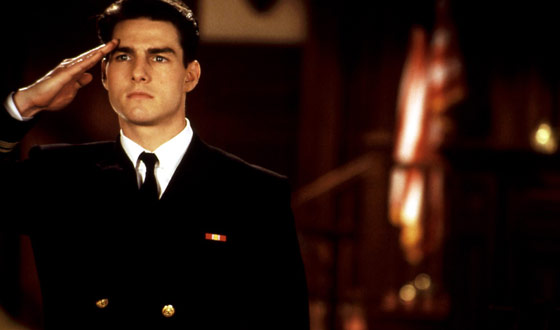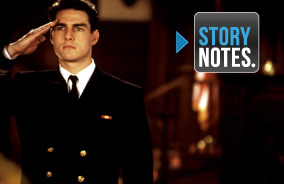 Awards Notes
Cuba Gooding, Jr. won an Oscar for his supporting role in Jerry Maguire with Tom Cruise. Cruise himself has been nominated three times, but has never won.
Cinematographer Robert Richardson was nominated for an ASC Cinematography Award.
A Few Good Men was nominated for a total of four Oscars in 1993, including Best Picture.
A Few Good Men won "Best Movie" at the 1993 MTV Movie Awards.
Biography Notes
In 1992, when this movie was made, Tom Cruise was making around $13 million per film.
Tom Cruise is a natural athlete, having played football, volleyball, and softball in movies. In truth, when he was young, he wanted to be a professional wrestler.
Wolfgang Bodison (Lance Cpl. Harold Dawson) had never acted before this role. He was Director Rob Reiner's former assistant and worked as a location scout on the film before being cast. Reiner says he just looked like a marine.
James Marshall (Pfc. Louden Downey) is best known for his role in the '90s cult TV show Twin Peaks.
Kevin Bacon is no stranger to Code Reds: His first role was as a hazed pledge in Animal House.
Reiner says he related to Kaffee because of his own famous father. (Reiner's father is writer-director-actor Carl Reiner.)
Screenwriter Aaron Sorkin wrote the original stage play on cocktail napkins while bartending in Broadway theaters.
Demi Moore was a part of the "Brat Pack" in the '80s, attended high school with rock stars Anthony Keidis and Flea.
A Few Good Men is one of Noah Wyle's first roles. He went on to star in ER as Dr. John Carter.
His A Few Good Men role is considered a turning point in Kevin Bacon's career toward more dramatic supporting roles.
Keifer Sutherland has appeared in over 70 movies and made his Broadway debut in 2011.
Kiefer Sutherland's unique first name is a tribute to Italian director Warren Kiefer.
Casting Notes
Demi Moore wanted the role of Lt. Galloway so badly that she stood in line to audition while pregnant.
Aunt Jenny is played by Rob Reiner's sister-in-law, Maud Winchester.
Commander Stone is played by Rob Reiner's good friend, Christopher Guest. He also played Nigel in Reiner's This Is Spinal Tap.
Fashion Notes
Marines wear their Dress Blue uniform for formal or ceremonial occasions. It has stayed virtually unchanged since the 1800s.
Finance Notes
A Few Good Men cost $33 million to make and grossed over $236 million, making it a huge success.
Health Notes
Acidosis simply means that there's too much acid in the blood
History Notes
Guantanamo Bay was established as a naval base by Teddy Roosevelt in 1903. 100 years later, tensions still run high with the Cuban military.
"A few good men" is an actual Marine motto used in commercials and recruiting materials. It dates back to 1779 when Captain William Jones advertised for "a few good men" to enlist.
A fence line shooting would be a big deal, since Guantanamo Bay is located on Cuban soil.
Location Notes
D.C. was also the location of Sorkin and Reiner's next project together, An American President.
Col. Jessup's (Jack Nicholson) estate is actually the house of an Admiral of the Coast Guard in San Pedro, CA.
Most of Cuba is green and lush, but Guantanamo Bay is a rare dry exception.
Production Notes
The film rights for A Few Good Men were sold before the original play even premiered. Later, Sorkin would adapt The Social Network before the book had even been written.
Pop-Culture Notes
"You can't handle the truth" was voted by AFI as the 29th most iconic film quote of all time.
Quote Notes
Kevin Pollak on Nicholson: "He is the party. No one had more fun."
Random Notes
Cruise and Moore both started their film careers in 1981, but this is their first movie together.
A dishonorable discharge is considered the most shameful form of dismissal in the military.
Script Notes
Aaron Sorkin got the story idea from his sister, a JAG lawyer who investigated a similar incident. JAG lawyers are called Judge Advocates and represent the legal side of the armed forces.
Code Red is such a key phrase, every main character says it at least once.
"Sir" is said over 150 times in the film. That's more than once a minute.
Sorkin says he knew he had a great story when he noticed one thing about the real-life case. The government went out of their way to assign junior council to the defense.
Director Rob Reiner says he always felt the "kung pow chicken" line should get a laugh. He says "It never does."
Cruise says he was attracted to this challenging role because of the "tremendous writing." He traveled to New York to catch the Broadway play before signing on.
In movie-speak, people always order a generic "beer." Oddly, the waitress always knows what kind to bring.
Director Rob Reiner's rules for a great courtroom drama: 1. A compelling court case. 2. Equally gripping protagonists and antagonists. 3. Great actors.
Set Notes
Kevin Pollak (Sam) calls this the greatest experience he's ever had working on a film.
Director Rob Reiner praised Cruise's comic timing throughout the film.
This is Moore's first time playing a role in the military. Today, women comprise about 25% of the JAG Corps.
Kiefer Sutherland accidentally ran over several marines on set. In his defense, a Humvee is over a foot wider than the average car.
Most military courtrooms are featureless, so the movie was shot in a civilian courthouse to make it more cinematic.
Cruise insisted on learning all of his "legalese" dialogue so he could understand what Kaffee was arguing.
To help the other actors, Nicholson recited his famous speech 40 to 50 times. According to Reiner, each time was just as intense as the one on screen.
Cruise's Nicholson impersonation wasn't scripted or planned. Reiner says that most of the cast and crew were "running around doing Jack Nicholson impersonations."
Reiner says Cruise would always stay after rehearsals to work on perfecting his role.
To get to the truth of his character, James Marshall played Downey with "youthful ignorance." Reiner on Marshall: "He has a James Dean naturalism to his work."
Trivia Notes
Over 17.4 miles of fence line separates U.S. occupied Guantanamo Bay from the rest of Cuba.
Enlisted Marines are rated on a scale of 0-5. A rating of 4.6 means "excellent."
An actual Marine Corps. code is "Honor, Courage, Commitment."
Director Rob Reiner says landing Jack Nicholson was like having Babe Ruth on his team.
Enlisted marines aren't required to salute if an officer is in civilian clothes.
A Broadway producer is considering bringing the play back to the stage in New York. James Franco and Justin Timberlake have been considered for the role of Kaffee.
Daniel Radcliffe (Harry Potter) says he's watched A Few Good Men too many times to ever be a lawyer.
According to psychologists, hazing builds solidarity amongst a group of people. The Marines maintain that they do not condone hazing, though.
Definition of "galactically stupid" according to the Urban Dictionary: When something obvious isn't recognized by someone who sees that thing on a regular basis.
Reiner has praised J.T. Walsh (Markinson) as a natural and understated actor. Reiner's goal: to have the whole cast be "as good as J.T. Walsh."
Kevin Bacon praised Sutherland for embracing the darkness of his character. Sutherland praised Cruise for inspiring him with his acting.
Read More