Interviews
Q&A – Carla Gugino on Jim Carrey, Family Films, and Mr. Popper's Penguins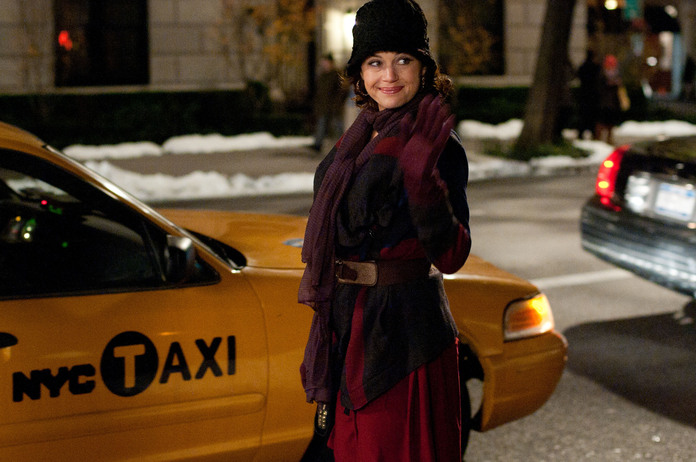 The summer movie season typically is characterized by big stars driving massive special-effects-laden blockbusters. Mr. Popper's Penguins takes the opposite approach, hanging its hopes on six pint-size leads who dream of swimming circles around the competition. Bitey, Lovey, Loudy, Stinky, Nimrod, and Captain are the tuxedo-clad birds joining Jim Carrey and Carla Gugino for an adaptation of Richard and Florence Atwater's classic children's novels. Gugino spoke to FilmCritic.com about her live-action kid-friendly roles and the joy of sharing scenes with a gifted comedian like Carrey.
Q: Did Jim ever say at any point during the shoot, "This isn't how we did it on Ace Ventura"?
A: [Laughs] No. I think he's only interested in breaking new comedic ground and being as creative as he can. So no, but that is really funny.
Q: How is it that you guys have never worked together before?
A: I don't know. I agree that it seems like we should have worked together. I worked with Ben Stiller on Night at the Museum, but he and I knew each other for a long time. With Jim, bizarrely, we'd actually never even met before working on this film.
Q: How did your acting styles mesh? We've heard he can be a handful, in a good way.
A: You know, I think we were a really good balance for one another. In most of our scenes, we needed to just ground our relationship and make it something that you really care about. We want you to want them to get back together. As for the comedy, he's such an improviser and obviously is amazing, but there's a rhythm to that approach, which led to some fun volleys between us in scenes.
Q: I think it's important to point out that the penguins in your film aren't always CGI. You guys used real penguins for most of this shoot.
A: That is definitely true. We did have to use CGI for certain scenes, but I have to say that, in an impressive way, it's really an amazing combination of real penguins and CGI. The sequence in the Guggenheim Museum, obviously, where the penguins are doing crazy stunts, is CGI. But there are a lot of scenes in Jim's apartment and various other places where we use real penguins. I do think it's a beautiful marriage of the two.
Q: Your résumé has plenty of family-friendly titles, from the Spy Kids franchise to Night at the Museum and Race to Witch Mountain. It appears that you actively seek out this kind of material to balance films like Watchmen, Sin City, or Sucker Punch.
A: You know, it's funny because I think when I got cast in Spy Kids I was still too young to pull off what that role was supposed to be. I was 27 at the time, but it still worked. And now I did feel that there weren't a lot of films I had done for the kids in my life to be able to see. From that, because Spy Kids turned out so well, came for me a love of movies that the whole family could go to. Don't get me wrong. I love doing serious movies for adults. But we're in this weird climate where movies are supposed to be PG-13, yet I feel like those movies aren't always appropriate for kids. I don't know if I seek them out, but certainly when I see a good script I'm really excited to be a part of it.
Q: You've also stuck with live-action family films as opposed to lending a voice to animation.
A: It's so funny that you'd say that because earlier today I actually mentioned just that [fact] because I do think that it's hard to do stories like this well in live action. I was lucky enough to be part of Spy Kids and Night at the Museum, two films that did do it well. But it is harder because, tonally, you are trying to discover something that is fantastical while also keeping it grounded in reality. That can be a tricky balance, but when it works it can be really special.
Read More