New on DVD – June 21, 2011 – The Adjustment Bureau and Unknown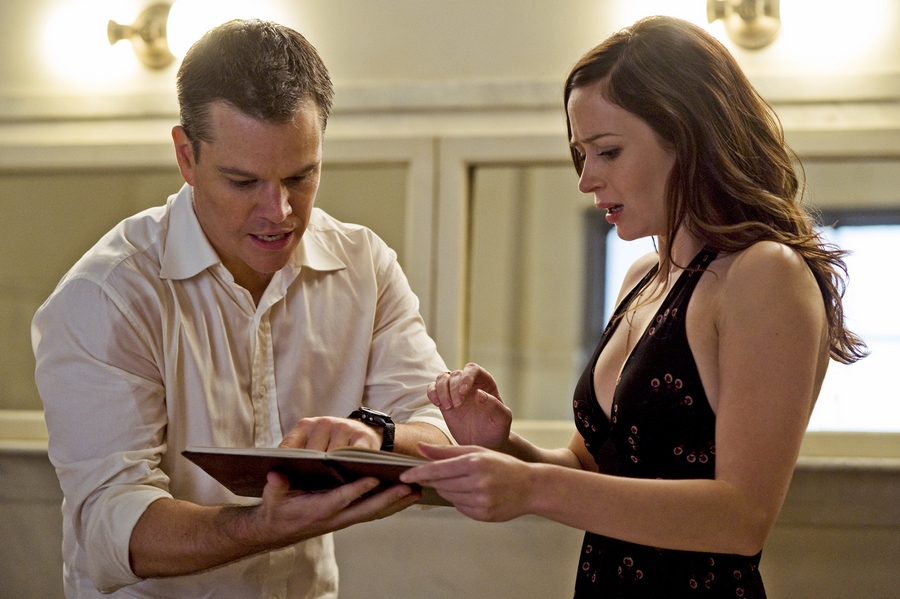 Losing control of their lives: In The Adjustment Bureau, a rising politician discovers that supernatural beings are very interested in him not falling in love with a particular woman, while in Unknown, a traveling doctor finds out that everything he thought was true about his life might be false; these and a decent selection of other films from comedy (Cedar Rapids) to action (The Eagle) and classic noir (Kiss Me Deadly) coming this week to Blu-ray and DVD.
In this adaptation of a Philip K. Dick story, Matt Damon plays a politician whose rise to power is nearly derailed by, first, an unexpected romance with Emily Blunt and, second, by some mysterious men in hats with nearly God-like abilities to warp and control reality. Many multi-dimensional chases ensue. Our critic called it "a quasi-theological chase flick that nearly transforms into a full-blown romance" and "a brisk and unexpectedly winning concoction that lies somewhere between Wings of Desire and a Christopher Nolan puzzler."
Mysteries abound in rainy Berlin — Liam Neeson stars as a traveling American who, after a bad car accident, discovers that his life has been wiped clean; somebody else is impersonating him and his wife no longer knows who he is. Does he get mad or get even? Given that it's Neeson, there's a lot of both. We were impressed both with the film's concept and with its ability to pull off its more out-there aspects, calling it "taut and tidy, a one-two punch we don't always get from today's thrill rides."
In Robert Aldrich's bizarre 1955 noir, Ralph Meeker plays Mickey Spillane gumshoe Mike Hammer, who nearly gets killed by some thugs after picking up a scared beauty on a deserted road. So he tries to get to the bottom of things, and gets even in the meantime. The results ain't pretty. Our critic called this curiously apocalyptic film a "cubist noir of the atomic age." Now available in a sparkling new edition from the Criterion Collection.
On The Office, Ed Helms plays a mild-mannered preppie paper salesman who
never gets the girl. In this Miguel Arteta (Youth in Revolt) comedy
about a raunchy convention at a small Iowa hotel, Helms plays a
mild-mannered small-town insurance salesman who (sort of) gets the girl.
Our writer termed the mix of performances here (John C. Reilly, Anne
Heche, The Wire's Isiah Whitlock, Jr.) "just right," calling it the
year's "first thoroughly enjoyable comedy."
Carla Gugino is the Luxx of the title, a former porn star who quit the
business after getting pregnant with a rock star who up and died on her.
When Luxx finds out some secrets about her old flame, she is also
tailed by a curious private detective (Timothy Olyphant) and has her
film career discussed at length online by an overenthusiastic fan
(Joseph Gordon-Levitt). Although little of it makes much sense, our
critic liked this Pedro Almodovar-derived "candy-colored mixture of
farce, melodrama, and a hint of noir."
Set in 120 AD, this Kevin Macdonald (The Last King of Scotland)
adventure has Channing Tatum as a dedicated Roman legionnaire who
ventures into the unconquered northern wilderness of England to retrieve
his legion's lost standard, with the help of a British slave (Jamie
Bell). We thought there were some shaky moments throughout – "something
akin to Rapa Nui with touches of Gladiator and Centurion thrown in
for befuddled measure" — but that ultimately it was "pure action and
adventure."
Diary of a Wimpy Kid 2: Rodrick Rules
Did you see the first Diary of a Wimpy Kid? Do you know a child who made
you take them? Are they going to make you see the sequel? Our critic
advises not to expect anything too different from the first outing, as
the sequel (in which our hero endures more problems with his big brother
and classmates) is composed of "slight slapstick, comic cliches, and
enough sullen after-school special messages to make even the most
misguided child straighten up and fly right."
Read More