Uncategorized
There's Wedding Inspiration in Flicks Like The Godfather and Big Trouble in Little China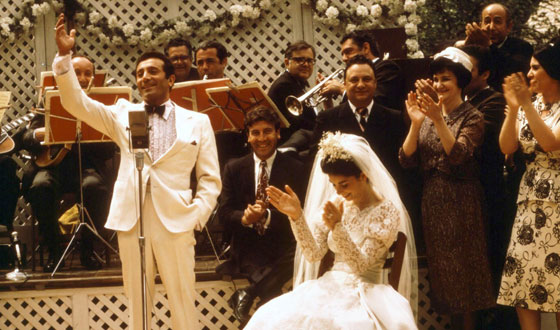 The millions of people getting married this summer all want a perfect wedding. Who doesn't? But if you're looking to movies for inspiration, you may be disappointed by the boring nuptials of My Best Friend's Wedding and Father of the Bride. Instead, check out ten movie weddings that range from the lavishly exotic to the austere. Keep an open mind and let your imagination run wild: you just might find what you're looking for.
Big Trouble in Little China: The Far East Wedding
Green-eyed brides, and demons add up to Big Trouble in Little China's wedding from hell. Hell isn't for everyone, but, if you love all things Asian, the decor and accessories can't be beat — those golden headdresses with the strings of charms are to die for. Plus you don't have to squeeze into a white gown: Chinese brides get married in red. Granted, it ends in a free-for-all, but so do weddings held in New Jersey catering halls.
Excalibur: The Camelot Wedding
If you swoon at the thought of a man in armor, then you want the Excalibur nuptials. From the manly knights and regal ladies to the queen-to-be's chain-mail veil, this presents the ultimate in pomp and splendor. Just assure the bridegroom that you're not planning to take your post-wedding moves from the playbook of Guenevere (Cherie Lunghi). Much has changed since her day, but it's still not cool to start secretly hooking up with your husband's best friend.
Flash Gordon: The Ultracamp Sci-fi Wedding
Nerds, look no further than the nuptials of Flash Gordon, an orgy of sci-fi set design powered by the music of Queen. Invite your theatrical friends and tell your staid aunts you got married at the county clerk's office on a whim. Long-distance disapproval is better than giving them heart attacks when your groom enters in a crimson spandex jumpsuit.
Guys and Dolls: The New York Wedding
Enchanted by the neon New York of musicals? Then go for a Guys and Dolls wedding. Just find a like-minded couple and model your ceremony on the marriages of Sky (Marlon Brando) and Nathan (Frank Sinatra) to their respective dolls — Sarah (Jean Simmons) and Miss Adelaide (Vivian Blaine) — in a Times Square that never was but shoulda been. For one magical moment, traffic stands still and pedestrians gather to watch the couples say their "I do"s.
Kill Bill: Vol. 2: The Low-Profile Wedding
Some girls dream of a lavish wedding. Other get hives at the thought of coordinating flotillas of bridesmaids and forests of flowers. For them, the wedding of Beatrix (Uma Thurman) in Kill Bill: Vol. 2 could be the way to go. Just because you're not hiding from a man who molded you into an assassin doesn't mean you can't enjoy a wedding on the run. Just have your videographer shoot in black and white for that extra bit of authenticity.
Mamma Mia: The Idyllic Greek-Island Wedding
The destination wedding of Mamma Mia's wide-eyed bride, Sophie (Amanda Seyfried), should be one long stress-fest, given that she intends to learn the identity of her father by inviting the three possible candidates to her big day. But white sand, glittering blue sea, lots of candy-colored tropical drinks, and a little dirty dancing go a long way in smoothing over petty unpleasantness. This wedding is the next best thing to eloping.
Monsoon Wedding: The Big Fat Indian Wedding
Think big and then scale it up. That's Monsoon Wedding's takeaway for brides who want more than just a special day — maybe a special week. Sure, Indian weddings are as full of squabbling cousins and catering crises as any other. But the decor is great — no wussy pastels; gold, orange, and red are the traditional colors — and the festivities go on for a week. That's a lot of dining, dancing, drinking, hanging out with girlfriends, and just plain fun.
The Corpse Bride: The Tragically Romantic Wedding
Swoony goth girls, pull out your black nail polish, and start a diet. You'll need both to get into character for your Corpse Bride wedding. From the cake bedecked with sugar skulls to the overall air of macabre good cheer, this wedding is a celebration of all things dark and beautiful. Book a gothic church, encourage your friends to dress in Halloween formal, and after your vows release an ethereal swarm of white moths instead of doves.
The Godfather: The Mafia Wedding
The Godfather offers an Italian wedding Corleone style: the shindig of Connie (Talia Shire) and Carlo (Gianni Russo), which takes place on Don Vito's estate. There's music from the old country; an impromptu performance by crooner Johnny Fontane (Al Martino); grandparents and little children — all dressed to the nines — dancing; and everybody eating, laughing, and gossiping. This one is a good choice for the bride who loves family and partying in equal measures.
The Princess Bride: The Fractured Fairy-tale Wedding
For the 21st-century girl who harbors secret dreams of a Camelot wedding but doesn't want her friends to think she has a princess complex, Buttercup's wedding in The Princess Bride is the solution. You get romantic pomp and splendor with a side of snickers by way of the regal-looking bishop with a comical speech impediment. Just remember that being forced to marry a bastard you don't love is not part of the package.
Check out Big Trouble in Little China on AMC, Tue., Jun. 14, at 3:30PM | 2:30C, and Wed., Jun. 15, at 9:45AM | 8:45C.
Read More