Uncategorized
Flashback Five – John Wayne's Best Movies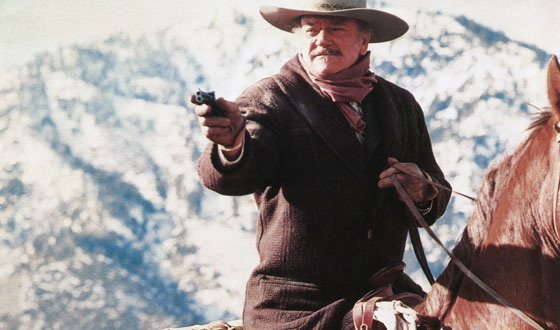 Though best known for his Westerns, the Duke starred in a remarkable array of movies — proving himself in gritty war pics and light comedies alike. All day tomorrow check out some of his greatest Westerns during AMC's marathon Crazy About the Duke, beginning with The Horse Soldiers, at 9:30AM | 8:30C. And for some perspective on Wayne's impressive body of work, here it is, point-blank: John Wayne's best movies.
1. The Searchers (1956)
Wayne's greatest achievement is The Searchers, in which he plays a Civil War vet in search of a kidnapped niece who now lives as one of the Comanche Indians. This is less a traditional Western than a tragic character study in which Wayne shows his dramatic range: A mixture of grief, desperation, and anger can be read in every sunbaked pore of Wayne's face.
2. True Grit (1969)
Wayne reinvented his persona humorously when he put on an eye patch as cantankerous Rooster Cogburn, delivering a straight-faced send-up of his macho image. His prize? His only Oscar. True Grit may have been one of Wayne's last roles, but it was one of his finest. And can you get higher praise than being the source of a celebrates Coen Brothers remake?
3. The Quiet Man (1952)
Don't let this romance, set in the lush hills of Ireland, fool you. Wayne takes the battle of the sexes as seriously as he does a fistfight. That's especially the case when Maureen O'Hara plays his love interest and adversary. With a woman as feisty as her, courtship means dragging your loved one through a manure-laden field. Rarely has a romantic comedy come with so many bruises, but that is what makes The Quiet Man so much fun.
4. Rio Bravo (1959)
This great Howard Hawks Western is anchored by Wayne's sturdy presence as a tough-love father figure. To fight a tyrannical rancher's henchman, Wayne's character enlists the help of a dynamite-chucking senior citizen (Walter Brennan), a drunk deputy (Dean Martin), and a peach-fuzzed gunslinger (Ricky Nelson). Wayne liked the ensemble so much that he remade the movie twice (Rio Lobo and El Dorado) but the original is the one that hits the bull's-eye.
5. They Were Expendable (1945)
Wayne and Robert Montgomery lead this heartbreaking flick about the day-to-day sacrifices of the average soldier with Wayne's Lieutenant Ryan willing to literally give his right arm for his country. The final scene says it all: Wayne and Montgomery board the last plane from the Philippines and watch the soldiers left behind, likely to die in the aftermath of a Japanese invasion. The look on Wayne's face may make you cry.
Honorable Mentions
1. Sands of Iwo Jima (1949): In this war pic, Wayne's soldier shows real empathy, humanity, and emotion in life and in death.
2. Stagecoach (1939): The John Ford classic is an action-packed yarn stuffed full of showdowns, chases, outlaws, and even a little redemption for Wayne's Ringo Kid.
3. Red River (1948): Only the Duke can turn a a cattle drive into a deadly Oedipal drama as the psychotic father figure to Montgomery Clift.
4. The Shootist (1976): Just two years before he succumbed to cancer, Wayne played a dying gunslinger with memorable results.
5. In Harm's Way (1965): Reprimanded for his tactics in Pearl Harbor, Wayne fights red tape to get back his naval command. Boring bureaucracy? Not in John Wayne's hands.

Check out our list of John Wayne's best Westerns.
Check out our list of John Wayne's best war movies.
Read More