Isaiah Mustafa Joins the Ranks of Actors Who Have Campaigned for Comic-Book Roles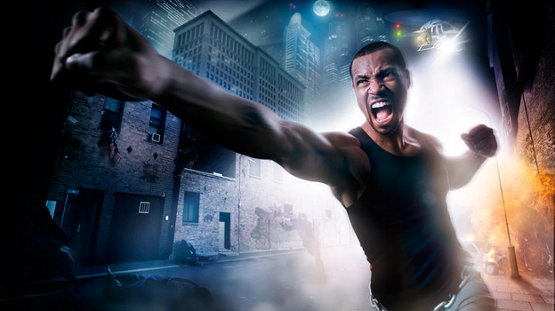 Recently, a viral video circulated of Isaiah Mustafa (a.k.a. the Old Spice Guy) as Marvel superhero Luke Cage. Is this a teaser for a new movie? Nope. It's a fan video created by Mustafa in the hopes of landing the lead in a Luke Cage movie. The Man Your Man Could Smell Like has made it abundantly clear that he wants to play the Marvel tough guy, going so far as to start a Facebook fan group in addition to releasing several mocked-up images.
While the Luke Cage movie is currently stalled (John Singleton was developing the role for Tyrese at one point), Mustafa's campaign could reignite interest. And he's certainly not the first actor who has staged a vigorous campaign in the hopes of scoring a role in a comic-book movie. Let's take a look at some actors who have gone to great lengths to star in the superhero flick of their dreams.
Thomas Jane
A few years back, a photo of Thomas Jane in full Jonah Hex makeup caused casting rumors to circulate. Turns out The Punisher star was a huge fan of the character and staged the photo himself in the hope that Warner Brothers would notice. Fans were so taken with the photo, they started online campaigns to get Jane cast. But Warner Brothers went with Josh Brolin, hot off his turn in the neo-Western No Country for Old Men. Jane ended up having the last laugh, however, voicing the character in the animated short DC Showcase: Jonah Hex and dodging the bullet that was last summer's much-reviled big-screen adaptation.
Sean Young
Perhaps the most famous instance of a star campaigning for a comic-book role was Sean Young's bizarro quest to be cast as Catwoman in Batman Returns. Young was supposed to play Vicki Vale in Batman but was forced to drop out after falling from a horse during rehearsals. Missing out on the biggest franchise of the nineties didn't sit too well with the actress, who donned a homemade Catwoman costume on Joan Rivers's show in an effort to make her case to Tim Burton. Young's over-the-top antics, which culminated in the actress accosting Burton on the Warner Brothers lot in full Catwoman leather, ensured that she would be a Hollywood punch line for years to come.
Brian Austin Green
Before Ryan Reynolds wielded the ring, 90210 heartthrob and former rapper Brian Austin Green actively lobbied for the Hal Jordan role. Back in 2009, Green made it known in interviews that he was interested in donning the green tights, even if he hadn't actually seen a script. While turns in Terminator: The Sarah Connor Chronicles and Desperate Housewives upped Green's profile, ultimately his campaign, to quote from the Green Lantern oath, escaped the sight of Warner Brothers execs. Meanwhile, Green is still trying to get the Fathom movie off the ground for girlfriend Megan Fox. Perhaps he'll star as Fathom's rapping love interest.
Jackie Earle Haley
While it's hard to imagine Watchmen without Haley, the actor had to mount a vigorous campaign to prove he had what it takes to portray the anti-hero Rorschach. According to interviews, Haley put together a "cheesy" homemade audition tape to get director Zack Snyder's attention. Donning a "Halloween sort of Rorschach-ian costume," Haley showcased his distinctive vocal take on the character. Snyder was so impressed that he cast Haley and suggested he use the voice he adopted on the audition tape for the film. Mailing in a grainy homemade tape to get your point across? That's so Rorschach.
Donald Glover
Last year, a fan campaign to get Community star Donald Glover into the red and blue Spidey tights swept the Internet. Glover encouraged the campaign via his Twitter account, setting off a vigorous debate about the racial politics of superhero movies. While Glover was never in the running for the role, the campaign spread like wildfire through the blogosphere. Eventually, Andrew Garfield scored the part, putting an end to the "Glover 4 Spidey" meme. Is it time to start the "Donald Glover for Iron Fist" campaign?
Beyoncé Knowles
A few years back, Beyoncé expressed interest in playing Wonder Woman on the big screen. As she told the Los Angeles Times, "A Black Wonder Woman would be a powerful thing. It's time for that, right?" (Beyoncé also hoped to pay homage to Lynda Carter by wearing her iconic costume.) While Jay-Z's paramour reportedly met with Warner Brothers about the role, nothing ever materialized. Seeing as how the long-in-development Wonder Woman movie still doesn't have a star, Beyoncé may yet get her chance to swing the Lasso of Truth.
Read More