Uncategorized
Flashback Five – Tommy Lee Jones's Best Movies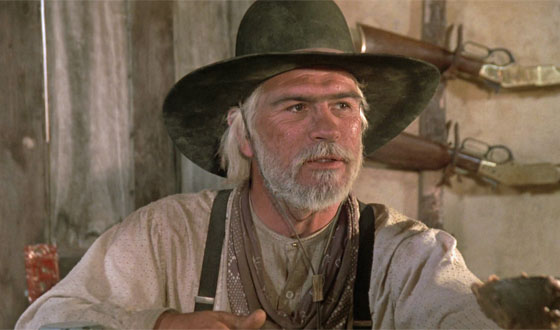 Tommy Lee Jones has played a platoon's worth of soldiers and lawmen of every stripe: marshals, wardens, sheriffs…And why not? He's a natural with that trademark bulldog scowl and a voice built for barking orders. This weekend, check out Jones as a Texas Ranger during AMC's Lonesome Dove Weekend, which airs part one of the mini-series on Sat., Jun. 25 at 8/7c and part two on Sun., Jun. 26 at 8/7c. Right now, look beyond the gruff exterior to these, his best movies.
1. The Fugitive (1993)
Jones cemented his persona as the all-American lawman portraying marshal Samuel Gerard in this on-the-run thriller. The genre has never been more entertaining than The Fugitive, and Jones's chemistry with his mark, Harrison Ford, is nearly as exciting as the action itself. More than twenty years after his screen debut, The Fugitive turned Jones into a household name — and earned him a little gold statuette for Best Supporting Actor.
2. No Country for Old Men (2007)
The role of Sheriff Bell is typical Jones — maybe too typical. Sick of playing hangdog lawmen, the hangdog actor almost didn't take the part in this violent Coen Brothers drama. Of course, good sense prevailed, and, as great as the Oscar-winning flick is, it's hard to imagine the movie without his sturdy presence as the moral center of a world spiraling into chaos.
3. In the Valley of Elah (2007)
Strip clubs, liquor stores, fleabag motels, and rundown diners provide the prosaic stage for one of Jones's finest performances. He plays a father and ex-soldier whose search for his AWOL son churns up darker mysteries. In the Valley of Elah is one of a crop of Iraq-war dramas that didn't do well at the box office, but this is the one everyone should see.
4. Natural Born Killers (1994)
Sporting a Clark Gable mustache and a bad case of bed head, Jones goes over the top as camera-hungry prison warden Dwight McClusky. Hamming it up isn't what Jones is known for. But it works in a movie that you know by the five-minute mark is either the work of a paranoid schizophrenic or Oliver Stone. Stone's pic blurs the senses, and the lines of morality, which might make some uncomfortable. But you can't say that it isn't entertaining!
5. Rolling Thunder (1977)
Rolling Thunder is First Blood, if Rambo had a buddy named Tommy to help him kill war-hero-hating hillbillies. At the forefront of the spate of Angry Returning Veteran movies in the seventies, Rolling Thunder is a dark gem that should be better known (though a boost from Quentin Tarantino, who named it one of his favorite movies, has helped improve its recognition.) And Jones's performance makes it worthy of more attention.
Honorable Mentions
1. The Three Burials of Melquiades Estrada (2005): Jones didn't go far from his own backyard to make this modern Western — it was filmed on his own ranch. Let's hope the decaying bodies were imported.
2. JFK (1991): Don't think Jones can play complex roles? In JFK, he plays Clay Shaw, a southern gay right-wing coke-snorting anti-communist presidential assassin. Very few actors can do that.
3. The Package (1989): Jones is the prisoner in this flip of The Fugitive, with Gene Hackman sweetening the deal as his pursuer. Just don't expect his crimes to get pinned on the one-armed man.
4. Heaven & Earth (1993): Psychic scars from the Vietnam War plague Jones's latest emotionally disturbed vet. It's a fine character study in an Oliver Stone flick that you might plausibly call subdued.
5. Under Siege (1992): You're not a real actor unless you've played a maniacal terrorist in the movies. Jones joins the illustrious company of Dennis Hopper, Alan Rickman, and Jeremy Irons as a rogue CIA operative who hijacks a battleship — but he didn't count on Steven Seagal.

Read More