Uncategorized
Mr. Freddy Shoop and Mr. Holland Aren't the Only Teachers That Girls Have Crushes On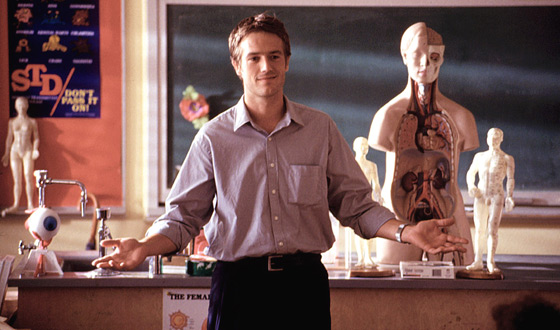 For those in school, June means freedom. Remember counting down the final minutes until the bell rang, marking the end of the school year? If your teacher was as boring as Ben Stein in Ferris Bueller's Day Off, who can blame you? But, onscreen, as in life, there are great teachers, too. We all know girls can develop a little crush on their teachers, so here are five male teachers who are so fun, so inspiring, and (in some cases) so good-looking that they'll make you wish you were back in school.
1. Mr. Freddy Shoop (Mark Harmon), Summer School
You ease into learning with remedial English taught by Mr. Shoop, who wears Hawaiian shirts and flip-flops to class. If you ditch his class to go surfing, no problem. He understands. Someone stole your homework? It happens. But what's really cool about Shoop is that, where others see delinquents, he sees potential. He might not be able to help you get an A on your test, but he'll definitely help you improve. Also Shoop is pretty easy on the eyes, isn't he?
2. Sam Coulson (Michael Vartan), Never Been Kissed
Learning Shakespeare is easy with a teacher like Mr. Coulson, or Sam, as he likes to be called. It's not just that he uses hockey to make As You Like It easier to understand; he's — how to put this delicately? — incredibly handsome. Paying attention is easy when you want nothing more than to stare at the teacher. Five minutes in Sam's class and you'll stop singing "School's Out" and start humming "Hot for Teacher."
3. John Keating (Robin Williams), Dead Poets Society
How many educators can work an impersonation of John Wayne playing Macbeth into a lesson plan? The man's funny. (And, lacking the looks of the previous two teachers, he better be, to grab this ranking.) That said, Keating earns the moniker "O Captain! my Captain!," not because he's funny but because he teaches his students to suck the marrow out of life. How many times have you used calculus since graduation? Would it be safe to say, uh, zero? But his lesson ("Gather ye rosebuds while ye may") becomes more relevant with age.
4. Mark Thackeray, (Sidney Poitier), To Sir, With Love
Here's the teacher who combines looks, grace, and caring. Imagine taking a course in how to act civilized taught by a man with the composure of Sidney Poitier. Thackeray epitomizes how to be a class act, providing his inner-city students with something very hard to teach: inspiration. He opens their minds to the possibility that they can better themselves (just as he did).
5. Glenn Holland (Richard Dreyfuss), Mr. Holland's Opus
Holland is a good musician but a great teacher. He doesn't just teach his students the notes on the page; he helps them experience something beautiful — no matter how long it takes. That's why, even without the looks of Poitier and others, his student Rowena (Jean Louisa Kelly) wants him so badly she asks him to run away with her. The fact that he says no — remaining loyal to his wife in the face of a woman decades younger than him — is just proof of why everyone loves Mr. Holland.
Check out Shoop in Summer School on Fri., Jun. 24, at 4AM | 3C.
Read More