Tribeca Film Festival 2011 – A Subdued Fest Lets the Films Shine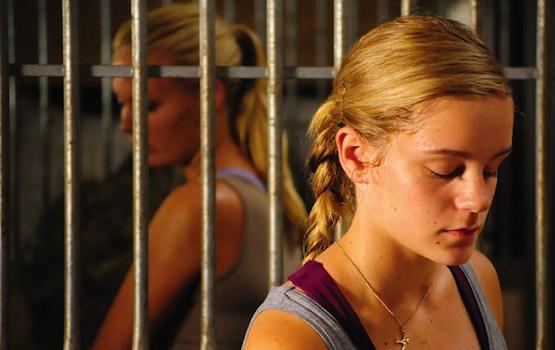 Two small but widely acclaimed features took home the big prizes at the tenth Tribeca Film Festival. Lisa Aschan's She Monkeys, a Swedish film about the intense rivalry between two teenage girls in the equestrian world, won Best Narrative Feature, and Alma Har'el's Bombay Beach, a poetic and lyrical film about California's Salton Sea, won Best Documentary. In both cases, the awards served as the climax to a weeklong run of great buzz. They also capped off an impressive and increasingly better-managed Tribeca Film Festival, where stars and glitz took a backseat to a slate of films that surprised both critics and audiences with their breadth and quality. Despite many of the marquee names present (Elton John! Sean Penn! Ozzy Osbourne!), the parties were also more subdued than in previous years, underscoring the more serious tone of the festival.
As if to underline the fact that many of the strongest films at Tribeca came from outside the U.S., the other award recipients were an international bunch: Ramadhan Bizimana won Best Actor for his performance as a never-say-die moviemaker in the Rwandan film Grey Matter, while Dutch actress Carice van Houten won Best Actress for her powerful performance as troubled South African poet Ingrid Jonker in the touching English-language biopic Black Butterflies. The Norwegian sexual-coming-of-age film Turn Me On, Goddammit won the Best Screenplay award, while the Korean drama The Journals of Musan won Best New Director.
American films weren't exactly neglected, though. The Audience Award, which is given out after the festival's main awards, went to Michael Collins's Give Up Tomorrow, a passionate documentary about wrongful imprisonment, and two other much-buzzed-about docs, Semper Fi: Always Faithful and Carol Channing: Larger Than Life, were named runners-up.
Some films didn't win awards but walked away with other triumphs. Sam Shepard's Butch Cassidy Western, Blackthorn, got picked up by Magnolia Pictures. The company also snagged Limelight, a documentary about the notorious nightlife impresario Peter Gatien, and Jiro Dreams of Sushi, a documentary about (what else?) a sushi shef. The Weinstein Company, meanwhile, picked up The Bully Project, another title that provoked strong audience reactions with its treatment of the timely issue of bullying.
Here's the full list of winners:
World Narrative Competition: She Monkeys, by Lisa Aschan
Best Actress in a Narrative Feature Film: Carice van Houten, Black Butterflies
Best Actor in a Narrative Feature Film: Ramadhan Bizimana, Grey Matter
Best Cinematography: Lisa Tillinger, Artificial Paradises
Best Screenplay: Jannicke Systad Jacobsen, Turn Me On, Goddammit
Best New Narrative Director: Jung-bum Park, The Journals of Musan
Best Documentary Feature: Bombay Beach, by Alma Har'el
Best Editing in a Documentary Feature: Purcell Carson, Semper Fi: Always Faithful
Best New Documentary Director: Pablo Croce, Like Water
Special Jury Mention: Michael Collins, Give Up Tomorrow
Best Narrative Short Film: Man and Boy, by David Leon and Marcus McSweeney
Special Jury Mention: The Terms, by Jason LaMotte
Best Documentary Short: Incident in New Baghdad, by James Spione
Special Jury Mention: Guru, by Jonathan Vanballenberghe
Student Visionary Award: Rooms, by Joanna Jurewicz
Special Jury Mention: Eva – Working Title, by Dor Fadlon
Tribeca (Online) Film Festival Best Feature: Donor Unknown, by Jerry Rothwell
Tribeca (Online) Film Festival Best Short Film: The Dungeon Master, by Rider and Shiloh Strong
Read More