Uncategorized
This Time, It's Personal! Rocky Battles Rambo in an All-Stallone Throw Down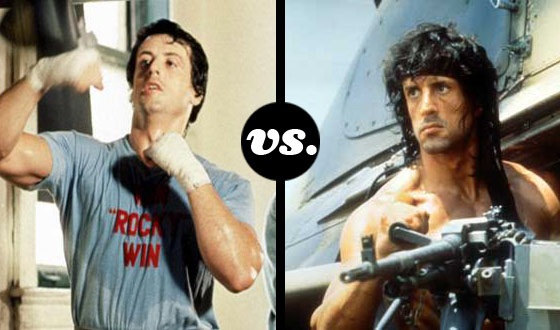 He's vanquished Vietcong (Rambo: First Blood Part II), Apollo Creed (Rocky II), and super-villains like Simon Phoenix (Demolition Man). If a bad guy is around, Sly's probably beaten him. Now it's time to turn up the heat. In this tough-on-tougher showdown, Sylvester Stallone tests himself against the ultimate foe: Sylvester Stallone. So who prevails? The underdog spirit of Rocky Balboa? Rambo and his military-grade arsenal? Lincoln Hawk (Over the Top) and his military-grade biceps? Judge Dredd? Hell, even Cosmo Carboni (Paradise Alley) is a worthy contender, with the hoop earring and driving cap. You know the roles — Rambo, Rocky, Demolition Man — and the Italian Stallion lives up to all of these kick-ass names. Which role is heavy enough to pound the rest?

Tonight, Mon., May 9, check out Rocky III, at 8PM | 7C and 10:30PM | 9:30C.
Check out Rambo: First Blood Part II, on Wed., May 11, at 8PM | 7C.
Read More