Uncategorized
Forgot About Summer School? Bummer! What About Nine More Eighties Comedies?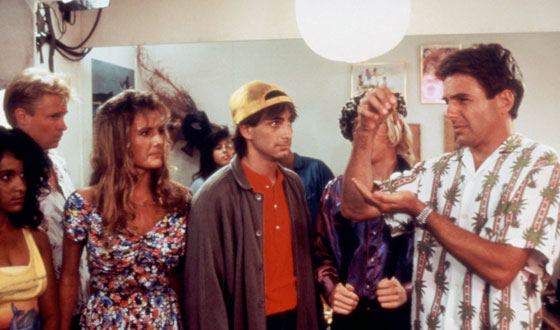 The comedies of the eighties are unforgettable, right? Then why do so many hilarious flicks fly under the radar in the decade that gave us Caddyshack and Ghostbusters? Too much partying? You may have missed these movies the first time around, but, thanks to cable, DVDs, and Netflix, you don't have to pay for your mistakes any longer! Here's a refresher course on ten of the most underrated comedies of the big eighties.
10. The Experts
Only in the eighties could two idiot nightclub owners be kidnapped by KGB agents, get taken to a fake American town filled with Russian spies training to infiltrate America, and end up converting them all to capitalism. And that's exactly what happens in this John Travolta comedy, a movie that may be forgettable (your author didn't even initially remember the name, despite having seen it at least a dozen times) but is well worth acquainting yourself with for the amazing premise and a truly funny outing by Travolta.
9. Just One of the Guys
Undeservedly lost in the glut of similar comedies, Just One of the Guys is sort of like a teen remake of Yentl. Would-be journalist Terry Griffith (Joyce Hyser) decides people think more of her looks than her writing, so she dresses up as a guy. What could go wrong, right? Well, she falls in love with her best guy friend, so that's pretty bad. And then she's forced to flash him, in what may be the only scene most boys of a certain age remember from this flick. But there's more than nudity here; there are laughs too.
8. Innerspace
Joe Dante is better known for directing Gremlins. Dennis Quaid, Martin Short, and Meg Ryan are all known for other films. But only in this often-neglected sci-fi comedy do they show up together in a hilarious sci-fi premise: Quaid shrinks down, ends up in Short's body, and falls in love with a full-size Meg Ryan. And we fall in love with the movie (when we remember to get around to it).
7. The 'burbs
Another lesser-known Joe Dante movie, this time starring Tom Hanks. Hanks hasn't released a lot of duds, but this dark comedy definitely fell flat at the box office. Why? Hanks is funny as ever, and the premise is darkly poignant. Maybe The 'burbs was simply before its time. A few decades down the road, Dante's comedy about a suburbia gone deadly is a diamond in the rough.
6. She's Having a Baby
There's a pattern here: most of the flicks on this list were overshadowed by more-famous movies from the same team. Such is the lot of She's Having a Baby, written and directed by John Hughes and starring Kevin Bacon as a man grappling with the idea of marriage and growing up. This pic is the most mature work from Hughes, who's best known for teen angst. Too bad no one really watched it the first time around.
5. Summer School
Mark Harmon as a gym teacher forced to teach a group of misfit students at the titular school? Yes, please! Kirstie Alley is the fellow teacher who hates him. Amazing! How did people forget about this flick? In typical eighties style, Harmon shapes the kids into a winning class by the end and gets the girl. There are laugh-out-loud scenes, including one of the best delayed punch lines in film history: "My zipper got stuck." Summer School is un-skippable.
4. Night Shift
Ron Howard was still trying to make the shift from redheaded Opie to, well, redheaded super-director when he helmed this comedy, which found two morgue attendants opening a prostitution business — in the morgue. The movie may have been ignored and forgotten in its run, but it launched the career of Michael Keaton, who (you forget this now) is really funny. There's a lot to like here, including Keaton, a fantastic premise, and jokes aplenty.
3. Something Wild
Another pattern? In the eighties, dark comedies didn't quite connect with audiences. Here Jeff Daniels and Melanie Griffith anchored what — on the surface — seems a straightforward romantic comedy. But what distinguishes Something Wild and makes it worth dredging up from the dustbins of movie history is when the romance turns deadly in the second half, with the addition of future mobster Ray Liotta.
2. UHF
A full-length film from parody master "Weird Al" Yankovic seems like it could be stretching a joke too far. But UHF, which is set at a down-on-its-luck TV station, mixes outrageous TV parodies with a ludicrous plot that finds a young Michael Richards blasting kids with a fire hose, among other ridiculous scenes. It's eminently quotable, with a great soundtrack by Yankovic. If you missed UHF in 1989 (and every year since then), don't make the same mistake twice.
1. Can't Buy Me Love
Can't Buy Me Love beat Pretty Woman to theaters by three years, with essentially the same premise: Patrick Dempsey gives a cheerleader $1,000 to be his girlfriend for a month. Though it was mostly ignored by audiences, the romantic comedy has gained fans over time and is notably referenced along with better-known films, like Say Anything, in the climactic scene of the recent hit Easy A. Do yourself a favor and check out this true lost gem of the eighties.
Check out Summer School on Wed., Jun. 4, at 4AM | 3C, and Sun., Jun. 12, at 8AM | 7C.
Read More