Top Ten Directors Who Need A Lot More Work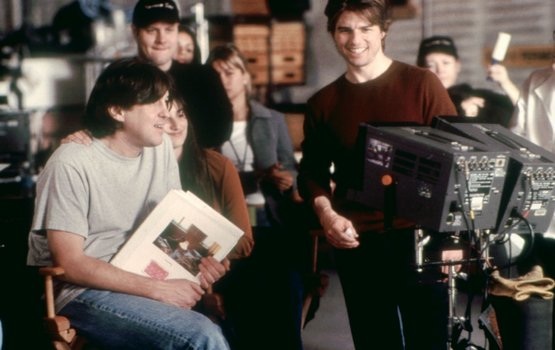 When it comes to directing feature films, some talents prefer quality over quantity. On one end of the spectrum we find Woody Allen, a prolific filmmaker who cranks out one movie every year with varying degrees of artistic success. On the other end, we have these 10 directors — talents who work so infrequently, but typically excel whenever they're motivated to create. Inspired by the release of Terrence Malick's latest, The Tree of Life, here are 10 more amazing directors who've only made a handful of films.
10. Andrew Stanton
To date, Stanton has directed two films: Finding Nemo and WALL-E. Both received the Oscar for Best Animated Feature Film. Think you can find a more impressive track record? Stanton also had his fingers in other memorable films, from the Toy Story trilogy to Monsters, Inc. — but from a director's standpoint, Stanton is two-for-two. He's shifting to live action next with an adaptation of Edgar Rice Burroughs' John Carter of Mars. We'll see if the Academy remains as kind to him as they have in the past.
9. Lynne Ramsay
Scottish writer-director Lynne Ramsay was the toast of the Cannes Film Festival for her most recent drama, We Need to Talk About Kevin — a harrowing story of parents coping with their child's involvement in a school shooting. The praise being heaped on Ramsay shouldn't surprise anyone who watched her first two pictures, Ratcatcher and Morvern Callar. Ramsay's only made three films since 1999, yet all were well received. Maybe the landslide of accolades pushing Kevin into the limelight will inspire Ramsay to choose her next project sooner rather than later?
8. Alfonso Cuarón
A member of Mexico's "Three Amigos" (with Alejandro González Iñárritu and Guillermo del Toro), Cuarón took small steps with his first three films. Yet from the minute Cuarón injected sexual heat into the road-trip formula for 2001's Y Tu Mamá También, the visually gifted filmmaker has been cranking out masterpieces — just not as many as fans had hoped. Cuarón's Prisoner of Azkaban remains the finest in the Harry Potter franchise, and his bleak thriller Children of Men is a sci-fi tour de force. But he hasn't made a film since 2006, and his next picture, Gravity, isn't due in theaters until 2012.
7. George Clooney
Any number of actors-turned-director could have occupied this slot, from Sean Penn to Warren Beatty to Jodie Foster. Clooney gets the nod because his three directorial efforts went in completely different directions, yet all showed the markings of a stylish storyteller who appreciates the craft of moviemaking. It helps that the Academy honored Clooney's second film — the satisfying Good Night, and Good Luck — with six Oscar nominations, including Best Director and Best Picture in 2006. Acting gigs tend to keep him out of the director's chair. Let's hope not for too long.
6. Paul Thomas Anderson
Fans of independent cinema have been drinking P.T. Anderson's milkshake, so to speak, ever since he glided onto the scene with the 1996 casino-noir, Hard Eight. Anderson was damn near prolific in the late 1990s, bouncing from Eight to Boogie Nights and Magnolia in a span of three years. But harsh reactions to his film Punch-Drunk Love stopped the director in his tracks. Yes, 2007's There Will Be Blood is regarded by most to be a magnum opus, but it's also the only feature Anderson has directed since 2002 — and his next picture, The Master, isn't scheduled to hit until 2013.
5. Tamara Jenkins
Tamara Jenkins's semi-autobiographical Slums of Beverly Hills announced her talent as a filmmaker, while her blistering 2007 drama The Savages confirmed it. So why isn't she working more often? Perhaps she'd prefer to direct her own screenplays, and writing material as honest and invasive as Jenkins's first two scripts takes time. But given the quality of her first two pictures and the uncomfortable places she's willing to take her actors, we're hoping she eventually begins to average more than one movie a decade.
4. Todd Haynes
We're willing to cut Haynes some slack, given the fact that he and Kate Winslet were busy as of late constructing a five-part retelling of Mildred Pierce for HBO. Prior to that, though, the director was celebrated for peeling back the layers of protective skin that society hides behind in revealing pictures like Safe and Far From Heaven. Haynes has only made five feature-length films since 1991, yet all are worth renting — as is his creative short, Superstar, that uses Barbie dolls to tell the tragic story of pop singer Karen Carpenter.
3. Cameron Crowe
Much like Paul Thomas Anderson, Crowe burst out of the gate with personal, beloved stories. Say Anything… defined a generation raised on John Hughes pictures, while Jerry Maguire and Almost Famous showed Crowe's maturity and potential for growth as a director. Then came Elizabethtown, which was smacked around in the press in 2005, and Crowe disappeared to lick his wounds. He'll return to theaters later this year for the anticipated We Bought a Zoo, but you can't help but wonder how many more films Crowe would have on his resume if not for Elizabethtown and its poor reception.
2. John Cameron Mitchell
Can you think of a more electrifying directorial debut than Mitchell's Hedwig and the Angry Inch, which cast the actor-director as a transgender rock singer struggling to escape East Germany and live the life she has dreamed? While many think Mitchell's second film, Shortbus, meanders too much, he returned to form with 2010's brilliant and honest Rabbit Hole — which earned Nicole Kidman a well-deserved Oscar nod. It's still early in Mitchell's career, but so long as he continues to find material that speaks to his sensibilities, it should be a win-win for this incredibly gifted director and his fans.
1. Thomas McCarthy
McCarthy is an excellent character actor who has transformed himself into a stellar director. He's adept at choosing the right actors for his ensembles, and he coaches amazing performances from similar character actors such as Paul Giamatti, Richard Jenkins, Amy Ryan, Patricia Clarkson, and McCarthy's muse, Bobby Cannavale. Like Clooney, McCarthy often chooses acting gigs over directing opportunities. But once he gets behind the camera, he delivers moving films like The Station Agent, The Visitor and Win Win. The world should be happy to wait for the next McCarthy picture, so long as it turns out to be as rewarding as his first three.
Read More