Uncategorized
Think Harrison Ford, Elijah Wood, and Matt Damon Never Play Bad Guys? Think Again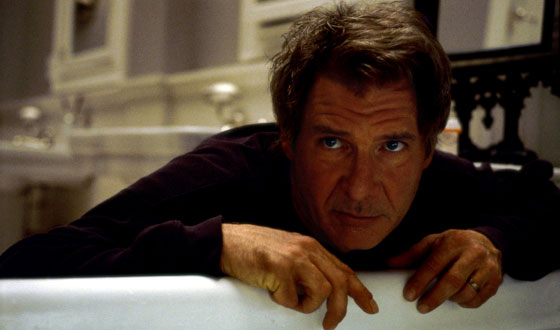 It's good to be good, but being bad can be even better, at least in Hollywood. What's even better than being bad is going bad when everyone thinks you're good. Sometimes an actor or actress known for playing good-guy roles will take a walk on the dark side, with stupendous results. Here are the top ten good-guy actors (and one actress) who make being bad look good.
10. Harrison Ford, What Lies Beneath
He's saved the world more times than you can count, as Indiana Jones, Han Solo, and Jack Ryan. But playing against type as the (secretly) insane Norman Spencer worked perfectly, shocking audiences when a third-act twist revealed that perpetual hero Ford was actually a cold-blooded murderer. And wouldn't you know it, but Ford plays the psycho with the same zeal he plays the hero.
9. Laurence Olivier, Marathon Man
Olivier is probably still best known to audiences as the Shakespearean actor, starring in career-defining films like Henry V, Hamlet, and Richard III. Which is why it comes as such a shock when he starts drilling into Dustin Hoffman's teeth in order to extract information, as a sadistic Nazi dentist. The performance is chilling to the bone, all the more so because Olivier is such a convincing actor.
8. Matt Damon, The Talented Mr. Ripley
Most men wouldn't mind having Jude Law's life, but Matt Damon takes it one step further as potentially evil con artist Tom Ripley. With his all-American good looks, Damon has made a career playing the stand-up guy in Good Will Hunting and the Bourne movies. In Ripley, he uses those looks to his advantage, trying to physically replace Law. You can't help but trust Damon — and that's what makes him such an effective villain.
7. Henry Fonda, Once Upon a Time in the West
Fonda is the strong-jawed hero of 12 Angry Men and The Grapes of Wrath. But legendary director Sergio Leone cast him against type as Frank, an unrepentant child killer, creating one of the best villains of all time. Audiences are so used to seeing Fonda as a screen hero that even his truly frightening portrayal of a monstrous villain is eerily sympathetic.
6. Angela Lansbury, The Manchurian Candidate
Even at the ripe old age of 37, Angela Lansbury was America's grandmother. She exuded comfort and earnestness, which made her the perfect villainous mother in The Manchurian Candidate. A puppet master, Lansbury causes an international crisis with a loving smile, a maternal pat, and a warm glass of milk before bed. Creepy.
5. Elijah Wood, Sin City
Quick: think of who would best portray a terrifying, nearly faceless cannibal. If you said Elijah Wood, The Lord of the Rings' heroic Frodo, we might say, "What are you thinking?" But you'd be right. The baby-faced actor is perfectly cast as the remorseless eater of prostitutes, Kevin, his small frame playing against his gruesome evilness. Playing Frodo and a cannibalistic psychopath in the span of a couple years? That's pretty good range.
4. John Goodman, Barton Fink
John Goodman is a big, cuddly, evil bear. Granted, the Coen brothers could probably make a rainbow terrifying, but Goodman's perpetual good cheer makes his murderous rampage as the insane Charlie Meadows all the more petrifying. To give you an idea of his range: this was released the same year as King Ralph, a comedy about Goodman becoming the king of England. So there you go.
3. Heath Ledger, The Dark Knight
The late Heath Ledger was known for his leading-man status in movies like 10 Things I Hate About You and his seemingly made-up looks. So his casting as the villainous Joker in Christopher Nolan's Batman sequel raised a few eyebrows. Those eyebrows went back to their normal positions once critics saw his force-of-nature performance in the movie. Few men can give Batman a run for his money; Ledger tears apart the entire city of Gotham and gives new meaning to the super-villain.
2. Denzel Washington, Training Day
Washington has never shied away from controversial parts, like the titular role in Malcolm X. But he's almost always played a good guy, until the Oscar-winning drama Training Day, in which our hero plays the very corrupt and slightly fun detective Alonzo Harris. Washington puts a rookie cop (Ethan Hawke) through the worst hazing in history and shows that sometimes even bad cops have the best intentions.
1. Alan Rickman, Die Hard
Before Die Hard? Rickman was a respected Shakespearean actor. After Die Hard? Well, Rickman is still a respected Shakespearean actor, but he's also the gold standard that every single action-movie villain has to live up to: menacing British accent, fantastic phrases, magnificent beard. His role in Die Hard was career defining and turned Rickman into the film bad guy. And don't even get started on his ambiguous performance in the Harry Potter movies. Rickman is the standard in terms of shocking bad-guy performances.
Check out Die Hard tomorrow, Wed., May 4, at 8PM | 7C.
Read More