Say Yippee Ki-Yay to the Ten Greatest Action-Movie Zingers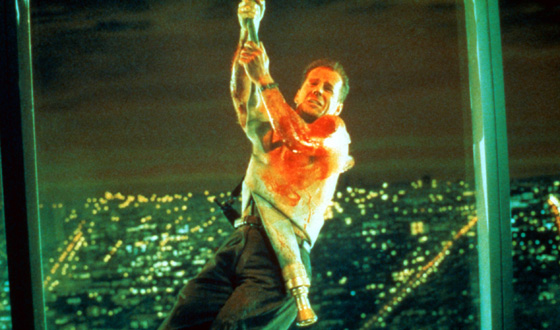 If you're an action-movie fan, then you have your favorite action-movie lines (though maybe not written down, like some of us). It just comes with the territory. Spouting your favorite quotes, often with wonderfully terrible impersonations, is part of the joy of dedicating countless hours to watching men cartoonishly punch, shoot, and blow each other up. The top ten quotations (my ten best, anyway) are best served with popcorn and beer, unlike revenge, which is best served cold. (Yes, that Star Trek II: The Wrath of Khan classic finished at No. 11.) So crack open that beer and get ready to start quoting the following classics all day.
10. "Bond, James Bond." (James Bond Series)
If I need to explain why this line — delivered by everyone from Sean Connery to Daniel Craig — is included as one of the best, then you should stop reading this and go back to your copy of Eat, Pray, Love. The only surprise is that it edges out a bunch of other great Bond lines, including dozens of fantastic instances of sexual innuendo.
9. "Yippee ki-yay, motherf*cker." (Die Hard)
Die Hard is the greatest action movie of all time. Of all the great lines by John McClane (Bruce Willis), this remains the greatest. When he subtly whispers it into the walkie to Hans Gruber (Alan Rickman), you know you're in for the ride of your life. The only reason the line can't climb higher than No. 9 is that you can't repeat it over and over again in polite society.
8. "I'll be back." (The Terminator)
Of course, Schwarzenegger is going to be represented here! This might be the line best suited to almost any movie fan's list. "I'll be back" may not be a witty piece of dialogue, but the way it was delivered? Unforgettable. You can't utter these three words without breaking out your best (or worst) Ah-nuld impersonation.
7. "With great power comes great responsibility." (Spider-Man)
Okay, sure, this isn't a line that gets you fired up to kill people or helps you recall a memorable action scene. But it sticks with you and doubles as a piece of real-world advice. On film, when Ben Parker (Cliff Robertson) gives Peter this lesson, a hero is born and a great lesson learned. (Chills.)
6. "This…is my boomstick!" (Army Of Darkness)
Bruce Campbell's Ash, reluctant hero of the time-traveling horror-action Evil Dead trilogy, might be the single greatest quotation machine in the history of cinema: everything he says belongs on a T-shirt, and I personally have this quotation on a T-shirt. The line is empowering, amazingly delivered, and works really well with baseball highlights on TV.
5. "I'm too old for this sh*t." (Lethal Weapon)
No matter your age, whenever something rubs you the wrong way, whenever you've had it up to here with a situation, and whenever you want to channel your inner grumpy old man utter this Danny Glover classic and everyone should know what you mean.
4. "Go ahead — make my day." (Sudden Impact)
Wimps, geeks, and common folk like us probably have no business quoting Dirty Harry. But we can't help it. He is too iconic, his quips too legendary. Imagine the joy felt by the cameraman when he realized he captured this piece of tough-guy history.
3. "You tell 'em I'm coming and hell's coming with me! Did you hear? Hell's coming with me!" (Tombstone)
The most badass line of the ten quotations secures the No. 3 spot. In a movie chock full of memorable lines, this war cry from Kurt Russell's Wyatt Earp (which is essentially a really cool way of saying "Game on") stands tallest. Try saying the line yourself and not feeling awesome.
2. "May the Force be with you." (Star Wars)
Among the many great lines written a long time ago in a galaxy far, far away, this is the best. I'm such a dork that I don't wish people luck; I just remind them that the Force will be with them. The fact that so many other people do the same explains why this line lands at No. 2.
1. "I have come here today to chew bubble gum and kick ass. And I'm all out of bubble gum." (They Live)
The fact that it's written by the great John Carpenter and uttered out of nowhere by "Rowdy" Roddy Piper while he's wearing sunglasses and carrying a shotgun in a bank full of aliens makes it the best. Sometimes a line comes from out of nowhere and sticks with you forever. This is the best of those lines.
Check out Die Hard on AMC tonight, Wed., May 4, at 8PM | 7C.
Nick Stevens tries to make funny about movies, pop culture, and sports as often as possible. He lists John McClane, Batman, and Tom Brady as the people with whom he'd most like to have beers. For more of his grown-up nonsense, visit his Tumblr page or follow him on Twitter.
Read More