Do the Losers of Bull Durham and Tin Cup Deserve Susan Sarandon and Rene Russo?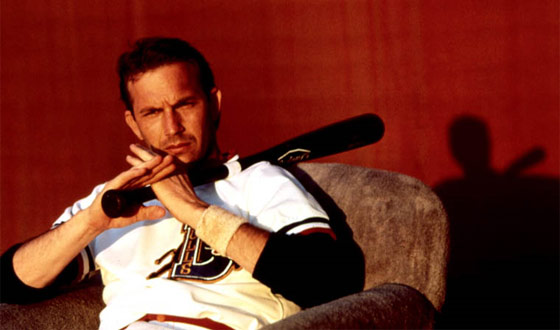 Hey, fellas, this might seem counterintuitive, but, based on many sports movies, if you want to get the girl don't be a winner. You don't want to be a top draft pick. Old, broke, immature, and/or chock-full of inner demons — that's what's sexy (at least to the women of The Natural, Bull Durham, and other movies). You want to be is the guy who's the least likely to succeed. Man, you gotta love the movies! And this isn't new: the trend dates back over a quarter of a century. Check out these five sports-movie guys, starting back in the early eighties, who definitely don't have the right moves but still get the girl. Do they deserve her?
Roy Hobbs (Robert Redford), The Natural
Hobbs is an earnest farm boy who can play ball, and women, including Iris (Glenn Close), love that. But why does she still love him after he says he wants to marry her and then disappears for sixteen years? Really? So what if he got shot. He couldn't send a telegram? Nobody is that good-looking. Roy's down on his luck when he comes back to Iris (after vanishing for sixteen years, remember), and she still wants him? Why? Well, her son gets a father (which is nice), and he looks like Robert Redford, after all, and that Wonderboy shtick is fairly inspiring.
Does He Deserve Her? Nope. Sixteen years! That's not something you get past.
Crash Davis (Kevin Costner), Bull Durham
This veteran catcher's best days are behind him. The star is young pitcher Nuke (Tim Robbins), not Crash. So why does Annie (Susan Sarandon), a team groupie, want to be with him? Well, for one, he reads books without pictures. He also plays hard to get, which she is definitely not used to. He knows what he believes in, and one of those things is "long, slow, deep, soft, wet kisses that last three days." Who can resist that? Nuke gets to the show, but Crash (who has the dubious honor of hitting the most home runs in the minor leagues — ugh) is the one who gets the girl.
Does He Deserve Her? Yes. Crash is a good guy, especially compared with his teammates.
Jake Taylor (Tom Berenger), Major League
All catcher Jake wants is "one more good year in the sun" and the love of Lynn (Rene Russo). His problems: bad knees, a bad tan, and a bad perm. Lynn wants someone intelligent and stable whom she won't find in bed with a stewardess. From past experience she knows that's not him. So to change her mind, he reads Moby-Dick cover to cover (well, the comic-book version), leads his team of misfits to victory, and stays faithful to her (for now).
Does He Deserve Her? Nope. Once a cheat, always a cheat! And would you want to hang around that Indians clubhouse?
Roy McAvoy (Kevin Costner), Tin Cup
Roy lives in a Winnebago and works at a run-down, armadillo-infested driving range. He could be a great golfer if he weren't a juvenile idiot: his caddie has more ambition than he does. So how does such a man win the love of Molly (Rene Russo)? It doesn't hurt that his competition for her affection, a successful pro golfer (Don Johnson), is mean to old people, children, and dogs. But still, he works at a driving range! Turns out she likes that he always goes for it on the course, never plays for par. By losing, he wins. Bet you'd like to get that gig.
Does He Deserve Her? Yes, Roy has that bad-boy mentality that even most winners don't. That's undeniably attractive.
Vince Papale (Mark Wahlberg), Invincible
He just lost his job as a teacher and his wife left him with a note telling him he'll never amount to anything. This is when Janet (Elizabeth Banks) meets Vince. (Talk about bad timing.) He gets a break when the Eagles hold open tryouts and he makes the team. That's really something. Too bad she's a Giants fan. Do they end up together? Come on — it's a sports movie about an underdog athlete in Philly. You know how they do.
Does He Deserve Her? Yes. Vince is the real deal: Rocky without the skills but with the same underdog scrap, which Janet can't help but love.
Check out Tin Cup on AMC, Tue., May 10, at 1AM | midnight.
Check out Bull Durham on AMC, Tue., May 17, at 2AM | 1C.
Read More