Uncategorized
Q&A – Thor's Jaimie Alexander on Marvel Spoilers, Her Geeky Roots, and Wonder Woman's Breasts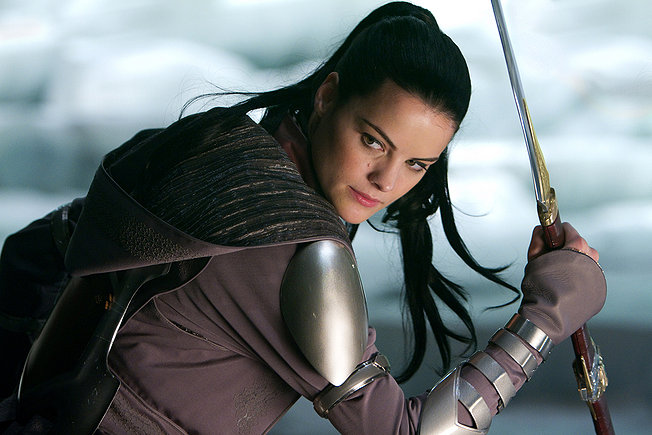 When it comes to superheroes from the mighty Marvel universe, Thor isn't quite as recognizable as, say, Spider-Man, Captain America, or the Hulk. But Paramount hopes that changes once the studio introduces the god of thunder in his first big-budget action film. Directed by Kenneth Branagh, Thor stars Chris Hemsworth, Natalie Portman, and Anthony Hopkins in the story of a god who walks among humans. As the summer blockbuster prepares to storm area multiplexes, Thor co-star Jaimie Alexander spoke to FilmCritic.com about the warrior character Sif, her inability to keep Marvel spoilers secret, and her lifelong love of comic books.
Q: You grew up as a comic-book geek. Were you a Wonder Woman supporter back in those days?
A: Um, hell no, buddy. And do you want to know why? I actually read "Wonder Woman," and here's the thing about her: she's more of a physical presence than anything else. You don't get to really know her on the inside. It's all about her boobs. And I can say that; I actually read the comics. Even though she had one of the coolest story lines, they still made her the all-American beauty queen. I found that Sif was different, and I think that's why I gravitated to her and to the X-Men. They had a real history, and they were a real team. I grew up with them, with Jubilee being one of my favorites. But, look, if I got approached to play Wonder Woman, which has happened once or twice, I would have to say, "Look, let's take this serious. Let's make her a positive role model. Let's make this a non-campy version of her." Because I haven't seen that done yet. Yet that's essentially what I got to do with Sif in Thor. I got the best of both worlds.
Q: You say you were approached to play Wonder Woman. Did you go after roles in any other superhero franchises?
A: I was cast in Thor back in 2009, so it sort of took me out of the running for anything tied to DC Comics. They wouldn't even see me for the Superman movie or any of that stuff. Which is completely fine. I understand that. But I
keep trying. I'm sitting around the Marvel offices telling guys, "So,
listen, if you are going to make an X-23 movie and you need someone to
do it, I'm available."
Q: As the resident comics expert on the Thor set, did you feel compelled to guide Kenneth Branagh and maybe tell him, "Do it this way instead of that way"?
A: [Laughs] No, he was awesome. He actually did his research. But he
also would ask our opinions on things. It was a collaborative effort because that's the way he wanted it to be. He's also such a nice man and really wanted to find out how we wanted to work on stuff to find a compromise. He had absolutely no pride, in the best way possible. He's not an ego personality. I actually brought up the fact that I would like
to subtly put in that Sif has a thing for Thor. That was such a big
story line in the comics since 1962, pretty much, so we did that subtly
and a lot of people are catching onto it. I'm glad that it's in there.
Q: Wait, subtlety in a popcorn movie? That's not supposed to happen. We can't turn our brains off for Thor?
A: No, we kind of wanted to confuse the brain. We have right- and
left-brain activity going on, and we've got a good balance between
really good performances and an amazing story line and then just stuff
blowing up, flying, different realms, and crazy costumes. I think Branagh
somehow managed, by the grace of God, to make this work and have it not be two
different films in one movie.
Q: Marvel fans get excited reading about character cameos and hints at other films, be it Captain America or next summer's Avengers. How much of that do you pay attention to?
A: Well, that's a funny thing because with the story of there being a Hawkeye cameo in Thor — none of us even knew that. We're like, "What? No. Who's going to play
Hawkeye?" No one told us anything. All of us actors are being asked if
Sam Jackson will be in our movie, and I'm like, "I don't think he is. Is
he? I don't know." I still don't know if he's in it or not! At the
time, they'll go back in and reshoot and add. But it's probably better
that way because I would have given away everything on accident.
Q: Okay, what's cooler: seeing yourself as a Thor video-game character or having your own action figure?
A: Oh, I did the voice in the video-game adaptation, and it was
pretty awesome going into the soundstages and doing that. The whole
time, I was thinking, "Oh my God, I'm in a video game. My brothers are
going to flip their lids!"
Read More