New on DVD – Blue Valentine and The Illusionist – May 10, 2011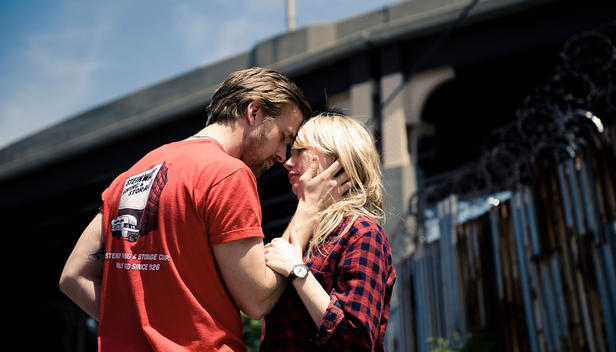 Bad love, all around, and Oscar-nominated, to boot: Ryan Gosling and Michelle Williams pursue a doomed romance in Blue Valentine while in The Illusionist, a magician dedicates his life to a woman who will never love him back; these films and others, ranging from horror (I Saw the Devil) to romantic comedy (No Strings Attached) to teenybopper oddity (Justin Bieber: Never Say Never) coming this week to Blu-ray and DVD.
Available May 10th
Blue Valentine

Derek Cianfrance's romance isn't the kind that starts with a meet-cute and ends at the altar, though the stars do meet pretty cute and there is a wedding of sorts. Ryan Gosling and Michelle Williams (Oscar-nominated for this role) play the troubled couple in a sharply-acted film that throws straight chronology out the window in order to focus on the ugly particulars of their tempestuous relationship. According to our critic, those who appreciate great acting will "revel in two gut-wrenching performances by actors who continue to impress," but others will find it a difficult film to embrace "and an even harder one to recommend."
The Illusionist

Based on a never-produced script by the late, great French comic Jacques Tati, this slow, dialogue-free, swoon-inducing, Oscar nominated animated film follows a Paris magician who travels to Scotland in the 1960s, searching for work in a world that ever more rarely desires his talents. Along the way, he falls in love with a young woman who seems him as little more than a convenient escape from her small town. Our critic thought director Sydney Chomet "surpasses the anarchic glee of his Triplets of Belleville, echoing the classic era of mid-century Disney animation with all its quietly-rendered and painstakingly drawn detail."
Black Death

Sean Bean stars in this 14th-century-set pseudo-horror film in which he leads a group of armed men into the marshlands to discover whether rumor is true, and that there actually is a village there not contaminated by the plague currently decimating the land. Our critic called this a "grim" medieval vision rife with "beheadings, disembowelments, decay, disease, and rampant torture" that was nevertheless "a ferocious, fleet-footed entertainment."
I Saw the Devil

In this ultraviolent gorefest from South Korean director Jim Ji-woon (The Good, The Bad and the Weird), a serial killer is tracked down by a determined special agent who, instead of killing or arresting him, decides to enact a sadistic brand of vengeance. We thought the whole thing derivative and too much like Kick-Ass, "an uneven attempt to have one's cake and eat it, too … indulging in the voyeuristic pleasures of grisly violence and feeling a need to critique and show the psychologically damaging toll of vengeance."
No Strings Attached

Currently starring in every third film at the multiplex, Natalie Portman also headlines this romantic comedy as a workaholic and relationship-averse doctor whose no-strings-attached fling with Ashton Kutcher is threatened by the icky love thing. Our critic wasn't too impressed with the hardly subtle results, noting that it "is a comedy made for fans of Adam Sandler, not for fans of Adam's Rib."
Cropsey

During the 1980s, a rash of child disappearances burned across Staten Island. Suspicion fell on drifter Andre Rand, who lived in a campsite near the sprawling ruins of the old Willowbrook Mental Institution, whose record of brutal insensitivity was the stuff of folk tales. This creepy documentary tries to sift through the mass of rumor and urban legend to find out what actually happened. Our writer thought that the film vividly showed how "where facts are lacking, fantasy and nightmares fill in quite nicely."
Available May 13th
Justin Bieber: Never Say Never

What is there to say about this Justin Bieber concert documentary besides that 3D doesn't really do the kid's hair justice? Our critic found watching the film's explosion of pent-up fan hysteria "so violent and acute that it cuts through the otherwise potent preteen pulse like a detonated nuclear warhead." He also admitted that watching it as an adult is "akin to being an aging suburbanite circa 1964 and accidentally walking into a packed screening of A Hard Day's Night." Beware.
Read More