Past His Prime? No Way! John Wayne's Final Decade Was as Good as Ever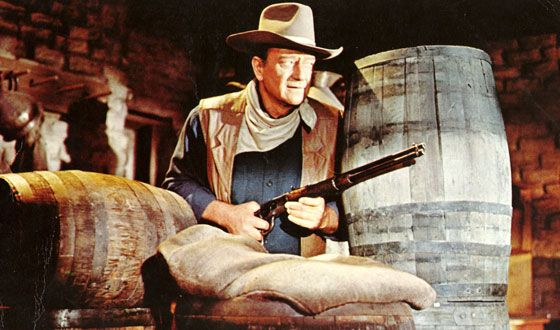 Most actors peter out, appearing more infrequently in smaller and smaller roles as their careers wind down. John Wayne is not most actors. At the end of his career, the Duke still had plenty of firepower left in his arsenal, delivering some of his greatest performances in his last decade onscreen, a particularly impressive achievement given his rapidly declining health. Certainly, now is the time to pay tribute to the Duke's underrated late period. Cock back the hammer and fire: here are the best movies of John Wayne's final decade in film — one for every round in his six-shooter.
1. The Shootist
Wayne's last film remains a fitting culmination of his career. He plays a dying gunslinger who, while trying to make peace with his past, has to fend off a lineup of fame-hungry outlaws, anxious to put him in the grave before his cancer can. The parallels to the actor's own life are eerily poignant. Wayne, who had likely experienced a relapse of cancer, had to gulp down oxygen between takes. Through the struggle, Wayne persevered in a film that served as both a tribute to his life and a stirring good-bye to his fans.
2. True Grit
Accept no substitues: John Wayne is the original one-eyed lawman. As cantankerous Rooster Cogburn, the Duke pokes fun at his own larger-than-life persona. Unlike the usual upstanding lawmen the actor played, Cogburn is a drunk motivated by money and hopelessly outgunned when it comes to negotiating terms with a precocious 14-year-old girl (Kim Darby). It was simultaneously unconventional and perfect casting — resulting in Wayne winning his only Oscar, for Best Actor.
3. El Dorado
A quasi remake of Wayne's own Rio Bravo, this action-packed Western has all the essential ingredients that made its predecessor such fun. A drunken sheriff (Robert Mitchum) in need of redemption, a young gunslinger (James Caan) anxious to prove himself, and a saloon girl (Charlene Holt) smitten by the Duke's single-mindedness and sexy saunter. All the gears are working, and the wisecracking chemistry between Wayne and Mitchum ("I'm looking for a tin star with a drunk pinned to it") still crackles.
4. Big Jake
One of Wayne's lesser-known roles actually showcases the star's age, giving the movie a unique edge. When bandits kidnap Wayne's grandson (played by the actor's real-life son), Papa shows these sadistic outlaws how underestimating your elders can prove fatal. While clearly attempting to re-brand Wayne's old-school image — the violence is surprisingly explicit, and the movie is set in the modern era — Big Jake's roots are pretty classic. The flick also marks Wayne's curtain call with his feistiest onscreen companion, Maureen O'Hara.
5. Rio Lobo
Wayne and director Howard Hawks team up for the third time. Rio Lobo is essentially Rio Bravo and El Dorado thrown into a blender. The results are surprising good, as the movie hits all the right notes — consider it an early-seventies version of Ocean's Eleven-style popcorn entertainment. And, honestly, how could the formula not work? Outlaws overrun a town; Wayne fights back with the help of a young gun, an old fogy, and some attractive eye candy; and, as tradition dictates, it all ends in an action-packed standoff that'll blow out the windows and pin you to your seat.
6. Chisum
Wayne makes a return to cattle country — but unlike the psychopathic cattle driver in Red River, the character here is a stalwart hero: cattle baron John Chisum. The movie is set during New Mexico's bloody Lincoln County War, and Chisum locks horns with rival frontier big shot Lawrence Murphy over the usual items: land and cattle. The Duke is clearly the beef mogul you want to throw your money behind — especially as he gets some helpful assistance from employees Pat Garrett and Billy the Kid.
Check out El Dorado tonight, Tue., May 10, at 5PM | 4C.
Read More