Uncategorized
Flashback Five – Your Favorite Arnold Schwarzenegger Movies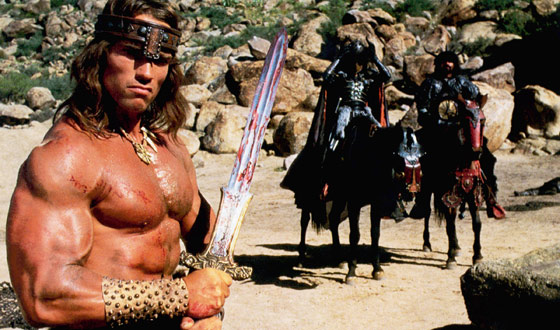 Say what you want about Arnold. He's still action royalty. So let's get back to what makes him so great: Action movies! Simply put, there's no parallel to Arnold's exceptional action career. And if you beg to differ, you might find yourself on the wrong side of Conan's broadsword. Here at www.amc.com, fans have been voting on just that for over a year. Feel like the Conan movies should rank higher? Then vote for them already! Want to see the Conan movies? Guess what? Tomorrow, Sat., May 21, AMC's Crazy About Conan will broadcast Conan the Barbarian and Conan the Destroyer back-to-back, twice in a row starting at 5PM | 4C!
1. Predator (1987)
Earthly opponents can't defeat Arnold, so Hollywood had to search far and wide — into another galaxy, to be exact — to find a suitable challenger. But even the Predator — one of the great movie monsters of all time — is not match for Arnold. You don't need thermographic vision to understand why Predator's mix of scifi and action stands out for voters, earning the movie the championship spot.
2. The Terminator (1984)
Arnold created one of the scariest screen villains of all time in this breakout techno-thriller. How good is The Terminator? Pretty much the worst thing anyone has to say about the movie is that it's a shame that Arnold never again played a bad guy. Suffice it to say fans were sufficiently creeped out, ranking the villainous version of Arnie No. 2.
3. Terminator 2: Judgment Day (1991)
In The Terminator, Arnold coined the catchphrase "I'll be back," and he kept the promise in this epic sequel that voters believe to be a worthy follow-up. Landing just behind the original, the sequel pulls out all the stops with a pileup of great action scenes — the truck chase in the L.A. River, the battle at the Cyberdyne building, and the molten-lava-factory showdown. But it also enriches the premise by recasting Arnold as a robot hero in a believable way.
4. True Lies (1994)
Arnold never played James Bond, but this James Cameron action comedy offers a little taste of what could have been, receiving the hearty approval of voters. Arnold has great comic chemistry with unsuspecting wife Jamie Lee Curtis. His final movie with Cameron, True Lies offers a dose of fun with its action-packed pyrotechnics and puts to shame latter-day counterparts like Mr. & Mrs. Smith.
5. Total Recall (1990)
Even with a hi-tech memory implant, voters didn't forget Total Recall, which just manages to squeeze into the top five. The breathless sci-fi flick's mind-bending scenario has Arnold on the run from the Earth to Mars, trying to uncover his real identity as a freedom fighter for disenfranchised mutants. Or maybe the labyrinthine plotline is really just a figment of his imagination. The fact that these points are still being debated is why fans put Total Recall among Arnold's best.
Honorable Mentions
6. The Running Man (1987): Arnold's classic role as a prisoner who fights for his life on a sadistic reality-TV show before lashing out at its host is why Arnold is never going to be allowed on The Apprentice.
7. Conan the Barbarian (1982): Arnold's bare chest competes with his grimacing face for screen time in this fantasy-fest that shows casting is everything. Conan could've been seriously mediocre without Arnold as the sword-
swinging warrior out for vengeance.
8. Conan the Destroyer (1984): Follow-ups are tough, but voters think this sequel is nearly as good as its predecessor, which should come as no surprise, seeing as it makes use of the proven formula of Arnold killing people with a giant sword while wearing no shirt.
9. Twins (1988): Sort of like Laurel and Hardy — if Hardy were fond of Hawaiian shirts and bodybuilding and Laurel were, well, Danny DeVito. Any way you cut it, DeVito and Arnold made a great team in one of the best odd-couple comedies you'll find.
10. Last Action Hero (1993): This later Arnold flick wasn't his biggest success at the box office, but Last Action Hero is an enjoyable, self-depreciating send-up of Arnold's star persona. The whole movie is funny, and the bit where Arnold livens up Hamlet is classic.

Read More