AMC War Heroes Weekend – Movies Are Just the Beginning On-Air and Online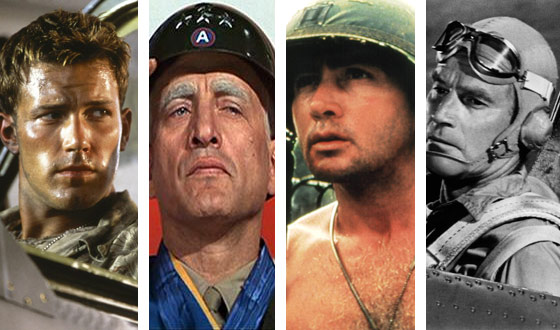 AMC War Heroes Weekend begins tonight with Patton at 8PM | 7C, then continues through Mon., May 30 with such classics as Pearl Harbor, Apocalypse Now, and Midway. Want more info on what's on-air for the next four days? Click here for a full schedule.
The Memorial Day tribute doesn't end on-air either. Check out all the online content below.
Online Movies
• A Farewell to Arms: This two-time Oscar winner (cinematography, sound) stars Gary Cooper and Helen Hayes as an ambulance driver and nurse, respectively, who fall in love during World War I.
• The Last Time I Saw Paris: The incomparable Elizabeth Taylor headlines this cinematic adaptation of F. Scott Fitzgerald's Paradise Revisited.
• Blood on the Sun: James Cagney and Sylvia Sidney share the spotlight in this historical pic about the Tanka Memorial document. Never heard of it? You should have: It won the Oscar for Best Art Direction.
• Combat America: None other than Clark Gable (Gone With the Wind) narrates this documentary about the 351st Bombardment Group of the U.S. Army.
AMC Documentaries (on-air and online)
• Brokaw Interviews Military Veterans: Filmed aboard the USS Intrepid in NYC, Tom Brokaw sits down with five vets as he cover topics such as tours of duty, military life, relationships with soldiers, the rehabilitation process and life after active
duty.
• A Path to Honor: A gripping four-part series of original documentary shorts, A Path to Honor depicts seminal moments in the lives of men and women who commit to serving our country in the Armed Forces.
War Movie Quizzes
• World War II Movies Ultimate Fan Quiz: Test your knowledge of WWII flicks like Pearl Harbor and Patton
• Apocalypse Now Ultimate Fan Quiz: See how well you remember the gritty details in Francis Ford Coppola's Vietnam epic
• Midway Ultimate Fan Quiz: Answer questions on the Charlton Heston WII flick co-starring Henry Fonda and James Coburn
• War Movies Photos Quiz: Challenge your visual recall of Hollywood's depictions of memorable war battles and soldiers
• War Movies Quotes Quiz: Five questions remind you that sometimes men of action have something to say, too
More Online Content

• Top 20 War Movies List: Is Tora! Tora! Tora! your favorite or The Dirty Dozen? Vote in this online poll
• Photos – Visions of the Vietnam War: A look back at some of the greatest war pics ever, from Casualties of War to Missing in Action

• Photos – Tom Cruise in Uniform: Pics of the actor who's worn stripes quite a few times (A Few Good Men, Born on the Fourth of July, etc.)

• War Heroes Tournament: A virtual battle between the likes of MIdway's Capt. Matt Grath (Charlton Heston) and Heartbreak Ridge's Sgt. Thomas Highway (Clint Eastwood)
Read More