Uncategorized
Top Ten Reasons We Can't Get Enough Death Wish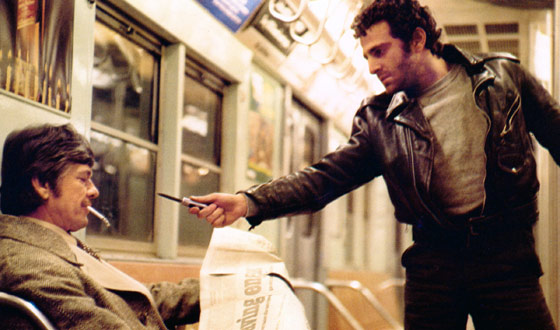 Vigilante movies may have their roots as far back as The Searchers, but they came into their own in the seventies. And the vigilante flick has never been done any better than in Death Wish. Paul Kersey (Charles Bronson) was mad as hell and wouldn't take it anymore! The franchise exploded onto the screen and spawned countless imitators, but it never died until Bronson did. Trust us: you don't have to be a paranoid survivalist to love Death Wish. Here are ten less-apocalyptic reasons to love the movie.
10. Death Wish 4's Roller-Rink Massacre
Right from the get-go, you know the fourth movie in the franchise is taking no prisoners. The flick hits eighties action heights with a massacre at a roller rink full of young people with crimped-to-death hair and acid-washed jeans, set to crappy synth pop. "Who are you?" asks some lowlife in a stocking mask. "Death," replies Bronson's craggy Kersey. How cool is that?
9. Familiar Faces in Bit Parts
Love spotting actors in bit (or not so bit) roles? Death Wish is the series for you. The movies feature debuts and/or early appearances by Christopher Guest, Jeff Goldblum (more on him later), Olympia Dukakis (Death Wish), Laurence Fishburne (Death Wish II), Bill & Ted co-star Alex Winter (Death Wish 3), Breaking Bad's Danny Trejo, X-Files regular Mitch Pileggi (Death Wish 4), and Miguel Sandoval of Medium (Death Wish V). That's just plain fun.
8. The Body Count in Death Wish 3
All five Death Wish flicks hit killing highs rarely matched, but it's the third movie that takes the gold: somewhere around 70 kills, but they occur at such a fast and furious pace that keeping track is difficult. Call it crass if you want, but you know that kind of mayhem is insanely entertaining. Action stars like Schwarzenegger, Stallone, and Norris wish they could kill this much.
7. The Imitators
Not that imitation is necessarily something to be encouraged, but it is the sincerest form of flattery, and Death Wish paved the way for dozens of urban-revenge movies, from 1977's sublimely sleazy Sudden Death to Jodie Foster's thoughtful (if not entirely successful) Brave One. And — get ready to have your mind blown — even Taxi Driver, considered an all-time classic, was released in Death Wish's wake.
6. Herbie Hancock's Death Wish Score
A world-class slice of melancholy jazz-tinged funk that perfectly underscores the story's bleak, bloody imagery and also works as a stand-alone composition. Seriously: go to Amazon or eBay and see what fans are willing to pay for a copy. And Led Zeppelin guitarist Jimmy Page's bluesy score for Death Wish II (huge chunks of which were repurposed for Death Wish 3) is pretty good, too.
5. Urban-Decay Nostalgia
Death Wish was shot in New York at the height of the bad old days, when the city's coffers were empty and everything was covered in graffiti. Times Square was never more frighteningly seductive, and the subways made today's clean, efficient system look like an amusement-park ride. If you've got nostalgia for the old gritty New York City, Death Wish is a great place to get a glimpse of what it looked like way back when.
4. The Bad Guys
They're very, very bad — so unrepentantly, grotesquely, and thoroughly bad to the bone that Mother Teresa would be hard put to find a nice word to say about any of them. Which is why we can cheer for Paul Kersey even though we know vigilantism is bad. Getting behind a murderer is pretty tough, but getting behind someone eliminating the worst of the worst of the worst? Well, that's fun.
3. Jeff Goldblum
And speaking of thoroughly rotten creeps, the skinny 21-year-old Goldblum made his movie debut as Death Wish's "Freak #1," the one who rapes Kersey's daughter. He has the movie's nastiest line — "Goddamned rich cunt! I kill rich cunts!" — and let's face it: you have to be the top (rabid) dog to command the loyalty of a bunch of lowlifes while wearing that Jughead hat. Goldblum is just disgusting — and kind of mesmerizing.
2. The Girlfriends (and Other Friends) of Kersey
If you're tight with Kersey, you've got to go. In Death Wish, a bunch of hopped-up sociopaths kill Kersey's wife. In Death Wish II, his girlfriend, Geri (Jill Ireland, Bronson's real-life wife), actually survives, but Kersey's daughter is raped again and dies impaled on a fence while his nice housekeeper is raped and beaten to death. In Death Wish 3… Well, just believe us: knowing Paul Kersey is no fun.
1. Charles Bronson
Movies are full of so-called tough guys who look as though they'd rather be voguing in front of a mirror than kicking bad guys to the curb. Bronson isn't one of them: he started working in a coal mine when he was 16 and figured World War II military service was a better deal than staying home. Bronson was one of a kind. Nobody else could have been Paul Kersey; it would've been silly. But with Bronson in the part? It works. Cause he's that tough.
Tonight, Tue., Apr. 26, check out Death Wish II on AMC, at 8PM | 7C, part of Can't Get Enough Death Wish.
Read More