Top Ten Fake Documentaries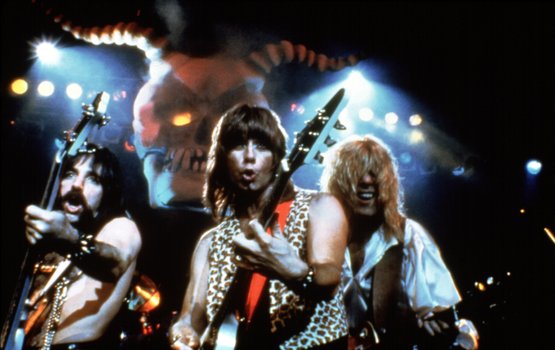 As Michael Moore and Errol Morris can attest, sometimes there's no better way to tell a story than through documentaries. It's no wonder feature-film directors have appropriated the nonfictional format for fiction storytelling. What better narrative device is there for slipping into the head of a subject or a cross section of subjects? Here are ten mockumentaries that do the genre justice.
10. I'm Still Here
When Joaquin Phoenix announced to the world (or, at least, to anyone who gave a damn) that he was leaving the movie business to start a rap career, it was all part of an experiment that cohort Casey Affleck captured on camera. Many a critic rolled their eyes at the film for being a pointless stunt, but there's something compelling about Phoenix's feigned downward spiral into egomaniacal delirium. This fake documentary hits pretty close to home in Hollywood.
9. C.S.A.: The Confederate States of America

Adopting the format of a made-for-TV documentary, C.S.A.: The Confederate States of America imagines an America in which the South won the Civil War. À la PBS, the tongue-in-cheek movie charts an alternate history that has America sympathizing with the Nazis and a Cold War starting with Canada. Most appalling of all, slavery still exists. Director Kevin Willmott conceived of the film while watching Ken Burns's documentary series The Civil War.
8. Sweet and Lowdown
Over the past fifteen years, Christopher Guest has become the godfather of mockumentaries. Before Guest, though, there was Woody Allen. This jaunty faux biography recounts the life of fictional thirties jazz guitarist Emmet Ray (Sean Penn), interspersing talking-head testimonials with straight dramatizations of Ray's life. Allen even went so far as to enlist real-life music scholar Nat Hentoff to comment on Ray's life. How's that for verisimilitude?
7. Best in Show
In one of his most beloved mockumentaries, Christopher Guest goes behind the scenes at the Mayflower Kennel Club Dog Show to expose doting pet owners in fine eccentric form: a yuppie lawyer (Parker Posey) who screams at a store clerk for not stocking her Weimaraner's toy and a fly-fishing shop owner (Guest) who practices ventriloquism with his bloodhound. Over-the-top as these characters might be, there's also something lovable about them.
6. Bob Roberts
Tim Robbins wrote, directed, and starred in this political satire, which documents the campaign of the titular senatorial candidate (played by Robbins). Roberts is a slick, handsome right-wing millionaire who fashions a populist image via folksy guitar concerts and charming speeches. As the camera spends more and more time with Roberts, though, his shadier side emerges. The film isn't too kind to the media circus.
5. Man Bites Dog
You've got mockumentaries about dog shows, then you've got Man Bites Dog, a mockumentary about a serial killer. The art-house film opens with the killer in action: he springs on a woman and strangles her to death, then proceeds to tell the camera crew how to ballast a corpse. This is one dark piece of commentary on violence in the media, and it caused quite a stir for its graphic crime scenes. Think A Clockwork Orange meets Christopher Guest.
4. Borat: Cultural Learnings of America for Make Benefit Glorious Nation of Kazakhstan
It's hard to imagine how anyone could believe that Borat — an anti-Semitic, sexist, homophobic, and socially inept ignoramus from Kazakhstan — was a real person. Thankfully, Sacha Baron Cohen made for one convincing idiot as he traveled the country in the guise of a foreign journalist. With his disarming ignorance, he manages to coax latent (and not so latent) prejudices out of one interview subject after another. It's illuminating — and hysterical.
3. Waiting for Guffman
When the earnest citizens of Blaine, Missouri, mount a hokey, yet surprisingly well-produced revue about their town's 150-year history, flamboyant stage director Corky St. Clair (Christopher Guest) becomes determined to send the show to Broadway. As a small-town dentist (Eugene Levy) and married travel agents (Catherine O'Hara and Fred Willard) lay bare their Thespian ambitions, you laugh at their endearing quirks, and, at the same time, you feel for their misplaced hopes.
2. Zelig
As he did in Sweet and Lowdown, Woody Allen recounts the life of an obscure (fictional) celebrity, in this case Leonard Zelig (Allen), who enjoyed a brief wild fame as the perfect "human chameleon" in the twenties. Zelig's life story is cobbled together via vintage newsreel footage, home movies, and sit-down interviews (with, among others, Susan Sontag and Saul Bellow). The surprisingly poignant film is considered one of Allen's best.
1. This Is Spinal Tap
Not only did Rob Reiner's seminal film bless posterity with a catalog of classic quotations, but it also helped define the mockumentary genre as we know it today. Christopher Guest, Michael McKean, and Harry Shearer will forever be remembered for their satirical performances in the eponymous heavy-metal band — with amplifiers that dial up to eleven and song titles that make you wonder. "Lick My Love Pump," anyone?
Read More